Scraphook
New Guy More or Less

Transformers Legacy Evolution Deluxe
Item No.: Asst. F2990 No. F7191
Manufacturer: Hasbro
Includes: Exhaust pipes, two blasters, hook, line, spiky tire
Action Feature: Transforms from robot to truck, can break apart to become Evo-fusion upgrade parts for other toys
Retail: $24.99
Availability: January 2023
Other: Hey, a new guy!

PREVIOUS
RSS
NEXT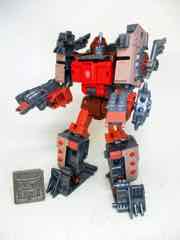 In nostalgia lines - any nostalgia line - you need a mix of new stuff and old stuff to keep fans interested. Scraphook brings you a new character in a familiar faction, building out the underserved Junkions with a new guy that looks like he might have fit in with your 1980s characters. The toy doesn't look like a G1 release, but that's good - you deserve something new once in a while.
After a lot of good toys got reruns over and over from the Siege/Earthrise/Kingdom/Netflix lines, it's nice to have a break. Scraphook can transform from truck to robot, and he can be pried apart to arm your other toys - so if you got those Weaponizers or Fossilizers, that means he's a much better version of those kinds of toys. I'm not even going to make you read the whole review for me to recommend this to you. You get a nice big pouch of accessories, a good car mode, and a nice robot - I like it and I hope they do more original designs like this.
Click here to check availability at Entertainment Earth.
The robot mode is a great example of how to do something new and fun. You have to love the face with the eyepatch and the mustache, but he's loaded with fun detail and can carry all of his accessories on board. Some of the elbow joints are a bit looser than I'd like, but I'm guessing the era of engineering all the tolerances and clearances ended with the advent of digital sculpting. It's still good - you can mount his blasters on his shins, or store the hook and tire on his forearms, or load the pipes on his arms. Or not. There are plenty of places to put things.
He has lots of vents and panels, tons of fun armored bits, and a lot of personality. And you can rip off his arms and legs and swap with other figures, like the aforementioned Weaponizers and Fossilizers, if you're so inclined. It's a fun play feature, but I assume a lot of people are going to freak out and lose parts in the coming years. I'm not as crazy about that - but I'm thrilled to build out my Junkions beyond bikes and Detritus. It's marvelous to have new additions to the crew, and it only took a bit over 35 years.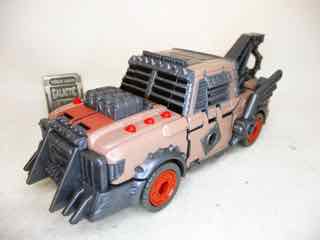 Transformation is not a partsformer, but I needed the instructions because the arms popped apart and there are a lot of steps that must be done in order. The results are one of my favorite vehicles in years - the Mad Max-style truck is covered in spikes, a cowcatcher, and various customized bits. There's no need for transparent plastic glass, because there are bars on the windows. The detailing is superb, and you can see where a better budget would result in a better toy. You get patched-up doors and painted stripes here and there, but you'll also see little sculpted dents and slashes that beg for silver "damage" paint which was left off. Maybe you can customize it. On the wheels, only the tires spin - it's neat. The wrecker hook hangs from the back and bumps into the spare tire a bit.
This is one of few vehicles I'd say is worth keeping around in this mode, just because it looks so cool. Good job, Hasbro people, I love it.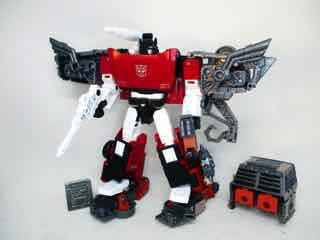 The Evo-Fusion armor mode, while not remarkable, is an improvement over the other "let's dismember a guy and wear his remains" figures from recent years. It's goofy, but it works - "we bolted a bunch of junk on a robot" is the entire point of Junkions, and now your other figures can also look like rusty robots. I wonder if they can keep this kind of gimmick evolving, because several years in it finally seems like it's working. Other than the pegs sometimes being a little loose in other figures' 5mm ports - naughty! - it's great.
I've been finding the last couple of years of Transformers to be a mixed bag with a fair amount of decent upgrades and a lot of "been there, done that." I've got a pile of unopened figures from 2022 I'm slowly getting through, but this guy (indeed, this wave) jumped the line because there's a lot more going on here. With a new character, an excellent new vehicle mode, and a nice new play feature, adult fans actually have a reason to pick this up other than "I always wanted it as a kid." This is important - nostalgia sells - but I've certainly hit a point where I feel my G1 itch has been sufficiently scratched, so good new designs like Scraphook are likely to, er, keep me on the hook a little longer while I start eyeballing some of my redundant "classic" guys for a purge.
--Adam Pawlus
Additional Images

Click here to see more Hasbro figures in Figure of the Day.
Click here to see more Transformers figures in Figure of the Day.

Want to buy this figure? Check Transformers availability at our sponsors:
Entertainment Earth