Healey Made Trooper (Shadow) Action Figure
More Shadow Figures Are Coming

Raider Action Figure
Item No.: No. n/a
Manufacturer: Healey Made
Includes: Alternate head, blaster, alternate hand
Action Feature: Swap heads, left hand can be replaced by blaster
Retail: $25.00
Availability: April 2023
Other: Pretty Spiffy

PREVIOUS
RSS
NEXT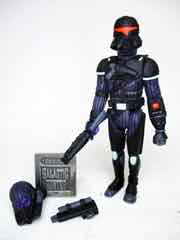 The latest! Trooper (Shadow) should look familiar - it takes the Trooper (Bulloch) [FOTD #2,502] from a few months ago, and applies the Raider (Shadow) [FOTD #2,157] deco from way back in 2019. You know it's exciting because this figure sold out quickly, but it came with a warning - two more Shadow figures are coming soon! Healey confirmed on Instagram that Shadow Raider version 2 is coming, along with a Shadow Assassin. The Shadow Raider will have some minor paint modifications, while the Shadow Assassin is alll-new - the Assassin (R-Complex) [FOTD #2,334] from 2021 is similar, but not identical. It looks like all four Shadow figures can easily swap parts so you can mix and match new figures, if you had the foresight to buy them all.
Click here to check availability at eBay.
It's worth noting that he has foot peg holes, and I appreciate that there's a decent amount of gear here. Granted, the landscape for this kind of figure, with this kind of intricate sculpting, is a lot different than it was a few years ago. These guys are on the better end of 3 3/4-inch retro figures, feeling like they belong with most of your actual, real 1980s toys. If this figure comes up for sale again, I'd still recommend it. It's a lot better in colors that aren't Boba Fett.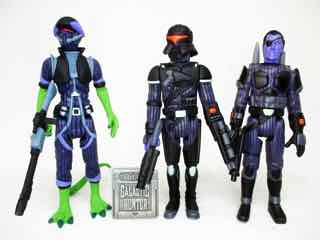 Of the two figures to date, this is the better Trooper. There's nothing wrong with applying Boba Fett's paint job to a figure, but this is so much weirder - I like it a bunch. The darker plastic seems to show the sculpted ribbing just as well, if not better, and the pistol holster in the chest is a bit more subtle.
The Bulloch version seems to have more going on with the paint. Things like a gray outline around the wrist screen, the gold buttons, and the brown belt seem to pop a bit more. The "Night Attack" Trooper highlights some interesting spots, like some green under the pauldron that matches the belt buckles and, for some unknown reason, his knees. It looks cool, but probably provides a handy target for the opposition of where to shoot. This would have made an excellent video game antagonist with his various "shoot here" locations in bright, cheerful colors.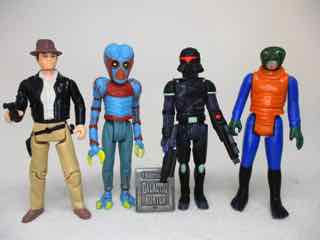 The engineering is great as always, designed with backward compatibility in mind. Trooper's unhelmeted head can fit over the Raider, perfectly aligning with the rocketpack (provided you remove the rockets, of course.) The limbs all swap easily, plus you can remove Trooper's left fist and swap it out with another blaster. It's real play value and not just a handy customization feature. If these guys were cheaper, you could buy a few of them and swap out their heads and hands to get a squad that looks the same... but different. It's an ideal product that I wish were a) cheaper and b) easier to get. $25.00 isn't a fortune for an indie figure of this quality when a mass-produced retro toy is anywhere from $12-$20 these days, but let's be honest - it adds up fast. Shipping's $5, so I can't just buy every one of these. I have to stop and ask myself if it's really worth the $30 since figure drops are usually one at a time, and combining shipping simply isn't possible most of the time.
I like this one a lot. I expect a white and black "Stormtrooper" Trooper is on the way, and so far I prefer Healey's more original - or at least, harder-to-spot-the-inspiration - colorways like this one. With dark blue skin and incredibly vivid red eyes (and visors!), these figures positively sing under UV light. The green bits look like they glow in the dark, but sadly, do not. While that's a shame, the figure looks a lot like what Kenner probably would have made by the late 1980s or 1990s had they continued to produce new Star Wars action figures. With this one in particular, you can see a Thrawn-like face un the unmasked head, a Boba Fett-like blaster, and a helmet that looks like it could be a back-up dancer for Cylon and Garfunkel. I hope you got one, because he sold out within hours.
--Adam Pawlus
Additional Images

See more Healey Made figures in Figure of the Day:
Day 2,157: Healey Made Raider (Shadow) Action Figure
Day 2,209: Healey Made Raider (Hunter) Action Figure
Day 2,334: Healey Made Assassin (R-Complex) Action Figure
Day 2,383: Healey Made Raider (Revenge) Action Figure
Day 2,406: Healey Made Raider (GID) Action Figure
Day 2,418: Healey Made Assassin (GID) Action Figure
Day 2,456: Healey Made Assassin (Trando) Action Figure
Day 2,502: Healey Made Trooper (Bulloch) Action Figure
Day 2,559: Healey Made Trooper (Shadow) Action Figure
Day 2,583: Healey Made Raider (Shadow V.2) Action Figure
Day 2,603: Healey Made Assassin (Shadow) Action Figure
Day 2,639: Healey Made Trooper (THX) Action Figure

Click here to see more Glyos Compatible figures in Figure of the Day.