Comic Universe Tarn
Transforming toy debut

Transformers Legacy Evolution Voyager
Item No.: Asst. F2991 No. F7205
Manufacturer: Hasbro
Includes: Double fusion cannons
Action Feature: Transforms from robot to tank
Retail: $33.99
Availability: January 20023
Other: Worth the asking price

PREVIOUS
RSS
NEXT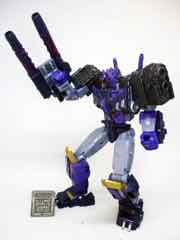 Hasbro doesn't have another toy of this character to require the distinction, but Comic Universe Tarn is a pretty helpful way to designate a character who fans either know (and potentially really like seeing) or have no idea who he is. Buckle in for a quick catch-up: IDW Comics had two "G1" comic universes spanning several titles. In the first continuity, writer James Roberts did an amazing job introducing new characters and giving personalities to old ones. Tarn was the head of the Decepticon Justice Division, basically your fascist secret police, who go around hunting deserters, dissenters, and the like within their ranks - hence the big purple logo face. They're the really bad guys, and given his distinctive look fans got pretty excited about getting a toy of him. Now you've got choices - there's a high-end non-transforming Tarn from Flame Toys, a Super7 Ultimates! action figure, and this Hasbro version that is surprisingly good as an action figure. If you want variant hands, heads, or the character Nickel, get the Super7 one. If you want him to transform, get Hasbro's.
Despite "Comic Universe" being on the box, the design takes a few liberties from the comic appearance and is missing some details. But it's good, and unless Hasbro has another, fancier one you can buy I'd just recommend picking up this one.
Click here to check availability at Entertainment Earth.
The thing that struck me the most about Tarn is that he's an action figure. "I know," you'll say, but I don't think you do. Hasbro did a great job giving him legs that are pretty much gap-free, while the elbows and knees have a range of articulation on par with - and frequently better than - Hasbro's $25 6-inch articulated action figure product offerings. His big feet make him sturdy, he can assume a number of poses, and he has articulated fingers too.
The robot mode's proportions look more or less like he does in the comics. As a Voyager-class toy he's not tiny, but he's not bulky either. Megatron has more chunk to him, and he's not going to be tall enough to stand eye-to-eye with Deathsaurus like we saw in the comics. In and of itself, it's a great action figure. Compared to other toys, I assume there will be some hand-wringing as to if he's the "right" size, but he's certainly good enough, with enough pruple and gold painted detailed to make you happy if you know and like the character. And even if you don't, he's a funny idea as someone who's trying to be more Megatron than Megatron given the face and double wrist cannons.
On the whole, he looks pretty much like the comic character with a few exceptions that you may not even notice. Some of the clear plastic bits don't shine particularly well - I really dislike the light-up eye piping as it really doesn't work here (and hasn't generally been good over the past decade of toys.) If they skipped the clear parts and just painted bright pink on the eyes, chest, and fusion cannon, I think we'd be in better shape overall. He doesn't have the treads hanging off his back like in some comic panels (a plus), and the face is a regular Decepticon symbol and not the stylized one we sometimes saw with super long and thin spikes (another plus.) He looks and feels like a toy action figure of the comic version, which is a pretty amazing feat. And we only had to wait about ten years to get him as a toy, which isn't that bad considering how long Straxus and Scrounge took to get here.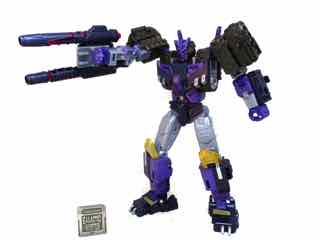 There transformation is one where I needed the manual and parts still popped off. It's not terribly difficult but it's not obvious precisely what rotates w here, and when, and how much. But it works, and that's what matters.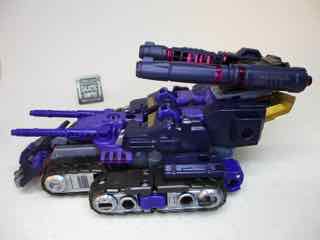 The tank looks more or less like the tank in the comics. The cowcatcher is fine, the cannons are close but not exact, and the colors and proportions meet expectations. It isn't amazing, but it also shows signs of shifting priorities regarding the budget. I was surprised that Tarn got jointed fingers. I was also surprised that his tank treads don't have little wheels in them, especially since nobody seemed to be complaining about their absence. They're generally pretty useless when included, so it's smart that Hasbro and Takara-Tomy left them off as they just add parts and costs without improving the vehicle's functionality. However, you do get a joint in the wrist cannon that allows the dual tank turret to turn. That's pretty cool! The backpack antenna guns become two more cannons on the body of the tank, and I like that a lot too. My only real complaints about the tank are that the robot hands hang off the back, and that it's small. If this tank were a deluxe toy 10-15 years ago you'd shrug and go "it's not bad," but for a Voyager in 2023 it does seem a bit on the small side.
This goes back to priorities - the robot arms, hips, and knees all have a ton of range of movement, there's a lot of paint, and they attempted light piping. That money has to come from somewhere, and there's probably not much benefit to making it a bigger toy in this day and age because a Leader-class Tarn would likely only cost more. Since the sad truth of toy collectors tends to be that they have a boxed toy that they never open, or they open it, transform it two or three times, and leave it on a shelf where it can enjoy "feather duster action!" every few months, it's not in Hasbro's best interests to add more cost to it either. What you get is a Marvel Legends-quality action figure that can turn into a tank for under $35. While I bristle at the ever-increasing prices, in that context, this is one of the better purchases I've made lately.
If you loved those James Roberts-penned comics, you already have one of these on order. If Hasbro never cranks out another Tarn toy, this one certainly is good enough to be the one, the only, the best that we get. But you know and I know they'll do something else with this mold and I assume the toy will some day be made as a kid cartoon character toy, but I like this one enough to never upgrade. Unless they make one with brighter non-light-port eyes, in which case, I'm open to it.
--Adam Pawlus
Additional Images

Click here to see more Hasbro figures in Figure of the Day.
Click here to see more Transformers figures in Figure of the Day.

Want to buy this figure? Check Transformers availability at our sponsors:
Entertainment Earth