Guardian Diver
Bulky and loaded with stuff

Cappy Space Action Figure
Item No.: n/a
Manufacturer: Cappy Space x Toy Pizza
Includes: 24 parts - clear hook, robot arm, drill arm, two creature heads, mask for creature head
Action Feature: Swappable heads and limbs
Retail: $32.00
Availability: March 9, 2023
Other: Crossover redeco cast in opaque red parts and also some clear red parts

PREVIOUS
RSS
NEXT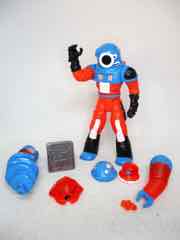 Several flavors of the Perfect Diver from the Toy Pizza crew came and went before I got the Guardian Diver Action Figure from Cappy Space. I'm trying to not get every last recolor - despite what reviews here may show - so I picked one that really spoke to me. The design is a great mix that reminds me of the Playmobil and Adventure People deep sea diver figures while also fitting in well with the whole Knights of the Slice thing. Also you get little jellyfish and manta ray heads, which basically serve as sidekicks or backpacks too. You get a lot of toy here for $32.
While taller than the average Pizza Knight, he's still part of that world. Thanks to his bulky costume, you both gain and lose some play value here. I've been putting Rift Killers and their ilk in a lot of old toy vehicles - it's fun! But the Diver has massive boots that are too big to put in an old Mini-Rig or X-Wing.
Click here to check availability at eBay.
The neck post is compatible with other Toy Pizza heads, but I found them to be an incredibly tight fit. A post fits into the neck and the skull, and I had to boil some water to soften them and get them apart. This one wasn't as much of a pick-up-and-play swap-for-fun figure as other releases in recent years, which is a shame. I don't keep boiling water around at play time.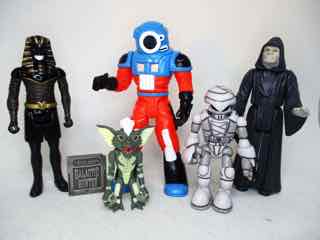 As a normal action figure, he's cool! The wrists and shoulders swivel, with an added joint at the bottom of the shoulder. You can get all kinds of cool poses out of him, especially since the big feet keep him standing up. The helmet can be pried off and you can swap i the monster heads, with the blue one serving as a hat for the inner jellyfish head. That one's neat because it has a painted white bottom that changes up how the light bounces around in the clear plastic. All of thee parts have unique sculpted textures, like the awesome quilted arms, the Popods-y robot arm, the drill arm with bit tip, and of course the white stripe below the knees that reminds me of The Empire Strikes Back Rebel pilot sleeves. Because everything does!
This figure was clearly created with toy fans in mind, because things do things. You get a clear hook, so you can run a string through it to dive (like the old Playmobil divers). However, the size is the same as a Toy Pizza head post - so you can use it as a neck peg, or mount it on the back and have one of the creature heads serve as a backpack. That's really clever.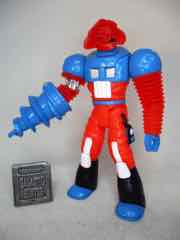 The 4 1/4-inch figure also has swappable arms, but I had problems getting them to go in the shoulder holes. One is a three-part drill arm with battle-damaged elements - it looks great! The other is a diver suit arm or some sort of robot thing with a claw, which is also really cool. It's odd because the shoulder ball is pre-dented, but painted perfectly clean - it's a weird mishmash of "new" and "battle damage" that messes with my head. The texture on the clear red element also looks like it came from a different sculptor entirely, but sometimes that's what makes for a good accessory.
This is an expensive figure, but it's loaded with enough parts that you can get it in your hand and understand why. There's a lot you can do to mess around with it and swap parts with other figures, and who doesn't like a deep-sea diver helmet that looks a bit like a battle-damaged Jason from Blaster Master on the flip side? I don't feel I'm super likely to buy this mold again - maybe green glow-in-the-dark - but it's good, it's fun. I just don't feel a burning need to own an army of it... although I do think fans of Glyos or 3 3/4-inch figure fans may want to track it down. It definitely fills a gap that most 3 3/4-inch lines leave open, because even the bulkiest 3 3/4-inch figures aren't this big and bulky.
--Adam Pawlus
Additional Images

See more Toy Pizza figures in Figure of the Day:
Day 1,522: Toy Pizza Knights of the Slice Integer Knight Action Figure
Day 2,073: Toy Pizza Desert Rat LRDG Version Action Figure
Day 2,088: Toy Pizza Mikros Set BLT Version Action Figures
Day 2,114: Toy Pizza Regen Capsule Carrying Case with Lime Material Boy Action Figures
Day 2,118: Toy Pizza Forest Capsule Carrying Case
Day 2,123: Onell Design Glyos Rift Renegade Construct
Day 2,129: Toy Pizza Rift Killer Cola Action Figure
Day 2,160: Toy Pizza Chakan the Forever Man Glow Version Action Figure
Day 2,176: Toy Pizza Zoner Capsule Silver Vehicle Mode
Day 2,186: Onell Design CyMa Queen Kirallius
Day 2,187: Toy Pizza Meteor II Action Figure
Day 2,305: Creative Beast Beast of the Mesozoic Glow-in-the-dark Dinosaurs Zuniceratops Action Figure
Day 2,519: Toy Pizza Knights of the Slice Frankenslice Crowkin Action Figure
Day 2,531: Onell Design Glyos Rift Killer Grayvec Action Figure
Day 2,551: Toy Pizza Zoner Capsule GITD Vehicle
Day 2,555: Cappy Space Guardian Diver Action Figure
Day 2,571: Toy Pizza Noir Knight and Apotheosis Capsule Set
Day 2,607: Toy Pizza Green Ghost Capsule Carrying Case

Click here to see more Glyos Compatible figures in Figure of the Day.