Optimus Primal
The best cheap toy Hasbro has to offer?

Transformers Authentics Bravo
Item No.: Asst. E0618 No. 6756
Manufacturer: Hasbro
Includes: Two cannons
Action Feature: Transforms from Gorilla to Jet
Retail: $3.99-$6.75
Availability: April 2023
Other: Basically a big "Basic" or "Legends"

PREVIOUS
RSS
NEXT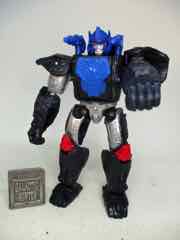 It's so easy to be jaded. I've written more about toys than most people would ever care to read, and a lot of it lately is lamenting increasing prices and quality that doesn't necessarily increase over the years. That's what makes Optimus Primal so unusual. I got a hot tip that ALDI grocery stores had Transformers Authentics for $3.99. For those keeping track, that's very cheap - previously Five Below selling them for $5 was the cheapest I've ever seen them. Kenner charged $5 for similarly sized Beast Wars basics in the 1990s. Transformers Armada Mini-Con 3-packs were $6.99 in 2002. Heck, 1984 Bumblebee figures were around three bucks. To get something like Optimus Primal - a 4 1/2-inch action figure with two blasters and 14 points of articulation for $3.99 - it doesn't seem natural. Obviously it's not as good as Hasbro's "collector" offerings, but it's bigger and more robust than its Core-class toys for 66% cheaper. That's something we should all take note of - toy collecting doesn't have to be expensive. You can make mass-market stuff that kids can buy with a small allowance.
Click here to check availability at eBay.
I'm very satisfied with the Optimus Primal toys I already owned, but a $4 figure was something I could not resist. $3.99? In the toy world, that's not even real money. If it is terrible, you got your $4 worth of entertainment merely complaining about it to your friends. And if it's good? Bully for you. In this case I think you get your money's worth. It's also worth noting it comes in the new plastic-free packaging box, which is significantly more robust and uses much more material than a carded figure. Maybe too much!
Hasbro, if you're reading: you're very good at your job. I challenge you to make more toys and original characters (that don't have legacy restrictions) in this format at this price point. I bet you'll amaze us all.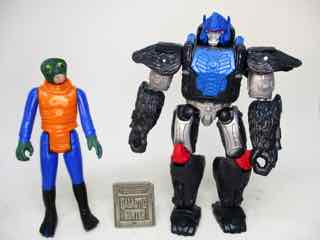 As a toy, it's pretty good - bigger than a Basic/Scout-class figure, larger than a 3 3/4-inch action figure, and sculpted pretty nicely. It's my assumption that Authentics toys are sculpted by real talents and partially hobbled on purpose so as to not compete with higher-priced offerings. In this case, it's Primal's elbow joints - they have ball joints but only swivel. Obviously Hasbro could design it to bend as well, and we've seem Optimus Prime [FOTD #1,995] have similarly, inexplicably less useful elbows. It's not a budget issue, especially given Optimus Primal has two blasters that you can mount on his shoulders or in his fists. If Hasbro sold this exact toy in the 1990s for $8 - and when I say $8, I mean 1990s money - I really think fans would be pretty happy with it. He stands, his knees bend, his ankles are on ball joints so they have a good range of movement. Heck, his fists have sculpted-in blasters so you can pretend to pew pew pew at other toys. This is a real toy here - it's not as flimsy as some other ones, with much tighter joints than I would expect from this line.
Had Hasbro threw a little more paint on him, you'd probably feel like this may be the bang-for-the-buck toy of the year. If Hasbro is competing with cheap bootleg robots and Dollar Tree's Final Faction toys, this robot as merely an action figure is a fine example of throwing down the gauntlet to say Hasbro is indeed still capable of making a good toy for kids at a price that seems cheap by the standards of the previous century.
But he transforms into a robot gorilla!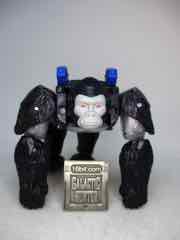 Given that it's Optimus Primal, you know how it's going to go - twist the waist, bend the knees, fold down the shoulders, and engage in some chest and head rotating. It's not a bad transformation, and the gorilla is not fantastic - but he has cool cyber-greeblies on his head. The arms and head look nice, but the back of the figure has some plastic back kibble to drape over the robot legs. With a little more time in the oven I bet they could make it look even better, but it's not that much worse than fully-featured, higher-priced versions of the character..
I can say, without reservations, that this is worth the money. With Kingdom and Masterpiece and Rise of the Beasts you have a ton of options for this character, but none of them are this cheap. Authentics Primal has great fur sculpting, excellent mechanical bit sculpting, and a nice head too. It's molded in blue with red eyes and a silver face, complete with cartoon-inspired mouth plate. I wish Hasbro could have more clearance at the hips so the legs could swing forward so he can sit better, but Hasbro doesn't even do that for its non-transforming action figures sometimes these days. Along with the bigger Authentics Alpha Wheeljack [FOTD #2,437], Primal is one of the very best figures these lines have to offer. You get a good toy at a fair price. Sure, you can spend more and get better toys, but the entire point here is that $3.99 is less than you probably spent on your last milkshake. Get an Optimus Primal - at $3.99, it's almost too cheap.
--Adam Pawlus
Additional Images

Click here to see more Hasbro figures in Figure of the Day.
Click here to see more Transformers figures in Figure of the Day.

Want to buy this figure? Check Transformers availability at our sponsors:
Entertainment Earth