Standard Phibian
Nude and rude?

Cappy Space Mischievers Action Figure
Item No.: n/a
Manufacturer: Cappy Space
Includes: Alternate Belfry head and two switch pins
Action Feature: Swappable heads and limbs
Retail: $12.00
Availability: June 9, 2023
Other: Four flavors at launch sold out in a couple hours

PREVIOUS
RSS
NEXT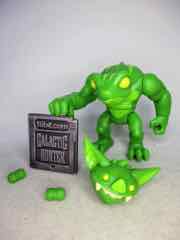 Hey, a new mold! The Standard Phibian Action Figure looked cool, so I got it - and I already regret having skipped the Standard Belfry. The entire first wave of figures was gone from the store quickly, so future drops will probably be in demand because these are pretty good. $12 gets you a base figure with one alternate head for $12, which isn't cheap but it's pretty good. The figure is a hunched-over little fellow that's like an original Battle Beasts figure in terms of size, but they have more articulation and no bulky armor. I could see these guys being expanded a lot over time with alternate animal heads and different "adventure kit" accessory packs.
$12 for a 1 3/4-inch figure is a tough sell - and he's $22 with gear before shipping costs. (The first wave shipped free.) It's easy to complain about price - you don't get a lot of parts here compared to a Pheyden or a Gobon - but nobody has ever really made good Battle Beasts-sized figures that fit in those old playsets in ages. Beast Saga and Battle Beasts Minimates were a little big, and while some keshi/minifigures came close, there was no articulation. Or paint. You're getting something a little better here, and you're being charged accordingly.
Click here to check availability at eBay.
For years I wanted to see another Crayboth-sized figure, and there he sits. Anyone who's been watching this site - both of you - you should pick one of these up next time they go on sale in new colors. They're fun enough to get your imagination going and you'll dig out some of your old toys to play with them, after taking these pictures I immediately ran back to my old Battle Beasts playsets and chariots to see if they'd fit. (Without the backpacks, they're a good match.) In a perfect world Hasbro or Funko or somebody would see these, buy the rights/hire Cappy, and sell 'em to the unwashed toy masses. I bet kids would love them, but with the small parts and pointy bits I'd recommend them only for the olds. 1980s kids, enjoy.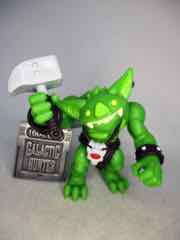 If you got this toy in a store for five or six bucks, it's above par when compared with the average Imaginext figure. Each Phibian (or Belfry) is jointed at the neck, waist, hips, shoulders, and wrists, meaning there is plenty of room for parts-swapping and upgrades. All the joints swing freely and whoever designed and sculpted these is who I would want to do a Battle Beasts revival. They take the best Glyos has to offer and shrink it down to a mini-figure package, plus yuo can upgrade them with bracelets, necklaces, swords, backpacks, and even a loincloth. The accessories all fit well, and a figure can wear most of the gear in a pack. I got two figures and one "adventure kit" assuming there would be so much stuff they could split up the parts, and that was probably a mistake on my part.
The figure sculpting is smooth without being plain. Each little goblin has muscles, big hands, individual figures, claws, and even a visible spine on their backs. They have no problems holding the gear, and I like the face of detached menace on the frog head. The bat head appears a little more chipper, with a toothy grin and a painted nose - as well as painted ears. His ears are so sharp you could stab someone, so be careful, and the limbs are completely unpainted on this guy. (Onyx and Fyre flavors of Phibian have some arm paint, but lacks the chest paint.)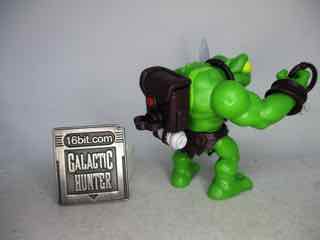 Since these guys sold out, I can't say you should dash out and buy them on eBay. But I do hope to see more similar colors down the road, and I think fans of Battle Beasts may see these as methadone for the lack of fire/wood/water in their lives. I really hope to see more monsters and animals in this style as time goes on, and I'd also love to see if they could do something about that price - maybe a slug body kit to go with the extra heads? Perhaps a discounted 2-pack bundle of some sort? They're good, but in 2023 figure purchases tend to add up pretty fast. I'll probably buy a few more of these as time goes on, and I'd recommend it to fans of Glyos or little beastie guys in a heartbeat. But Wave 1 was $48 + $20 for accessories, and on one hand that's a lot of scratch but on another, Healey Made's stuff is $25 a hit. So what do I know? The Mischievers have more parts at a lower price, and are a better fit with an existing Glyos toy collection.
I assume the switch pins were included because there was room on the tooling and the gentleman behind the line also loves to build, so it's handy to have those parts available. I don't find them particularly useful here, but hey, it's something. A club might have been nice to pack in, but Cappy's got to eat so buy some gear if you get a crack at these. Sure, you'll wince a bit at the price, but who else is making you brand-new figures like this in 2023?
--Adam Pawlus
Additional Images

See more Cappy Space figures in Figure of the Day:
Day 2,172: Onell Design R-Toolio
Day 2,174: Onell Design C-Ps&Qs
Day 2,251: Cappy Space Legion Lead Crayboth
Day 2,304: Cappy Space Scaravasze Scout Crayboth
Day 2,404: Nemo's Factory x Cappy Space A/V Robot Glowing Being
Day 2,555: Cappy Space Guardian Diver Action Figure
Day 2,591: Cappy Space Mischievers Standard Phibian Action Figure

Click here to see more Glyos Compatible figures in Figure of the Day.