Beast Weaponizers Optimus Prime and Chainclaw
Wolf Chainsaw

Transformers Rise of the Beasts Beast Weaponizers
Item No.: Asst. F3897 No. F4612
Manufacturer: Hasbro
Includes: Figure with Wolf Weapon
Action Feature: Transforms from truck to robot and also wolf to chainsaw
Retail: $16.99-$19.99
Availability: April 2023
Other: Amazingly cool

PREVIOUS
RSS
NEXT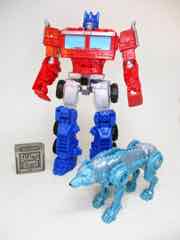 It's a toy, and as such Optimus Prime and Chainclaw is pretty satisfying. The collector-grade stuff is increasingly expensive and, at times, frustrating with parts that pop off and a level of complexity that drives some of them over the top from being fun. Not this one - heck, it might be too simple. The 6-inch Optimus Prime robot is about as complex as the original G1 toy (or the Robot Masters one) but has no blaster. Instead, he comes with Chainclaw, a little wolf buddy who has a butt chainsaw. Are you not entertained? I was.
I am generally not on board for movie stuff, but the Chainclaw reveal made me want it - so I got it at work. Is it worth it? Mostly. It's a pretty sizable Weaponizer buddy (and those are $5.99-$6.99 these days) with a 5-inch robot that's on par with a better-than-average Authentics toy. It will not amaze you. It's light on paint. But I'm playing with it and having a lot of fun, which is more than I can say for the likes of Legacy Pointblank.
Click here to check availability at Entertainment Earth.
Click here to check availability at eBay.
Optimus Prime is a modern movie toy with the weird face plate and a generally recognizable chest. He's got about 12 meaningful points of articulation, with sadly fused/unpainted wrists and no ankle joints. But I don't miss them - the heel spurs do a good job keeping him upright, and he's easy to pose and balance even with his heavy chainsaw friend. Detailing is consistent with most modern releases, and there are some nice touches like a silver panel filler on the arms that also serves as the elbow ball joint. Two of his wheels have holes in them for mounting accessories. There's nothing particularly over-the-top to be found here, but it's a competent toy that feels like it will hold up to play with two exceptions in the transformation process. More on that below.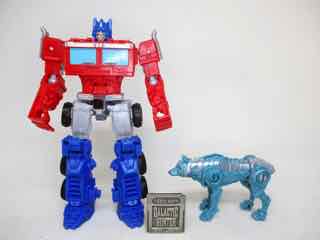 Chainclaw is adorable. The little blue cyber-wolf has painted silver enhancements and an adorable little face. All four legs are jointed, and he has a scruffy little face and point ears. He's stable in both modes, but I admit the chainsaw with dog legs is a little weird. Transformation is easy, and he's fun to play with as an accessory. I'd say he's the selling point.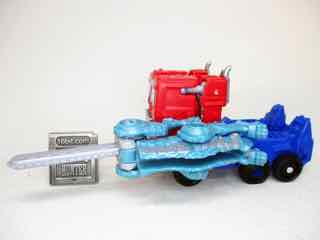 Optimus has a truck mode made out of robot parts, with a simple transformation process you've seen dozens of times before. The part I don't like is there are little tiny thin hooks on the elbows that peg in slots on the legs in truck mode. These things look fragile and while they haven't broken here yet, I assume every single one of these that's owned by a kid will eventually snap off. Other than that, transformation is smooth, easy, and fun - even if the truck mode is nothing to write home about. You're basically buying a fun action figure set that you can pretend is a truck with a chainsaw... and you can mount the chainsaw on the truck for more fun.
If I were a little kid I would say this thing is the greatest. It's a lot of fun, simple, and again - you can put a chainsaw on a truck. Wouldn't you love to do that in a video game? What a fun little idea. If you're not a collector, this might be a good toy to buy just to fuss around with on your desk. I have other Optimus Prime toys that do all the things collectors want them to do, but this one I can change in a few seconds and then give him a chainsaw - that makes him better. I assume he'll be hanging out on my desk for a while and I'm going to tell my friends they should try it out. Maybe you should too, especially if this goes on sale.
--Adam Pawlus
Additional Images

Click here to see more Hasbro figures in Figure of the Day.
Click here to see more Transformers figures in Figure of the Day.

Want to buy this figure? Check Transformers availability at our sponsors:
Entertainment Earth