Carol Danvers
Ms. Marvel

Marvel Legends 375 Action Figure
Item No.: Asst. F2648 No. F2651
Manufacturer: Hasbro
Includes: n/a
Action Feature: n/a
Retail: $9.99-$12.99
Availability: Spring 2021
Other: Not Ms. Marvel on the Packaging

PREVIOUS
RSS
NEXT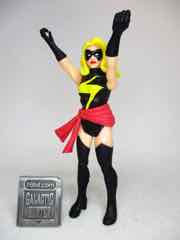 I am by no means an expert on all things Carol Danvers - much of my super hero know-how comes from cartoons, toys, and movies - so I had to look up more details on this figure and then consider if I should grab that online Marvel Unlimited thing just to read the entirety of all things Bronze Age at this point. Not labeled as Ms. Marvel - probably to no compete/confuse fans of Kamala Khan - this figure does a decent job of replicating the costume that kicked off in the late 1970s by once more using the same body as Storm, Phoenix, Electra, and so on. Apparently thigh high boots were a requirement for Marvel-issued clothing for women back then.
Click here to check availability at Entertainment Earth.
In terms of being a toy, she's pretty good! The belt is a rubbery plastic material not entirely unlike what Kenner gave the Ewoks in 1983-1985, and other than what is one of the best pieces of hair I've ever seen, she's more convincingly 1980s than some others. The face has a black mask, white eyes, and red lips - it's simple, and very much the kind of thing Kenner actually did back then. The blonde hair is not only well-sculpted, but it's a separately molded piece. We didn't see that from Kenner back in the day, and it started showing up from Hasbro in the 2010s. It doesn't quite match the card art, but it's dynamic, impressive, and looks like something a Kenner artist would've sketched out in the 1970s.
Her long loves are much shorter here. Most comic art (and fan art of the comic art) show gloves going above the elbow that taper off at an angle. The figure cuts off at the wrist joint, which is very much the kind of thing Kenner (or Hasbro, or Mattel) would probably do back in the day. It just makes sense - the figure has precious little paint. Her face, thighs, and big yellow lightning bolt are painted, as is a dot on her belt, but everything else is molded in color. This will no doubt keep the figure looking fresh, as old Kenner toys often had painted hands, feet, and hair that would show paint rub over the years. With no painted extremities, Ms. Marvel will be looking sharp and clean for years to come - even if she gets roughed up by some gravel or sandbox action in the backyard. Mostly. The torso and face may not last forever with abuse, and I'd wager the rubbery red element needs some care.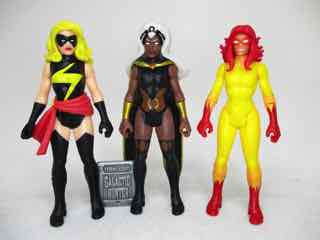 You get seven points of articulation. She can stand, sit, and fit in vehicles. Just know that her legs won't bend the full 90 degrees, so she'll be leaning back some. Her belt also gets in the way of some seats.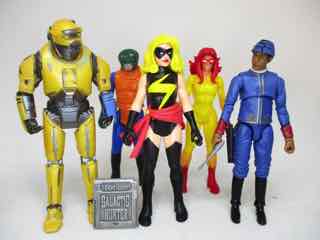 I wish I could say more about her, but I didn't do my homework before buying the toy - I just saw her sitting at Target a couple of years after she came out and said "yup, gimme." The cosmic card art looks really striking, which is good because she stands out as one of the few figures I tend to see hanging around a lot in stores as of late 2022. Marvel fans didn't seem to like the abundance of Danvers toys when the movie hit, although it's worth noting this one looks completely different with unique colors and packaging that seems like the kind of thing you'd dream of seeing in the fairly thin super hero toy era that was the late 1970s and early 1980s while Mego was busy exiting the Millennial toy landscape as Generation X moved on to teen things.
As a kid of the 1980s, I remember most toy lines had one woman in it - I blame Smurfette for no reason - and it was sometimes a head-scratcher, and other times, not. (It's not like Star Wars was good about giving women who weren't Leia a lot of lines.) Hasbro rewrote its fake history by giving this line 9 women out of the first 39 carded (exclusive or otherwise) 3 3/4-inch figures. In the 1980s, that would have been unthinkable. Hopefully they'll keep this trend going (Squirrel Girl) and (Doreen Green) give us more women in more sensible shoes (eat nuts/kick butts you cowards.)
--Adam Pawlus
Additional Images

Click here to see more Hasbro figures in Figure of the Day.
Click here to see more Marvel figures in Figure of the Day.