Glyarmor Andromeda
Full Figural Armor

Glyos Onell Design
Item No.: No. n/a
Manufacturer: Onell Design
Includes: n/a
Action Feature: Pops apart, glows in the dark
Retail: $16.00
Availability: September 7, 2016
Other: Glow, orange, what more do you want?

PREVIOUS
RSS
NEXT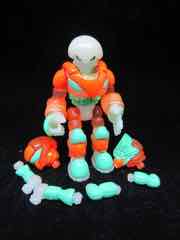 The Glyarmor Andromeda is a nice set - and I hope it's presented here as complete, because while I took photos of the baggie of parts, the numbers don't add up. The set should be 25 parts with 5 heads according to the Glyos Wiki and Onell Design's old menu. The bagged photo I have shows only 3 heads, and when I count the Spectre Pheyden MK. II base body with the armor, and the aforementioned 3 heads, I get 25 parts. Sometimes there are "stowaway" parts in a second bag, but given that I didn't shoot those with these, and what I present here are 25 parts, I am unsure if there's a typo somewhere. Maybe I goofed. If you know, write in, I'll update here and dig out the right pieces.
I pounced on this figure because it has glow parts, orange parts, and green parts - and kind of, sort of looks a little like Samus from Metroid. It's a good mix of elements, and the price was right at the time. Heck, the last time a similar Varteryx was released, it included a scarf and an extra head at $17 - still a pretty good deal by modern action figure standards.
As usual, Pheyden has 13 pieces and 12 joints, cast in that off-white-ish green glow plastic we all know and love. It does a great job of lighting up a dark room, and this time he has extra green painted details on his knees, the backs of his hands his belts, and the toes of his boots. The eyes are black, green, and white, and he stands about 2 3/4-inches tall. He can pop apart at each joint, and you'll need to make use fo that feature if you want to dress him up in his Glyarmor or swap out the heads.
The clear orange Glyarmor pieces are what shift Pheyden from being pretty good to great, at least in terms of your options. (Keep a bag for storage.) A two-piece Neo Sarvos head - that's the helmet with the green visor - joins the cyborg bird Varteryx head.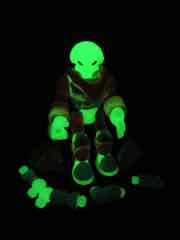 The chest armor goes on easily, just pop off the head, clip it on, and you're done. It also has alternate orange shoulders and hips, which match the armor nicely. You can easily slide the armor pieces over the figure's glow shins, but the wrists have to be carefully twisted on. They have a death grip otherwise, so don't fight them or you're likely to tear something. When he's all dressed up, he's a bulky warrior that looks good in pretty much any light... provided you charged him first. The armor matches the style of other Onell Design figures, and also clamps over Quallerran (or Noboto) bodies nicely. It's a nicely versatile upgrade pack, although having so many extra heads certainly gives one decision paralysis when it comes to how you want to display these guys.
I assume there will be an ongoing supply of figures with Glyarmor for quite some time, so keep an eye on Onell Design's shop if you want one for a lower price - but they show up on eBay, it'll cost a little more. I'd recommend it because I love the colors, the glow, and the bird head. It's also a nod to the Andromeda Pheyden from way back in wave 3, which you're also probably never going to see for sale again.
--Adam Pawlus
Additional Images


Click here to see more Onell Design figures in Figure of the Day.
Click here to see more Glyos Compatible figures in Figure of the Day.