Captain America
South America, China, Food and Drug

Marvel Value Action Figure
Item No.: Asst. E7837 No. E7848
Manufacturer: Hasbro
Includes: n/a
Action Feature: n/a
Retail: $2-$4
Availability: Fall 2019?
Other: Surprisingly little paint

PREVIOUS
RSS
NEXT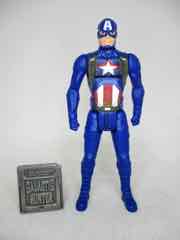 In an alternate reality where adult collectors weren't part of the toy market anymore, this Captain America from Hasbro makes a lot of sense. If you look at a lot of older action figures, under-painted or unpainted limbs and heads used to be the norm - over 20% of the original Kenner Star Wars line had figures where none of their four limbs had any paint of any kind. This Captain America - designed for lower-dollar markets in the USA and overseas - was meant to be a cheap alternative to bootlegs, or worse - to not buying anything from the Disney/Industrial complex at all. It seems as if someone said "here is your price point, now make a figure that we can sell" and the designers go "we'll do you one better, boss" and cut even more from it.
As a 3 3/4-inch figure that isn't quite comic and isn't quite movie, it has more in common with classic toy figures and the super-cheap stuff you might have seen in dollar store or those ultra-cheap figures at Toys R Us back in the day. And it's really neat - just not for everybody.
Click here to check availability at eBay.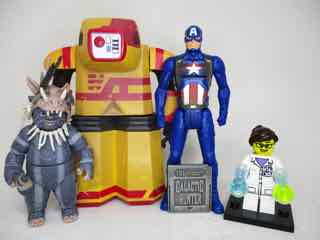 Had Hasbro painted his gloves, I would probably recommend this figure with no reservations. While most Cap Playskool figures had painted boots, some hand unpainted boots and unpainted gloves too. This one manages to do a good job making a figure's head while adding a surprisingly innovative chest paint operation, with a wholly blank backside and, sadly, absolutely no shield. A cardboard disc or a a shield molded permanently to the arm would have been good here, but as I've mentioned on some of Hasbro's other low-end toy reviews, I wouldn't be surprised if some of these were made as just a smidgen more inferior as to not compete with more expensive product. Hasbro has done wonders getting out tons of higher-end toys with loads of $25 action figures and even some products over $100 and $200, but other than Play-Doh I can't name much of anything that's under five bucks anymore. That's what makes this figure more than a little exciting - it's an impulse buy, and probably the cheapest 3 3/4-inch Hasbro action figure offered in a non-clearance price point since the 1990s.
The skinny super soldier has some armor on his back and a sculpt that looks perfectly nice - I could see this being used as a basis for custom or arty figures, but that would mean ignoring the chest. The figure isn't painted like normal figures - that's a print. The red and white stripes have subtle shading and folds painted in there. The shoulder straps are part of the same print, as is the big star on his chest. I don't know why, but it's a lot cleaner than the Thor and Iron Man figures. I'd be curious if a similar technique could be used on the 12-inch Titan Hero Series figures, and if so, how would they look? They tend to be pretty great sculpts with less-than-exceptional face and body paint. Something like this could really amp up the quality on those popular (just not among adults) toys.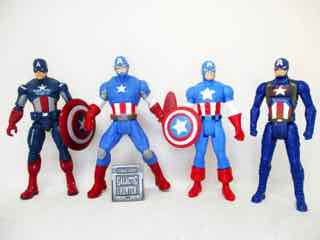 Given the lack of limb paint and shield, this is not going to be a figure that satisfies a hardcore Captain America fan - but I'm not one. I like weird and cool toys, and this fits the bill of something neat and experimental, with a chest from the future and eye paint that looks like something out of the best Kenner figures 1984 had to offer. I wish I could say toys like thees give me hope that Hasbro could once again rule the roost with low-cost action figures for the masses, but I don't think anyone other than maybe Lanard even want to explore the toy market that is neither spoiled children nor adults. (Mattel, you get a pass courtesy of your $3-$4 single Imaginext action figures and $1 Hot Wheels cars.) If you don't need perfection, this figure is just fine - but not great. Some designs translate much better to this format than others, particularly Black Panther and Hulk. It would be interesting to see toy lines with a "B-Squad" price point of lesser, singlular-color characters being made as lower-price-point toys. There's no way you could make a decent $4 Boba Fett in today's economy, but I bet you could crank out amazing Ewoks or Iceman or a pretty good Cobra Commander that would be a lot more interesting than those tiny $1 2-inch figures at the various dollar stores. I wouldn't recommend buying Cap over the other figures in this line, unless you want to see that torso deco up close. And I think you do - being able to print designs right on an action figure could mean a lot for the future of manufacturing, especially if TeePublic or another made-on-demand service can just slap a t-shirt design on a cheap action figure some day.
--Adam Pawlus
Additional Images

Click here to see more Hasbro figures in Figure of the Day.
Click here to see more Marvel figures in Figure of the Day.