Doctor Doom
The End of the Line

Marvel Legends 375 Action Figure
Item No.: Asst. F6681 No. F6694
Manufacturer: Hasbro
Includes: n/a
Action Feature: n/a
Retail: $11.99
Availability: March 2023
Other: Final wave with Spider-Woman and Power Man/Luke Cage

PREVIOUS
RSS
NEXT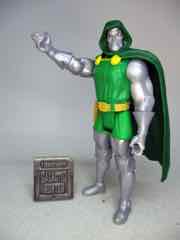 Once nice thing about a low-cost, slow-trickle action figure line is you can afford to collect it, even if you came in late. Doctor Doom was part of the final wave to see production - more were planned, but you're not going to see them. The Kenner-branded figures started off kind of slow but rolled into a collection that's arguably a pretty great representation of what Marvel could have been in the 1980s had Kenner done Secret Wars instead of Mattel. I was all set to write this as something of an obituary for a line cut down a little too early - but Doctor Doom didn't turn out all that well. It's kind of the perfect send-off - it's a figure you wanted, which is good. It's not really a high note to go out on in terms of quality, which is arguably also good so some fans might at least feel that we had a good run with a line whose time had come to an end.
Due to the how the cape and wrists work, I see this as a very "for completists only" release despite being one of the most important Marvel villains of the 20th century. The glued-at-the-shoulders plastic cape and easily-removed jointed wrists don't do him any favors. As it is, if I started the line with this figure I wouldn't have bought most of it. Go get Hulk, go get Thing, get yourself Venom and Spider-Man. But you can probably do without Doctor Doom since he's just not as durable of a plaything as the rest. Nobody else had parts pop off (yet) between when I opened the figure and sat down to write this review. Hasbro was right to not give Thing, Hulk, or Venom jointed wrists.
Click here to check availability at Entertainment Earth.
New molds are kind of uncommon in this line, as Hasbro was sure to reuse tooling on numerous bodies over and over. Sure, Thing and Thor and Venom each got their own bodies, but Spider-Man had the same body as most of the line. The all-new Doctor Doom has robot-like armor on his arms and looks like you remember him with a masked knight-meets-robot look with silver and green. The sculptor did a good job, amping up the arms a bit and giving the face a nice scowl. There are a few sculpted areas where the joints of his armor come together, some nice fabric wrinkles, and of course the obligatory belt buckle and whatnot. The cape flips out despite having a peg and being glued down, so you can't win 'em all.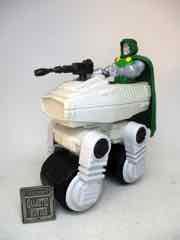 He has a holster, but no blaster. It's a separately molded piece and seems like it might snap off if you aren't careful. In the old days, Kenner sculpted holsters directly on the leg and I can't really understand why they wouldn't have done it here unless molding a new piece in a new color was cheaper than one paint mask on the hip. But it's not all bad - I love how the head is made of a molded green piece with a molded silver mask inside, reducing the need for paint. There are silver painted bits on his back under the cape, but why? The cape doesn't come off and unless you pry it up, you'll never even see it. I appreciate the attention to detail, but it's an odd one.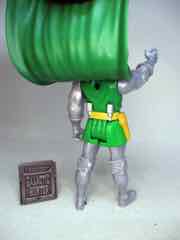 But sculpting isn't everything - you have to engineer the figure well. The big fists have tiny pegs and tight shoulder joints. Given the figure's cape, you're probably going to nudge the arms by the hand, which causes the hand to pop off repeatedly. I hate that. The cape isn't removable but does have a removable back peg. The green flexible garment is glued at the yellow chains on his chest though, so he won't be sitting in most vehicles unless his cape can hang over the edge, like the old Kenner MTV-7. As a collectible, he's great with wonderful package art and a good "I'm a packaged plastic man" pose in the bubble. I just assume I won't be playing around with him ever since he can't sit in a ship, or in a playset, or be posed without the hands popping off easily.
--Adam Pawlus
Additional Images

Click here to see more Hasbro figures in Figure of the Day.
Click here to see more Marvel figures in Figure of the Day.