Diaclone Universe Twin Twist
Amazon Exclusive

Transformers Generations Legacy Wreck 'N Rule Collection Toy
Item No.: E0703 No. F3203
Manufacturer: Hasbro
Includes: 2 blasters, hammer handle (cardboard)
Action Feature: Transforms from Robot to Drill Tank
Retail: $24.99
Availability: July 2022
Other: If you're going to remake a scarce toy, best make it weird

PREVIOUS
RSS
NEXT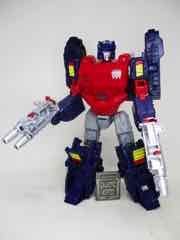 In July I went through a real "do I need this?" week and canceled a bunch of pre-orders of repaints of toys I had - but had to keep Diaclone Universe Twin Twist. I might go back and get Bulkhead and Springer later, but Diaclone-flavored Twin Twist took the excellent 2017 Titans Return Twin Twist [FOTD #1,783] mold and put it out in colors unrecognizable to many American fans. That's interesting enough for me.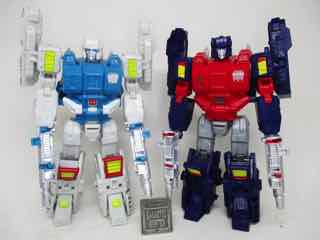 If you missed the original release, this is a good replacement. I liked the first white and blue Autobot, but this red and blue Wrecker is pretty fantastic too. Functionally, it's the same - a larger-than-usual deluxe-class toy, loaded with 2017's best articulation (no rocker ankles), and complete with two weapons you can join to make a bigger one. The treads on the arms look cool, and I love the colorful knee panels with their unique red and yellow configuration.
As far as I can tell there are no changes to the mold, but you still get all the articulation. He's not too detailed, but I appreciate the vents, panels, and various unnecessary holes. What's kind of funny and sad, though, is that the $17 deluxes from 5 years ago are as big as some recent Voyager-class toys that sold for up to $34. Even with the price increase, this figure is visually impressive but also show that we aren't getting quite as much toy for our money. They're more complicated, but not as big, or as gimmicky. This fellow's head is a tiny 1 1/2-inch robot mini figure that you can remove and use to pilot his vehicle mode. It's a glorious fun play feature, provided you don't lose it.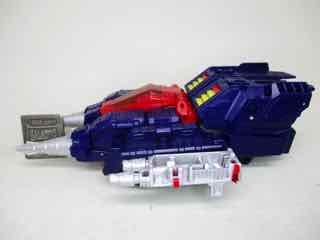 The drill tank mode is that perfect mix of neat and useless. I love the red canopy to sit the mini figure driver in, I love the blasters, the drills are great. The tank treads are a nice touch, but it's worth noting there are four wheels underneath and only one of them kind of rolls. The others are a struggle to move on my sample, which certainly makes you wonder why you want to even bother putting those pieces there. Fake treads and no wheels (and a materials/labor cut) are better than paying for wheels that don't work. It's a fun vehicle design and I love the action figure with vehicle play pattern, as Hasbro and most contemporary toy companies have largely phased it out. You can get figures that turn into vehicles, you can get tiny scale vehicles, but multiple vehicles in an action figure line are scarce. This is part of what makes this drill tank, formerly of the Titans Return line, such a lovely gem. The extra figure with vehicle functionality is a treat, and if you don't have any Titans Return toys, a great reason to buy this one.
The set also has a big cardboard piece to build a Wreckers Hammer display. Why? I have no idea, presumably to convince you to buy more toy repaints you'd have otherwise skipped. (I might sell it.) By itself, the Twin Twist toy is a good one despite a pretty steep price increase over the last release. Having said that, this reissue is much cheaper than the 2017 version, so what are you going to do? Get this one while you can, it's fun to play with and if you're used to current deluxes, this one is going to feel a little meatier.
--Adam Pawlus
Additional Images

Click here to see more Hasbro figures in Figure of the Day.
Click here to see more Transformers figures in Figure of the Day.

Want to buy this figure? Check Transformers availability at our sponsors:
Entertainment Earth