Black Roritchi
WFC-GS22

Transformers Generations War for Cybertron Trilogy Deluxe
Item No.: No. E8621
Manufacturer: Hasbro
Includes: 2 blasters, knife/tip
Action Feature: Transforms from robot to buggy to spear to, presumably, upgrades
Retail: $19.99
Availability: September 2020
Other: Previously sold as Fasttrack

PREVIOUS
RSS
NEXT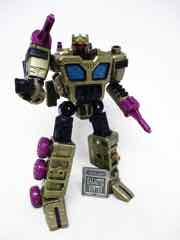 In 2020, Black Roritchi saw release and sold through before the announcement of Black Zarak, who has also come and gone, and I am sitting on a lot of unpublished toy reviews.
The obscure and weirdly named Black Roritchi is Fasttrack, but in gold, with gold paint. Some other colors were tweaked a bit, but it's still basically the same, fairly fun toy. My sample has looser joints, and all copies have a slightly different head. The front of the head mold is effectively the same as Fasttrack, but for some reason the back half was retooled to remove the antenna, and has a completely different sculpt. On one hand, I appreciate the effort to make it different and match the slightly-different head on the Japanese cartoon Super-God Masterforce. On the other, this is an item that just needed to be a simple color swap - so why spend the resources? Well, hey, it's better than not, right?
Click here to check availability at Entertainment Earth.
The robot looks great. He has more color than the original toy which was just gold and purple. The added blue chest, black elements, and red eye visor match the cartoon nicely and break up the monotony we got with some other toys (looking at you, Full-Tilt.) With about 22 points of articulation, it's a massive upgrade from the original toy. It is unknown if this gold toy will crumble into dust like some older ones, but the future is fun like that. You can put a dagger in his hand, or put blaster coverings over his fists. This kind of accessorizing is wonderful and welcome - I hope they consider doing it with more toys in the future. We got a bit of this with Trailbreaker and Hoist, and it's generally a fun way to change up how your figure looks. You can also mount the blasters on the shoulders.
The head has a big red visor, and for some reason the chest has blue window-like shapes on it. Much of the toy seems to be gold plastic coated in gold paint, which is surprising as that sort of thing costs money.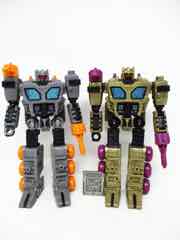 As with the other Weaponizers and bases and Fossilizers, you have to take him apart to get him into his novelty spear and buggy modes. You can also plug him into other toys to use as weapons, armor, or other elements.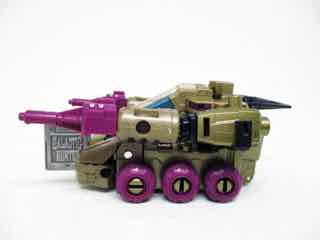 It's a buggy! You can have a Titan Master drive it, and it's a perfectly nice vehicle mode on its own. Mine felt a little floppy in spots, but it's still decent. Not everything locks together like a brick, as I would prefer, and arms just sort of hang and you're at the mercy of the tension of the joints. It's fine, but if you're not a completist or addict you may be better off picking and choosing another one of these toys.
There's nothing wrong with the toy - it has a few good modes and is generally pleasant - but even Fasttrack struck me as inessential once separated from Scorponok. Would you miss him if you never bought him? Maybe, maybe not. The whole construction Weaponizer element makes it interesting, but you should throw down for a Paleotrex [FOTD #2,277] first. If you've still got money and need to buy something, Rori's perfectly nice - but has gotten a bit more expensive over the last couple of years.
--Adam Pawlus
Additional Images

Click here to see more Hasbro figures in Figure of the Day.
Click here to see more Transformers figures in Figure of the Day.

Want to buy this figure? Check Transformers availability at our sponsors:
Entertainment Earth