Healey Made Trooper (Bulloch) Action Figure
Pastiche is an art

Raider Action Figure
Item No.: No. n/a
Manufacturer: Healey Made
Includes: Alternate head, blaster, alternate hand
Action Feature: Swap heads, left hand can be replaced by blaster
Retail: $25.00
Availability: December 2022
Other: Legend has it old Kenner guys may have been involved.

PREVIOUS
RSS
NEXT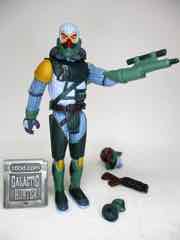 Like a fresh page out of the early 1980s! It can be hard to figure out all the inspirations for a figure design. The Trooper (Bulloch) has elements that look like a Stormtrooper's thigh armor, the swappable hands remind me of a Cobra B.A.T. and numerous other figures, including Mr. Healey's own kitbashed resin customs. I hate saying I can't grasp all the detail he put in the figures, but so many 1980s figures share DNA and inspirations that it can be tough to identify the precise inspiration for every element of this figure. It just seems plain to me that a black and white Stormtrooper figure repaint is probably inevitable.
This is the first painted release of this Kenner-esque 3 3/4-inch action figure with removable limbs connected by Glyos pegs. A plain blue "proto" test shot came out in November, and this "Bulloch" version, named for Jeremy Bulloch, is painted to look vaguely like Boba Fett in The Empire Strikes Back. However, it is very clearly not him - there are just some striking similarities in color and some design elements.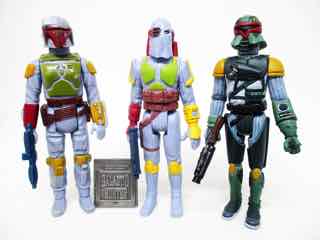 Since Mr. Healey's first figure was Cobra Trooper + Boba Fett and his second figure was Bossk + Boushh + I Don't Know, I was kind of hoping for a pilot or a droid figure. This one does have cybernetic enhancements, like a left fist you can swap out for a blaster. The main head is a helmet, but the secondary helmet has pipes that hang over the backpack and "connect" to make some sort of enclosed breathing thing. There's a wrist communicator with painted gold buttons, a holster on his chest, turbines in his backpack, ammo pouches galore, and a lot of other surprising details. In some respects it looks like a post-Return of the Jedi toy concept from Kenner - you can smell the influences.
The detail is incredibly sharp. While some figures have smoothed-out or muddied sculpted detail, the ribbing in the body suit is super crisp and the buttons on the wrist are perfectly defined The left hand has rivets on it, and the right hand has sculpted armor plates. The belt is painted brown and the yellow knee pads pop nicely. For a low-run indie release, it's kind of remarkable that he has five colors of paint on his main helmet, plus an alternate head with fully-painted facial details including whites of his eyes.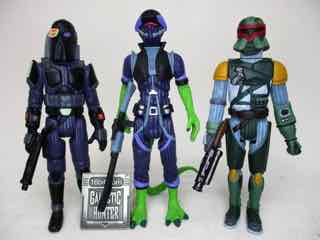 With the alternate head and hand, I have a hard time deciding which version I want on display. They're both superb - and the blasters are no slouch. The rifle is painted brown and gunmetal gray, looking like a more fanciful and/or sawed-off version of Boba Fett's signature weapon. The blaster hand has two little barrels and what I assume is a functionally useless scope, but it sure looks cool.
What's really interesting about the unmasked head is he has some tubes that connect to the turbines on his backpack. The real shocker is they also align with the Raider figure's backpack too - if you remove the rockets. (Pictures are below.)
By packing in an alternate arm and an alternate head, this is a figure with tons of potential. You can do a Red Shadows version, a white Imperial version, and probably any of a number of Cobra-esque colorways from a yellow and black Secto-Viper model or a classic blue and black flavor. And since the Boba Fett deco is sold out, you'll probably want to do that. I really like this figure because it feels like a lost 1980s toy, and I've been pulling out my old Mini-Rigs and some other toys to mess with. That's a sign of a good action figure.
--Adam Pawlus
Additional Images

See more Healey Made figures in Figure of the Day:
Day 2,157: Healey Made Raider (Shadow) Action Figure
Day 2,209: Healey Made Raider (Hunter) Action Figure
Day 2,334: Healey Made Assassin (R-Complex) Action Figure
Day 2,383: Healey Made Raider (Revenge) Action Figure
Day 2,406: Healey Made Raider (GID) Action Figure
Day 2,418: Healey Made Assassin (GID) Action Figure
Day 2,456: Healey Made Assassin (Trando) Action Figure
Day 2,502: Healey Made Trooper (Bulloch) Action Figure
Day 2,559: Healey Made Trooper (Shadow) Action Figure
Day 2,583: Healey Made Raider (Shadow V.2) Action Figure
Day 2,603: Healey Made Assassin (Shadow) Action Figure
Day 2,639: Healey Made Trooper (THX) Action Figure

Click here to see more Glyos Compatible figures in Figure of the Day.