Healey Made Assassin (Trando) Action Figure
Yassassin

Raider Action Figure
Item No.: No. n/a
Manufacturer: Healey Made
Includes: Tail, alternate head, blaster
Action Feature: Swap heads, remove tail, mount rifle on back
Retail: $25.00
Availability: January 2022
Other: Legend has it old Kenner guys may have been involved.

PREVIOUS
RSS
NEXT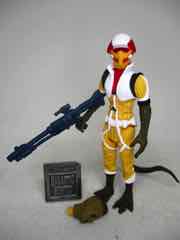 I missed the announcement of this Assassin (Trando) - I kind of hate the modern indie toy world, because everything is on Instagram/Facebook/etc. and if you weren't looking, you don't see the announcement. There may be no blog and no email, no newsletter or no RSS, you just have to see a post and mark your calendar - and if you miss it, it's gone in an hour. When I first saw the mold and bought the first painted Assassin (R-Complex) [FOTD #2,334] I assumed Bossk or Boushh deco was coming, and here we are! This figure is in Bossk colors, with a side order of Cloud Car Pilot.
One of the advantages of being older, sometimes you make mistakes, and you think you're leaving a public comment and accidentally DMing somebody - and sometimes it pays off. So now we've got a Kennerian rifle with a Bossk lizard person and an alternate Cloud Car-ish head! $25 ain't cheap, but for an indie figure whose entire run can probably fit in a couple of hi-top shoeboxes, I have no regrets. Also I am a shameless sucker for Kenner-esque things, especially lately.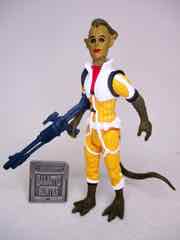 In this deco, the figure owes a debt to Kenner's The Empire Strikes Back release of Bossk - but improves on it. A lot of old Kenner figures had sculpted straps, buttons, patches, or other elements left unpainted because they were $2-$3 and you have to keep your profits. Healey needs no profits! Well some profits. The same mold we got in bare-ish glow blue or green, and a rainbow of other colors, is now molded in a mustardy yellow with white, black, and red accents. Note the thigh straps, the shin highlights, even the shoulder accents! The chest armor modeled loosely after Boushh is now white like Bossk's flightvest, and there are black shoulders and an ornament to recall Bossk's outfit. A red undershirt matches Bossk's collar, more or lses. Her painted skin is a bit darker than the Trandoshan bounty hunter, plus she has a swell tail also painted in skin tones. What I love about this is Healey Made's figure has a lot of deep grooves which look great, but when painted, those scales and corded pants really pop.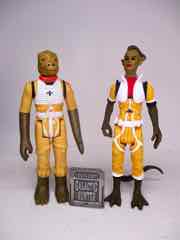 The default head has a wonderfully severe undercut, red and black eyes, eyebrows, and red lips. The other masked head is yellow with a mask, plus a red and white helmet that looks like some of the modern Cloud Car Pilots - the original 1982 one lacked a white stripe and had something that was yellower. To match Bossk's rifle, this figure comes with a painted blue blaster.
I admit now that Hasbro is back in the Kenner business for Star Wars and Marvel, the outpouring of joy I get from indie 3 3/4-inch figures is diminished - but only slightly. I absolutely love this figure's slightly more vibrant than Kenner colors, and it's really fun to see characters like Bossk and Pythona. I would be over the moon if someone could convince him to do this figure in Tig Fromm/Vlix colors - the Fromm Gang is so small! - or maybe reissue her in even more Kennery colors so those of you who missed her can get her. Even at $30 she's super cool - but probably mostly if you're a fan of a certain age who also buys a lot of weird and ugly 3 3/4-inch figures. This one isn't weird or ugly - it just looks like a perfect addition to any playset because you need cool aliens around. Get her if you can!
--Adam Pawlus
Additional Images

See more Healey Made figures in Figure of the Day:
Day 2,157: Healey Made Raider (Shadow) Action Figure
Day 2,209: Healey Made Raider (Hunter) Action Figure
Day 2,334: Healey Made Assassin (R-Complex) Action Figure
Day 2,383: Healey Made Raider (Revenge) Action Figure
Day 2,406: Healey Made Raider (GID) Action Figure
Day 2,418: Healey Made Assassin (GID) Action Figure
Day 2,456: Healey Made Assassin (Trando) Action Figure
Day 2,502: Healey Made Trooper (Bulloch) Action Figure
Day 2,559: Healey Made Trooper (Shadow) Action Figure

Click here to see more Glyos Compatible figures in Figure of the Day.