A Hero Is Born 2-Pack Alpha Trion and Orion Pax
Orion Pax from Kup Take 3, Alpha Trion from Scourge Take 1

Transformers Legacy Hasbro Pulse Exclusive
Item No.: No. F4242
Manufacturer: Hasbro
Includes: 2 blasters, Vector Sigma, Key, Stand, Pole, Energon Goodies Dispenser
Action Feature: Transforms from robot to truck or space ship
Retail: $66.99
Availability: November 2022
Other: Here we go again

PREVIOUS
RSS
NEXT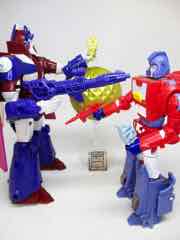 As Transformers matures, fans are treated to some amazing things. We got some great big combiners, huge Titans, and an increasing number of TV and comic-specific characters! The A Hero Is Born 2-Pack Alpha Trion and Orion Pax aims to bring you toys from episodes like "War Dawn" and "The Key to Vector Sigma," and to some extent succeeds. This is indeed the first really good G1-specific Alpha Trion, but it's built on Scourge and doesn't really meet the general standards of replicating the toy and/or cartoon we saw with other Legacy toys. Orion Pax from Kup is a little bit closer, but also not exact - so you got a retool of a $33 figure and a $25 figure for $67, with a nice bonus accessory, and I imagine these aren't going to be the final word on either character. (But for me, this is probably the end of the line.)
This is neither because they're very good nor very bad, but Hasbro and Takara have given us a G1 e-Hobby Orion Pax (from Kup), a G1-inspired Orion Pax (in the big Power of the Primes Optimus Prime), a Titans Return Kup as Orion Pax, and other Orion Pax toys too. This one is the closest overall to replicating the general look of the cartoon. Meanwhile Alpha Trion in the fan/collector range has been a convention-exclusive Vector Prime repaint and a lion spaceship thing. This one may be the closest to what we've seen on screen. They certainly did a nice job with the colors for both, but I just spent $67 on what I hoped would be the final word on both characters. And I guess as fans it's up to us to decide when it actually is.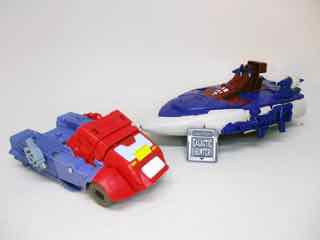 Orion Pax gives Kup a new set of leg veneers, a new chest, and a new head. It's a pretty good retool of Kup, keeping the removable limbs and generally great articulation. There are no rotating wrists, but you have ankle tilts and dark blue fists that don't match the other blues in the cartoon. This is not a complaint - the animation model's blues don't match, either. Hasbro did a bang-up job changing Kup to Orion Pax, and I have a hard time saying it could be done significantly better. You get the blue chest window, the white ab box, the yellow box in the middle, and other relevant details. The arms aren't shaped quite right, but Hasbro didn't transform him right in the box, on the box, or in the publicity photos - so it stands to reason they don't care about how the arms look either.
Changing forms is kind of a hassle, in part due to the weird shoulder movements and other angled things that have to be just right. The results give you a perfectly nice pickup truck, which is just as good as any fan model. Accessories plug in nicely, but the front wheels popped right off while shifting him around so I'm not exactly crazy about the toy as a transforming robot. The truck is fine, the robot action figure is fine, but you can feel it grinding against some limitations.
Hasbro has once again proven their considerable skill in making toys for us that we once loved, fell out of love with, saw improved, and re-bought time and again. With this figure in my hands I'm considering dumping at least one of my old Orion toys, mostly because I can't justify keeping everything on display with the space I've got, and this may be the best of them. (And I can't part with G1 stuff just yet.) I like it - and it's cheaper than the going rate of the "headmaster" one on eBay.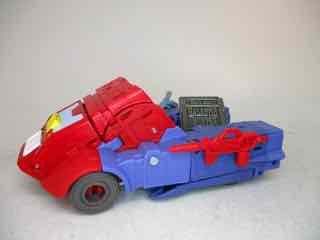 Alpha Trion finally brings a pretty good cartoon version of the character to life! With Scourge's body. Unlike Scourge and the Sweep, Alpha Trion has dual open hands which can hold his blaster. The head sculpt (with beard!) looks great, and the colors are appropriately cartoony. The layout is good for Scourge-as-Alpha Trion, but no doubt fans are sitting back hoping Hasbro will make an even more accurate one down the road. And given Hasbro's history with robots in disguise, the fans are probably right in assuming another take on him is just a few years down the road unless the company (or the customer) age out of the predictable nostalgia cycle. As I just dumped my Titans Return "Alpha Lion," I assume this is as far as I'll go with this character, too. He's good enough - not amazing, but at what point do you just say "Look, you've made so many of these guys over 38 years, I'm just going to be happy with this one and stop spending the money"?
Converting from one mode to another - or transforming it, as normal humans say - is the same as Scourge and the Sweep. You unfold the arms, tuck in everything under the cape wings, and the result is a perfectly nice space ship of some sort. But it's a Sweep, and that's probably not what you want.
The toy can do the whole "visible face in plane mode" if you want, but is otherwise a space superiority boat. The colors are incredibly close to a Decepticon trooper, and I assume absolutely nobody will be leaving it in this mode. It's by no means bad, but the robot mode does a more convincing job in not appearing as a compromise.
Vector Sigma, the stand, and the key are OK. Not great. You plug the ball in the pole, and the pole goes in the stand. The key is too tight of a fit in the key slot. It looks fine, but it's not something that feels like a premium accessory since I can't seem to fit it in there without brute force - and that may scratch or break something. The key sort of fits in Alpha Trion's hands acceptably, but not in a way that's impressive. It's a nice bit of scenery but Hasbro could have left it out and I wouldn't miss it. It's a $9 upcharge for $2-$3 worth of accessories.
The fact that this set didn't sell out tells you that old fans may be satisfied with what they have, that Hasbro maybe made too many, or that $67 is too high a price to pay for $58 worth of repainted figures and a small ball. With great head sculpts and cool accessories you can tell that a lot of love went into the designs of both figures, ensuring the colors and general vibe matched an imaginary, idealized G1 cartoon look of both characters. You could even argue that the additional charge over a Voyager and a Deluxe to pay for the retooling and accessories is a lot cheaper than unlicensed third-party toys, but the reality is Hasbro makes good stuff and didn't used to mark it up quite so much. It's neat. It would've made a fabulous in-person convention exclusive, and I wager this will some day be unpleasantly expensive on the secondary market... unless Hasbro revisits these guys again. I doubt you will be disappointed, but it's worth noting that this set is more of the same - but slightly different.
--Adam Pawlus
Additional Images

Click here to see more Hasbro figures in Figure of the Day.
Click here to see more Transformers figures in Figure of the Day.

Want to buy this figure? Check Transformers availability at our sponsors:
Entertainment Earth