Pheyden Imhoden Pheydotep
I'm a mummy!

Glyos System Series
Item No.: No. n/a
Manufacturer: Onell Design
Includes: n/a
Action Feature: Pops apart
Retail: $12.00
Availability: October 25, 2018
Other: I was born 1,959 years ago

PREVIOUS
RSS
NEXT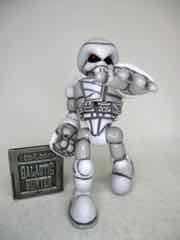 I have a lot of awesome toys still unreviewed - back in 2019 I was actually planning on winding down Figure of the Day for a landing, and that didn't happen. But I have lots of great figures to review and this month, we're doing a full month of business day reviews starting with Pheyden Imhoden Pheydotep. This month we're going to focus on monsters and bad guys and ghosts - it should be fun! This one is a monster, a figure that brought back painted panel lines to simulate mummy wraps. To further the illusion, Peyden also has painted lines on his chest panel and head - and it works!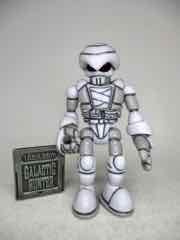 From way back in Wave 76 in 2018, this mummy was one of several superb figures - a Greedo-themed Pheyden joined a Van Helsing-esque Glyan, a Pumpkin King-ish Skeleden, a This Island Earth-themed Noboto, a werewolf Quallerran, and arguably most amazingly, a Cthulhu-Nautilus Rlehzoth [FOTD #2,055] which remains one of my absolute favorite action figures. And I have a lot of action figures.
The 2 3/4-inch figure is part of one of the greatest Onell Design waves, long since sold out but not forgotten. (Also not found on eBay very much.) As with other Pheydens, you can pop him apart at each joint - but things like painted pockets on his belt, glossy gray wraps on his chest, arms, and thighs, and creepy red eyes are a little more unusual. Figures like this really show you what an extra couple of dollars of paint can get you, because I don't think anyone would look at Pheyden and go "oh, that's going to make a great Imhotep." It's a little bulbous-headed alien, but apparently a few thick lines is all it takes to turn it into some interdimensional threat from another galaxy.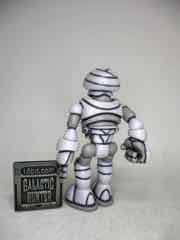 Due to price increases and the reality that is inevitable inflation, Onell Design doesn't make a lot of toys with panel lines - so it's usually worth taking note when they do. Pheydotop's legs are of particular note, as the soles of the boots are painted grey and all of the tread have panel lines too. Back in 2007 this was normal, the default way of doing things - but so were little boxes with nifty handmade artwork. This really made the figure stand out at the time, and even today it really does strike me as something we'd probably not see again. A fully-painted Pheyden just set us back $15 back in July, and it didn't have this level of fine detailing.
Pheyden's many costumes over the years made Onell Design's Glyos line a lot of fun, especially as a showcase of the versatility of the mold. At this point there are hundreds of toys based on the Pheyden tooling, some of which are careful nods to classic toys and movies, and some of which are just awesome original designs. You probably have other mummy figures - goodness knows I've got some - and I've sadly had this one sitting in his bag next to my desk for a few years, waiting to be opened for a Halloween month of figure reviews. It was time, and I regret waiting to open him so long. But on the bright side, I now get to write about him and you now know how awesome he is. You can pop the limbs off and swap them with other figures, but I don't much want to - he's great as he is. If you can get him at a fair price, you absolutely should.
--Adam Pawlus
Additional Images


Click here to see more Onell Design figures in Figure of the Day.
Click here to see more Glyos Compatible figures in Figure of the Day.