Bomb-Burst
Fits well with your 3 3/4-inch action figures

Transformers Legacy Core
Item No.: Asst. F2988 No. F3010
Manufacturer: Hasbro
Includes: Pick axe, two wings
Action Feature: Transforms from robot to space jet
Retail: $11.99
Availability: October 2022
Other: Update of old Pretender toy, but potentially not definitive

PREVIOUS
RSS
NEXT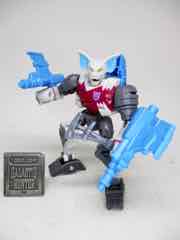 Codenamed "Energon Monster," this Bomb-Burst is a fairly fun update of the 1988 toy. Back then, you got a big, hollow bat monster action figure that splits open and you cram a small inner robot inside. This one ditches the hollow figure and instead makes the giant bat the robot mode, and the tiny inner toy's alt mode is still a blue plane from space. Check it out on TFWiki, I don't have an original but was fond of the designs. (As a kid, I had Catilla.)
Since he has 3mm fists, he can't hold Megatronus - his Power of the Primes shell - but nobody's perfect.
Click here to check availability at Entertainment Earth.
He's not huge - his big ears make him 3 1/2-inches tall, and that's a bit of a cheat. He's plenty wide thanks to his wing blasters, though, and you can mount those C.O.M.B.A.T. fireblasts on them if you like. There's a nice axe, and it captures the spirit of the original at a much smaller size. It's not a ton of gear, but it's more than most Core-class figures get. You don't feel short-changed with three accessories as opposed to the usual one or, in some cases, zero.
I really like him as an action figure. He looks great next to other similarly sized toys, but he impressed with things like ankle tilts - you normally don't get those at this size. Toes and heels are jointed for the transformation, and the neck turns too. Sadly the jaw doesn't open and close, despite his big happy face being wide open. He's fun and easy to play with, and you can see why this scale keeps getting new figures. Sadly most of those new figures are smaller versions of toys currently on the market, but every once in a while you get a nice robot with 14 points of articulation, blue ears, a maroon chest, and are just plain happy with the results. The sculpted detail is more or less what you expect - a few line here, some hints at armor there - and he's sturdy. The bat stands nicely and you can get lots of poses out of him too. I'd be very happy to see Core expanded at the expense of larger price points if they were all made this well.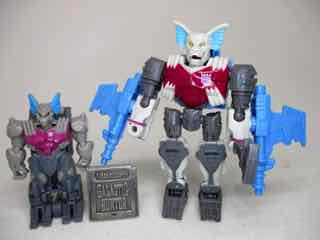 Transformation is fun and pretty simple. Put the arms down, fold the legs back, spin the waist, and that's most of it right there. There are "partsformer" elements thanks to the wings, but that's easily manipulated.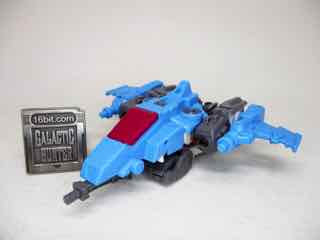 After Siege spent entirely too much money on painted deco, Hasbro now gives us a vehicle with very little. Mostly molded in color, Bomb-Burst's jet fighter mode looks pretty much like the original. The proportions are better, but the color is pretty much the same if a little paler in the face. It's a good update that doesn't overdo it or leave out any prominent details. It's also about the size of an old "Basic" or "Scout" toy, which even I have to begrudgingly admit makes this a pretty decent deal at about $12. If it had a bonus accessory, I'd be more impressed.
If you liked Iguanus [FOTD #2,431] earlier this year, I'm sure you'll also love Bomb-Burst. It's the same premise - just with a little more meat on his bones. And bones - you can see robotic bat wing bones on the gray parts of his blasters. Hasbro and Takara-Tomy did a good job with this one, and I hope you already bought one.
--Adam Pawlus
Additional Images

Click here to see more Hasbro figures in Figure of the Day.
Click here to see more Transformers figures in Figure of the Day.

Want to buy this figure? Check Transformers availability at our sponsors:
Entertainment Earth