Thing
Finishes the Fantastic Four

Marvel Legends 375 Action Figure
Item No.: Asst. F2648 No. F3817
Manufacturer: Hasbro
Includes: n/a
Action Feature: n/a
Retail: $9.99-$12.99
Availability: May 2022
Other: It's Clobberin' Time

PREVIOUS
RSS
NEXT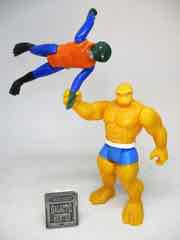 While Marvel characters are ubiquitous, I didn't read super hero comics as a kid. Yet somehow I knew about the Fantastic Four, even if I knew Thing more of a guest-star on other Marvel cartoons or as a pitchman for Hostess Fruit Pies or as the stars of a legendary bad Roger Corman movie. There were countless parodies, remakes, and nods to the team but it was somehow always just off my radar - I still haven't seen the movies, somehow. But I'm fond of the character designs, and as you know I'm a sucker for Kenner-style toys. Despite deviating from old-school Kenner designs quite a bit, Hulk and Thing are actually pretty great toys. They're nice action figures, but their big hands let them grab things while their tight joints and big feet keep them from toppling over. There's not much I can do with most super-articulated figures beyond finding the "sweet spot" center of gravity and place them on a shelf or in a ship, but I was immediately using Thing to abuse my other action figures. That's a good sign.
Click here to check availability at Entertainment Earth.
I kept seeing Mr. Grimm at Target and kept being tempted to collect the Fantastic Four, mostly because they're cool, colorful action figures in neat mid-century costumes. I took him over to my shelf with The Outer Space Men and weirdly, somehow, he looked like he belongs. He's a colorful rock monster who was born of cosmic rays in outer space - so why wouldn't he fit in with whimsical late-1960s toys? The figure has only 5 points of articulation and has no separate "wig" like Hulk or other unique features like his wave mate Thor. He's just an orange plastic man with painted trunks and eyes - this may be the second cheapest figure after the unpainted (except for the eyes) Iceman. And he's great!
I had no problems getting him to grab Walrus Man by the arm and swing him around - but The Thing is too big to fit in any vehicles I had handy, thanks to his wide stance and massive feet. He's basically two Kenner figures wide. The orange, rocky skin looks great, and without any sort of wipe or wash, the bright orange plastic looks appropriately retro. He has four digits on each hand, but five toes on each foot - so he doesn't quite match the comics. Normally I'd make a fuss about this, but Kenner wouldn't be Kenner without the occasional weird deco error or incorrect costume element. At least he has blue eyes and the big brow on his head.
I have a lot of Hasbro action figures and so many of them are bad toys. They look great, there are many joints, the paint is nice, but they fall over easily and don't interact with other playthings well. The Thing is a pick-up-and-play thing, he's easy to pose and keep standing, and he seems quite sturdy. I would've loved to have had this toy as a kid to hang out with my Adventure People and Star Wars figures.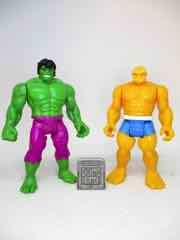 With no accessories Ben Grimm is just this guy, you know? Paint wear should be minimal over time because he's mostly molded in color. There was a very wide Marvel Universe version of The Thing from 2009, but he had long pants and was sculpted to look like something appropriate to the era. Me, I want an anachronism - the "retro" figure is an idealized version of the figure I should've had in 1982. If you have the exiting ones, you might be very happy with them and have no reason to upgrade/downgrade to this release. Me, I'm currently feeling all-in for the retro line as long as they keep it tight.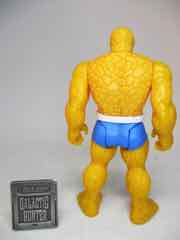 If you see this figure and think "that looks fun," it is. He's not quite as big as the Hulk, but they're both imposing, colorful figures that look right at home in a 40-something man-child's collection of old Fisher-Price, Kenner, Mattel, and/or Glyos-compatible 3 3/4-inch figures. While I assume Kenner of the 1980s would've added some sort of punching mechanism to play up the "super power" aspect, they're genuinely pretty nice colorful figures that kind of blow my mind when I put them all together. The packaging - while excellent - is sort of all over the map, and while the Fantastic Four have matching card art everybody else is modifying the template coloring a great deal. An unpackaged collection of these guys just strikes me as visually striking, so even though I have only the most superficial understanding of the characters I am getting a lot of fun out of these guys. Recommended if you can get one for around $10-$12.
--Adam Pawlus
Additional Images

Click here to see more Hasbro figures in Figure of the Day.
Click here to see more Marvel figures in Figure of the Day.