Terrorsaur
The Remold You Really Wanted

Transformers Generations War for Cybertron Golden Disk Collection Deluxe
Item No.: No. F2813
Manufacturer: Hasbro
Includes: 2 forearm spikes, Golden Disk, blaster
Action Feature: Transforms from robot to pteranodon
Retail: $22.99
Availability: February 2022
Other: Chapter 4

PREVIOUS
RSS
NEXT

Collector's Note: There are two spikes for the figure's forearms included. They're wrapped in tissue paper on the back of the cardboard box insert. Don't accidentally throw them out!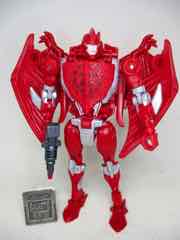 One of the most underloved Predacons from Beast Wars, Terrorsaur gets its first new mold in decades - and it's a retool. Terrorsaur shares parts with Amazon Skywarp and also Airazor, mostly in the arms and legs. He's good - and more or less in cartoon colors!
Despite being a memorable character, he was killed off in episode #27 of the show - but he still got a second Transmetals toy! He also got a few repaints, and a Combiner Wars toy as part of a BotCon convention exclusive collection. This 2022 toy is his first new dinosaur alt mode tooling since 1998, and the best American release to be decorated like the TV show. The design isn't a perfect match to either design, but it's still pretty good - especially for the money.
As a retool of Airazor, this is a clever toy with tons of new parts. Sure, the arms and legs are pretty similar to the Maximal bird, but the torso, feet, head, and backpack are now - you also get a swell blaster! It's not as fun as the original flipchanger toy (complete with gun storing backpack), but it's really simple to change and the articulation is, unsurprisingly, greatly improved at the larger size. The Predacon warrior now features 24 points of articulation thanks to tons of joints in his limbs, and the sculpting looks a lot like what you remember on the TV show. Obviously, it's not the same - there's no metallic reds, the shoulder spikes aren't there, and the toy has much less silver than what you saw on TV. This toy is so completely different from the TV show model that it shouldn't hurt any potential release for a Masterpiece toy, except for price. This is so much cheaper you might just get it and go "eh, good enough" - because it is. The chest freckles are there, the helmet looks right, the eyes look sinister, and it has big red wings. The robot feet do more or less look like what you saw on TV (minus some color), and as a new reinterpretation of Terrorsaur it just plain works. I really like the forearm spikes - removable if you prefer. The texture isn't too overpowering, and I love the blaster.
While I have no problem with a new toy of an old character appearing slightly different from the original design, I do have a problem with my sample's wings - the dark thing just pops right off. I wish the connections on those were better. Other than that, the ball-jointed ankle figure stands pretty well and can hold his blaster - if Hasbro never made another Terrorsaur I'd be pretty happy with this one. The Golden Disk accessory is a nice bonus, but he can't actually hold it. As decent robots with good gear goes, this is a nice $23 toy. It's a shame he didn't make it to retail stores, I believe he'd have sold extremely well.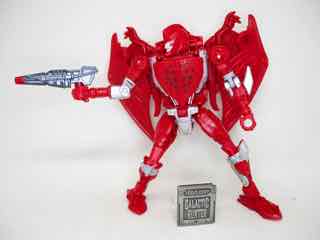 The instructions make this toy seem a lot more complicated than it is - basically it's a wadded-up robot shoved under a cool flying reptile. Figuring out exactly which parts of the torso and wings need to unfold where are all in the manual, but I think anyone opening the toy can figure out more or less how to pull out the arms and legs. And there's on-board storage for all the accessories, too - that's a big plus. This is one of the more pleasant toys to transform, which says a lot - Hasbro and Takara-Tomy have been making a lot of very complex toys that have tight clearances and tabs that will just eventually snap off. This one seems to lack any of those problems.
Considering what a trial some toys are to change - lookin' at you, Tracks - Terrorsaur is super pleasant.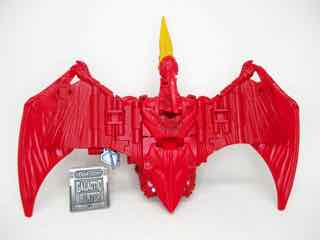 It's hard to make the prehistoric creature stand in reptile mode, but you can tilt him back and balance him to sort of, kind of stand upright. The design of the toy doesn't allow for him to have an animal chest like on the TV show, because physics probably would not permit such a thing without retractable cloth wing elements or something we haven't come up with yet. (Or a lot of moving parts at a high price point.) You do get yes, a toothy yellow back, articulated feet, and moving wings - that fall off if you aren't careful. I still like it. I also still like the original 1996 toy a lot, but this is good for different reasons. Aside from the opening mouth, it doesn't do a lot other than make you happy that you have it.
As of my writing this, it's the only toy based on this specific mold - I assume purple Lazorbeak and/or green Fractyl repaints could be coming later, and there's buzz of a toy-colored Terrorsaur as a store exclusive. (Unpainted beak, green markings.) I'd say get whatever one you can, unless you're in a future of 2026 or whenever they're likely to do a 30th anniversary toy that's better. This is quite excellent and much like Tigatron, you probably won't have a heck of a lot of reason to buy another one unless you need a toy that's maximally faithful to the Mainframe-produced cartoon designs. (Or the Kenner/Takara toy design from 1996.)
--Adam Pawlus
Additional Images

Click here to see more Hasbro figures in Figure of the Day.
Click here to see more Transformers figures in Figure of the Day.

Want to buy this figure? Check Transformers availability at our sponsors:
Entertainment Earth