Hulk
The Incredible Hulk

Marvel Legends 375 Action Figure
Item No.: Asst. F2648 No. F2650
Manufacturer: Hasbro
Includes: n/a
Action Feature: n/a
Retail: $9.99-$12.99
Availability: Spring 2021
Other: Also available in Gray (but not Red or Composite) Flavor

PREVIOUS
RSS
NEXT

For the rest of the year we'll be doing Marvel Mondays to cover this line some more, which means we'll probably also be continuing Transformers Tuesdays and I Don't Know Thursdays.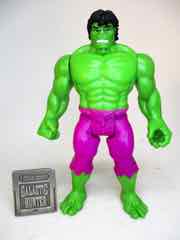 One of the questions I have about this style of figure is "Is it worth the price?" and the answer has typically been some level of "not really, no." This Hulk is good - I can't argue that. At about $10 you get a big, beefy 4-inch figure with bright colors, bared teeth, flaring eyes, a punching fist, and a hand open just enough to grab Loki for "puny god" play at home. There was absolutely thought into ensuring that the packaged toy stares out at you from the pegs and says "Hulk coolest thing ever, Hulk belongs in your toy collection." Visually, especially in terms of presentation, it's the best - and hopefully Hasbro keeps putting them in stores because he always sells.
With Kenner branding, gorgeous packaging, and colors that leap off a comic page, you might think this is the best retro Hulk - but Hasbro is currently selling a similarly sized figure with the same articulation for $3. The Hasbro Marvel Hulk Action Figure looks a lot more like an old Kenner figure without whites in his eyes or teeth - and while it comes in a cheap plastic bag, it's also 75% cheaper. That's a lot of cheaper, and something I assume means that there's a sliding scale collector tax we all pay because Hasbro absolutely could put out cheap, cheap toys that would have us running to the store every week to buy more because, like Hot Wheels, $3 isn't real money. I'd buy every 3 3/4-inch figure toy I can get my hands on for $3.
Click here to check availability at Entertainment Earth.
In terms of pure Kenner old-school action, the bagged figure offers the best bang for the buck, but Hasbro also made sure it wasn't as cool as the Retro Legends version. Just looking at them side-by-side, there's no question that one is bigger and more dynamic, but the other one is a little less hulking and can actually fit in old Kenner vehicles. If that matters to you, that is - in terms of a wall of absolutely stunning packaged (or unpackaged) figures, you'd probably want the newer guy.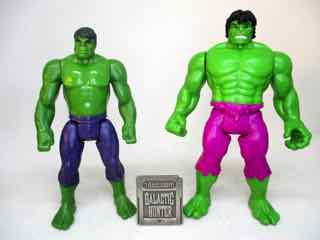 At 4 1/4-inches tall, he towers above most other retro figures and is about 50% wider. The hair piece is separately molded, much like on recent Star Wars figures, and he's seriously ripped. (I assume the cheaper one wasn't as ripped so those who buy the cheaper product are being reminded that they are being penalized for paying less money. Would be my guess, I've never actually spoken to anyone who develops or markets the cheap stuff, but there tend to be a lot of weird design choices that have nothing to do with cost that just make them look a smidgen less good than they could be. Big Hulk has absolutely massive arms, nearly as wide as some other figures' torsos, and ripped pants. It appears that the leg is actually two molded pieces - a green foot is inserted into pink plastic trousers, while the bikini zone of the torso is merely painted to match. I assume this is a cost-cutting move, but it also is good for long-term durability. Anyone who had Kenner figures and vehicles as a kid is very aware that frequent play caused painted hands and painted feet to chip and wear down with time - and if the foot or hand has no paint, it can't wear down, and therefore looks "new" longer. That's something I'm willing to pay a little extra to enjoy.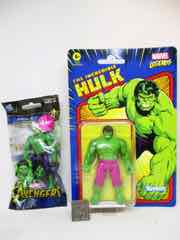 There's no "action" here, but you don't need spring loaded mechanisms to have fun. The closed fist just begs to be lifted up to punch Loki in the face. The open hand is sized perfectly to grab another figure's limb. With no accessories whatsoever, this Hulk incredibly manages to have more toy functionality beyond "cool figure that looks good." He's designed to participate in play activities, and that's not true of the line as a whole.
Despite it costing more than a nearly identical product, Hasbro clearly went out of their way to make this one better. The bagged one is probably better for someone wanting a figure that really belongs in the 1980s, but this carded one does look significantly cooler and I admit I'm having fun having him grab other figures with that giant hand. For around $10, you can (and undoubtedly will) do a lot worse. If Hasbro makes more of them, it's a worthwhile purchase.
--Adam Pawlus
Additional Images

Click here to see more Hasbro figures in Figure of the Day.
Click here to see more Marvel figures in Figure of the Day.