Crayboth Cosmic Wave
Black Plastic, Green Face

Glyos Action Figures
Item No.: n/a
Manufacturer: Onell Design
Includes: n/a
Action Feature: n/a
Retail: $4.00
Availability: January 25, 2015
Other: Crays-a-poppin

PREVIOUS
RSS
NEXT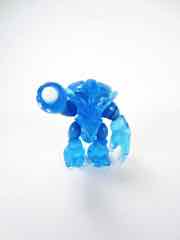 I have a lot of great figures I never reviewed, like the Crayboth Cosmic Wave who I photographed way back in 2015, back when there was no pandemic and only (depending on how you count) six live-action theatrical Star Wars movies. A clear match to other figures like Armorvor Cosmic Wave [FotD #1,504], I always assumed we'd see Power Lords and The Outer Space Men in similar colors. Clear blue is striking, but the added white and blue highlights make it just a bit better. If you want a holographic blue Cray, those exist, but this one has more going for it.
As always, these little guys have moving arms and legs. You can pop them apart at the joint and swap limbs with other Glyos-compatible figures. They're under two inches high, so they're sized to hang out with your old Battle Beasts or swarm your Onell Design Glyos figures quite nicely. It's a good "plays with" figure and it's kind of a shame these were never given mass production releases so kids could get them, plus or minus the fact they are likely choke hazards with the tiny removable limbs.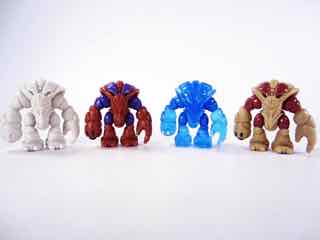 The clear blue figure has painted blue thighs and upper arms. I don't know if it helps but it doesn't hurt, and it breaks up with figure a little bit. There are white painted eyes and highlights on his cannon arm, which do a great job of making him seem like more than just another repaint. The paint is thick and even, so there's no weird thin or clear spots to offend the eye. For four bucks and nearly eight years ago, you really got your money's worth here. I don't know that you can buy an action figure under $5 anywhere anymore other than the occasional blind bag figure intended for kids.
Recent Crayboth figures have been about $6, and several are on eBay at any given time. Sadly Onell Design doesn't put out new releases of figures as often as they used to, so it's unlikely you'll see a new figure similar to this one in the near future - but you're probably going to get new colors of Crayboth in 2023. For five or six bucks, they're a hoot - at one point I wanted to collect them all but the secret surprise releases made it hard to keep track! I'd recommend picking up one if you have a shot at them at a fair price, they're fun little figures.
--Adam Pawlus
Additional Images


Click here to see more Onell Design figures in Figure of the Day.
Click here to see more Glyos Compatible figures in Figure of the Day.