Autobot Tracks
WFC-K26

Transformers Generations War for Cybertron Kingdom Deluxe
Item No.: Asst. F0364 No. F0680
Manufacturer: Hasbro
Includes: Missile launcher, blaster
Action Feature: Transforms from car to robot
Retail: $22.99
Availability: July 2021
Other: Make Tracks... a better toy hopefully

PREVIOUS
RSS
NEXT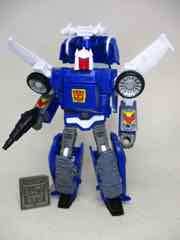 While most of the War for Cybertron toys seem to be aiming for being the definitive take on a character, some come up short. And Autobot Tracks comes up short. There are aspects of this toy that show some creativity went into the design, but there are some engineering and deco decisions which are somewhere between unpleasant and incompetent. While obviously this toy is better than something I could make, I would hope that the factories, designers, artists, and other creatives could look at this toy and have delivered a more compelling product.
Click here to check availability at Entertainment Earth.
Given that pretty much all of the most popular Transformers change from a car to a robot, it's kind of amazing that Takara (and later Hasbro and Takara-Tomy) found so many different ways to come up with so many different ways to go from point "A" to point "B." No matter what, a bricklike car has to become a humanoid robot - and somehow they've found so many different ways to do it, we're still talking about new ones decades later. Modern toys start out as a robot when they enter our collections and that's generally how they'll spend eternity on our shelves. For that reason, it's important for this mode to look its best. The colors, head sculpt, and deco are all pretty great. Tracks' light blue eyes pop from his red face, with a white helmet covering his head. The giant missiles sometimes shown above his head have been toned down to something a little less extreme, and more in line with the cartoon appearances. You'll notice he has his shoulder wheels and wings white biceps, and red and yellow marks on his forearms. That's great!
Once you pop the toy open, you'll notice some problems from the waist on down. On my sample the hip joints are surprisingly loose, making it difficult to pose him without him flopping over. The legs are almost completely gray, with the codpiece missing any deco beyond some white. It's not terrible, but could be improved. What I find inexcusable is the decision to put the SKU stamp right on the front of the figure's shin - you can see "#F0680" stamped, in red, right on the front. You can't miss it. Hasbro has been stamping SKUs on toys for over a decade, and most of the time it's on the bottom of the foot, or the back of the leg, or somewhere out of the way so it wouldn't be visible in product photography. Here, they made no such decision - it's there, it's ugly, and it could have been handled better.
The design is decent enough, with a fake car roof chest and some bright colors to make sure it looks like a cross between the cartoons you remember and the toys you no doubt played with. Unfortunately things like ankles connected to somewhat loose leg panels are going to result in long-term display problems unless you include a display stand, and the transformation is a huge hassle.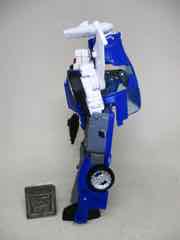 I did not enjoy transforming this one - the legs need to be done in a very specific order, and I needed to find the instructions to get it from car back to robot. I could not figure it out - the order of operations are incredibly important here and that's not a lot of fun. The original toy was pretty simple, so seeing this one require such precise movements sort of sucks the fun right out of it.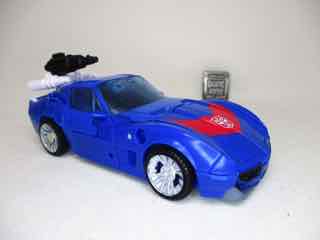 The sleek car should look cool - and almost does! I wasn't able to tab the car's front together without gaps, and I found the lack of color in the flames on the hood unfortunate. You can mount his guns on the back though, and that's good. I like the painted wheel caps. The flying car mode is about as good as the original, with chunks of the arm sticking out. It's a nice signature play feature and I'm glad they kept it.
As a robot with loose legs in multiple spots, I had problems with this one. Given the ugly shin SKU marking, iffy transformation, and car-mode-that-doesn't-quite-fit-together, I'm guessing this is going to be one of those figures fans will begin to ask Hasbro to revisit. The last all-new "classic" Tracks mold was around 2010 with the Masterpiece toy in 2015. Odds are we won't see Hasbro give him another new toy until at least 2025 or 2026, and I hope they do it. Like Combiner Wars Pipes and Huffer - OK, maybe not quite that bad - Tracks comes up short. We've seen how awesome these toys can be with the Volkswagen Bumblebee, or Kingdom Inferno, or Wreck-Gar or Optimus Prime. Hasbro currently makes toys that aren't merely good, they're show-stoppers, impressive things that you sometimes wonder how we ever could get something so good at the price point. He's not the worst toy Hasbro has ever given us, but it's just generally a lot of little unsatisfactory things rolled up into a toy that just isn't good enough. Maybe we'll see a $30 Deluxe version later that fits the bill.
--Adam Pawlus
Additional Images

Click here to see more Hasbro figures in Figure of the Day.
Click here to see more Transformers figures in Figure of the Day.

Want to buy this figure? Check Transformers availability at our sponsors:
Entertainment Earth