Healey Made Raider (GID) Action Figure
GID Good

Raider Action Figure
Item No.: No. n/a
Manufacturer: Healey Made
Includes: 2 bonus rockets, alternate head, blaster
Action Feature: Swappable parts and glows in the dark
Retail: $20.00
Availability: March 2022
Other: As Foretold In Prophecy, now in glow-in-the-dark

PREVIOUS
RSS
NEXT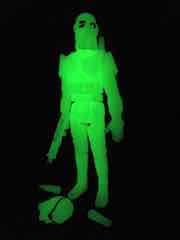 When will I make an end of it? I assume this Raider (GID) Action Figure is the fourth and final time I buy this mold. Back when I got the first painted release, the Shadow Raider, I figured I'd buy it once in Kenner color (check) and again in glow (finally, check.) I also got the "Revenge" colors based on the re-armored Boba Fett - at $20-$25 a whack, they're pricey to collect in all. But I have a soft spot for glowing toys, for Glyos, and for Kenner-style figures - my purchase of this toy was written in the stars, and other than blue glow or something surprising, I think I have to call it quits here.
The figure delivers what you expect, and sold out quickly. The armored warrior is virtually unpainted except for the eyes, and it's still minimal. Fans of The Outer Space Men convention-exclusive figures will no doubt find the minimalist deco familiar, but also vexing. Later releases added some silver highlights on the Cosmic Radiation series, which really helped bring out a bit more detail. But I'm also quite happy with GID Raider as-is, mostly because I would have likely given the factory precisely this colorway direction.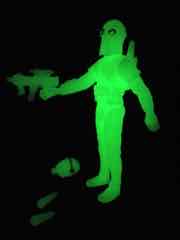 Glow-in-the-dark figures from the Glyos factory are second to none in terms of brightness, and this figure is no different. Want to light up a room? Collect Glyos, and turn off the light after two or three minutes. You'll see shelves, carpet fibers, reflections in metalized figures... it's quite a trippy experience, and only takes several years and hundreds of dollars. Everything other than the black eyeliner on this figure shines well, giving you more or less exactly what you were always expecting.
The downside of meeting expectations is the figure could have benefited from some chest armor ornament, or perhaps a painted blaster. The ghostly appearance matches all other glow Glyos toys, but seeing it in person is weird in an era where Hasbro has pumped the brakes on his hooded inspiration, the Cobra Commander. A white or off-white figure in a matching hood is a terrible look, so it makes a lot of sense that those cybernetic enhancements were there to give the figure a different and goofier silhouette. You want goofy these days.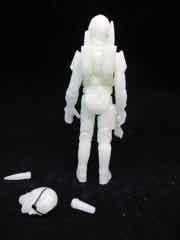 In addition to a nice unmasked head, you get two spare rockets to lose and a nice chunky blaster pistol. As with most glow figures, sculpted detail vanishes in the PVC. If you look at it up close under bright lights, you can see Kenner-style sculpting in the pants that looks just like the original Kenner Darth Vader, or subtle armor bits that seem inspired by Boba Fett and other armored troopers. From a distance in dim light, it's just an off-white (or glowing) figure. Some of the sculpted detail tends to show up incredibly well when he glows thanks to the cuts in the figure having created shadows when the light "charges" the glow effect.
Increasingly older fans of toys have written in asking "so how much longer will you be collecting everything?" and in 2022, I don't know if I'm reaching a slowdown. Remakes of remakes are increasingly common (if excellent) and bucket list toys are being made, like this glowing weirdo, or a Frank Zappa from Funko, cartoon Droids-style Boba Fett and C-3PO and R2-D2, or a couple of others I can't just talk about yet. (No, not Vlix.) The past few years have been so good - and at the same time, somewhat repetitive - that completism is over but many of the bright spots are particularly bright. Who ever thought we'd get a big Jabba's Palace - er, Boba Fett's Throne Room - playset? It's coming. There's a big Barge here. I have little doubt team Healey Made has other new figures coming - and the inevitable glow Hunter, I assume - but I'm pretty satisfied with the family of Raider figures I got (and even the ones I didn't get were good.) If you have the means to pick this one up, you should, if for no reason othe to have another glowing weirdo in your home.
--Adam Pawlus
Additional Images

See more Healey Made figures in Figure of the Day:
Day 2,157: Healey Made Raider (Shadow) Action Figure
Day 2,209: Healey Made Raider (Hunter) Action Figure
Day 2,334: Healey Made Assassin (R-Complex) Action Figure
Day 2,383: Healey Made Raider (Revenge) Action Figure
Day 2,406: Healey Made Raider (GID) Action Figure
Day 2,418: Healey Made Assassin (GID) Action Figure
Day 2,456: Healey Made Assassin (Trando) Action Figure
Day 2,502: Healey Made Trooper (Bulloch) Action Figure
Day 2,559: Healey Made Trooper (Shadow) Action Figure
Day 2,583: Healey Made Raider (Shadow V.2) Action Figure
Day 2,603: Healey Made Assassin (Shadow) Action Figure
Day 2,639: Healey Made Trooper (THX) Action Figure

Click here to see more Glyos Compatible figures in Figure of the Day.