Autobot Arcee
Smallest transforming G1 Arcee Yet

Transformers Authentics Bravo
Item No.: Asst. E0618 No. F3744
Manufacturer: Hasbro
Includes: Blaster
Action Feature: Transforms from Robot to Car
Retail: $4.99
Availability: September 2022
Other: Basically a big "Basic" or "Legends"

PREVIOUS
RSS
NEXT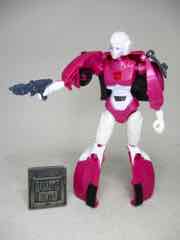 I found this Arcee on my birthday this year at a Five Below not terribly close to me, and I was really excited to find her. The Authentics Bravo figures are fun to collect because it's old-school. Hasbro doesn't announce these, you can't order them online, they tend to be cheap, and in a good year you get one or two figures per assortment. If I ever quit collecting the "fan" stuff I'll probably still chase these down because the sport of it, and the price of them, are generally agreeable and interesting even if the toys are a little flimsy. It will not surprise you to hear Arcee is a little flimsy.
You will not be impressed by the figure, but it's not bad in that it actually transforms. Most recent Arcee toys are a lady robot figure crammed into a car kibble shell. This Arcee's shoulders and lower legs are the actual car, and the cartoony head, chest, tiny forearms, and thighs all fit inside the car bits. The articulation is pretty good for the money, but you're getting some puny arms and fake feet. But you're also getting a blaster that fits in that small fist, and if you're the kind of person that needs a cheap toy for your office, this is perfect. This is nicer than a Happy Meal toy, bigger than a Core Class toy, and better made than a comparably priced knockoff in a "dollar" store. But only by a little bit.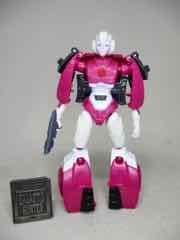 Transforming the figure is unpleasant, because she pops apart and you have to perfectly align the panels. Her blaster can be stored as the car's spoiler - which is clever and a good idea - but it's a loose fit, and may fall out. If this were a kid's first experience converting a robot, I doubt they would come back for a second. The telescoping knee joint is clever and a good use of parts, but it's easy to forget how it works because I rarely (never) see this kind of functionality. It's clever, whoever engineered her deserves a pat on the back even if the final toy is a trifle flimsy/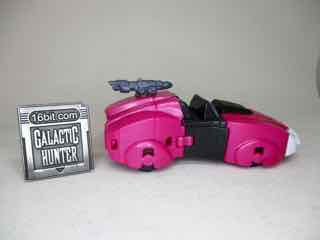 The car is a hair over three inches long, and it's pretty neat. The toy has a white bumper, a blue painted windshield, sculpted seat interior, and rolling wheels. They put some love into this one. There are sculpted brake lights and a flat spot for a license plate sticker nobody will ever make. Assuming you don't squeeze it incorrectly, it's fun to roll around - it just splits apart if the pressure hits her wrong.
In terms of the sweat - literal, it was summer - I spent hunting this figure down, it was a memorable series of journeys all over town and I had a lot of fun going around. I can't say the figure was worth it, but it was a memorable series of drives that probably had me spend significantly more on gas than the toy. It's amazing to think we got so many pink G1 car Arcees in the last decade - and this one meant specifically for children just entering this kind of toy line - when we had zero Arcees in the 1980s, or 1990s. Even though she's a little clunky, it's still a $5 Arcee that stands taller than the War for Cybertron Cliffjumper/Bumblebee mold, which certainly feels like it says a lot about toy development and if you're getting your money's worth or not, doesn't it? I bet this figure could be absolutely dynamite at a $10 retail, but at $5 it's still a decent 4 1/4-inch robot. She will never be anybody's favorite, but you have to give them points for making a solid effort given the limitations from the price point.
--Adam Pawlus
Additional Images

Click here to see more Hasbro figures in Figure of the Day.
Click here to see more Transformers figures in Figure of the Day.

Want to buy this figure? Check Transformers availability at our sponsors:
Entertainment Earth