Spin-Out and Cordon
WFC-GS20 - Shared Online Exclusive

Transformers Generations War for Cybertron Trilogy Selects Deluxe Two-Pack
Item No.: No. F0854
Manufacturer: Hasbro
Includes: 2 air intake blasters
Action Feature: Transforms from Cars to Robots
Retail: $39.99
Availability: December 2020
Other: Diaclone Colorways of Sunstreaker - the red one is DK-1

PREVIOUS
RSS
NEXT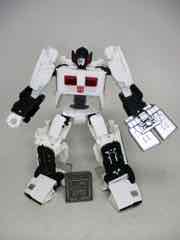 2020's Selects sub-line of Transformers scratched a ton of itches, with rare BotCon exclusives, Micromasters bases, G2 characters, obscure Japanese repaints, and of course, Diaclone-themed Masterpiece toys-as-toys. Spin-Out and Cordon are a white, remolded Sunstreaker with a light bar and a red, redecorated Sunstreaker [FOTD #2,263] as had been foretold by scripture. For a certain kind of fan, these are exciting - they go great with the likes of Tigertrack, Exhaust, and arguably even Bugbite. Unfortunately, the Lambo brothers have minimal characterization and are nifty repaints without a lot of personality. If you liked Sunstreaker and want more of that, these are going to knock your socks off. If you don't understand what the fuss is about, that's OK.
There are no real surprises here - what you get is by the book, of an acceptable quality, and sadly lacking in new characterization due to the plain (but upsized) brown box that accommodates the twins in their robot modes. But what's interesting - I needed something interesting before I posted this - is that the red one was sold in an English language Diakron box as DK-1. Black Ironhide was DK-2, and blue Trailbreaker was DK-3.
Click here to check availability at Entertainment Earth.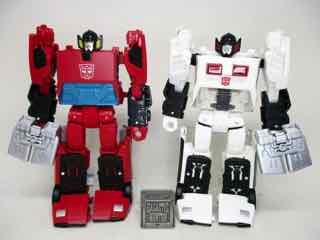 There's not much reason to separate them, as both have the same 22 points of articulation, the same good ankle joints, the same heel spurs, and the same seemingly big arms. You can use their air intake/rocket booster as a blaster, but I'm not super fond of doing that - I really do wish we had a few more accessories in here, even if it cost me more. I appreciate that the heads are slightly different than Sunstreaker's, but only slightly. Cordon has blue eyes and red ears, while Spin-Out has yellow eyes and yellow ears.
Aside from Cordon's chest bar, he's also notable for deviating from the early promotional images in a pretty big way. As you can see, his windshield is clear, colorless plastic - the original toy was meant to be painted with a silver interior to the windows. I think they made the right call by making the change, as it's a more convincing "Earth-mode car" than something with a blacked-out interior with enhanced attention given to pointing out the unique sculpted pattern in the boys' windshields for some reason.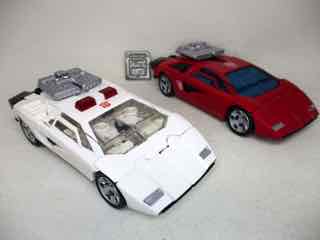 Transformation is a bit of a nuisance, but not impossible. Massaging the heel spurs in place proved difficult, and the roof of the cars doesn't seem to perfectly sit on the top of the car mode. You may wish to consult the instructions because there are some nifty twisty bits involving the upper body, the chest, and lower body swiveling all sorts of ways that make for an enjoyable little puzzle.
For those who really love Lamborghini-style cars, 2020 was your year. With multiple versions of Sideswipe, Red Alert, and Sunstreaker, you had at least six new cars of this style, with not a lot of color variety between them. I'm glad the wheels were painted in this set, and their ability to spin seems pretty good on my sample. The cars' spoilers are absent (no doubt to further them as non-licensed, original designs) and if you can massage them together just right, they look decent. The 5mm holes make for some interesting play possibilities, but neither has any particularly amazing play features beyond rolling on your desk or maybe plugging something in somewhere. As designs for adult fans go, they ticked all the right boxes - but given their lack of status among fans, you really do have to love these for how they look on your shelf.
It's undoubtedly a double-standard to say how excited I am for new repaints of Starscream, or for G2 repaints, or even strangeness like Lifeline (a green Arcee) or Nemesis Prime (a black take on Optimus.) Thanks to their general history - troopers, tributes to old and colorful toys, or something from a cartoon - they bring a fast smile to my face. Had they crammed Cordon and Spin-Out in more shows or comics I might be excited, but given we've had two red Sideswipes, two red-and-white Red Alerts, and the like, these guys may be most exciting to people who specialize in Diaclone collecting or don't have the rest. I prefer the Sideswipe mold to the Sunstreaker mold, but that's me. You might love these things - there's certainly nothing terrible about them, but for some reason they just don't sing like Sandstorm or G2 Megatron or even Gigawatt. Perhaps someday IDW will retroactively make them awesome with a cool comic story, but until then these guys are going to hang out in the back of my shelves because I want to spend more time with Hubcap and Vertebreak. It would've been lovely to have had Tap-Out and Glyph, but presumably that may be excessive quantities of the same repaints for some fans. Not for me, though, I don't think I got enough green and blue this past year.
--Adam Pawlus
Additional Images

Click here to see more Hasbro figures in Figure of the Day.
Click here to see more Transformers figures in Figure of the Day.

Want to buy this figure? Check Transformers availability at our sponsors:
Entertainment Earth