Megatron
WFC-GS14 - Shared Online Exclusive, Generation 2 Style

Transformers Generations War for Cybertron Trilogy Selects Voyager
Item No.: No. E9685
Manufacturer: Hasbro
Includes: Sword, fusion cannon
Action Feature: Transforms from Tank to Robot
Retail: $29.99
Availability: November 2020
Other: Box has no mention of G2, but it's G2

PREVIOUS
RSS
NEXT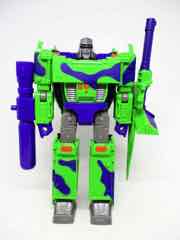 I sat on this review too long! I absolutely love this G2-inspired Megatron was one of those can't-miss selections, bringing the weird, talking tank back with many - but not all - of the original toy's specific details. It's sort of like what you remember, at least in terms of color.
For the completists out there, you are no doubt sick of Megatron - since the Siege Voyager, the Selects G2 Combat version, the Walmart Netflix version, the Earthrise version, and the Walmart 35th animation deco, you may have up to 6 toys very much like this one. I skipped the animation colors, but with everything else I'm a little tank Megatron-ed out. This is also my favorite non-G1 color version and probably the most charming version of the mold so far.
Click here to check availability at Entertainment Earth.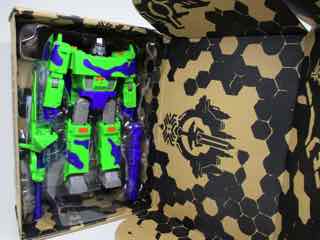 The robot has all the same functionality of previous releases - meaning no swivel wrists, but decent and sturdy joints for the same poses you've done before. The question now is if you want a new color - if you've had it with gray, the bluish face, orange "camo," and green plastic make for a much more striking presence. It may not scream out "Megatron" to most fans, but to certain fans - the right fans - it's perfect.
Provided you don't have the original, it's a fine substitute - until they do another one, which undoubtedly also be pretty great. I would have loved a G2 Decepticon symbol - or something - visible in robot mode, but a nicely articulated green robot is what you would and should expect from a toy like this. Some more orange would be nice, but again, I'm picking at nits here - what you get is a perfectly good repaint, with some attempt to recreate the original toy's shoulder cannon using the tank turret. It's clever but doesn't work as good as I might have hoped - thank goodness for the original-style fusion cannon!
If you didn't get the other versions of this mold, you might be glad you waited for this one. I mean, I am - but I'll buy G2 anything Hasbro puts out in the 21st century.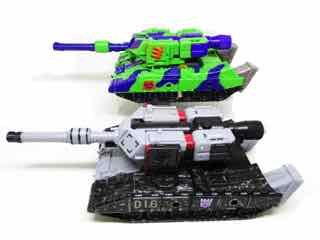 Transformation is as it always was, with the weird sword plate thing being removed and jammed to fill a hole on the back of the tank vehicle. They could've left it out - it doesn't help that much. After you squeeze everything in place, you get a green tank with lots of purple and just enough orange to make you happy. I can't not love it.
The wheels roll, the turret actually turns, you can plug in those C.O.M.B.A.T. effects, and basically pat yourself on the back that you bought an update of a toy from the 1990s that previous teams would likely rather you forgot existed. The only thing that's missing is the old sound box, and you can probably make some decent noises yourself.
These are the kinds of repaints I like to see - weird ones, different ones, colorful ones. The Selects sub-line has proven to be an amazing home for special repaints we used to only see at BotCon, so seeing G2 Megatron join Hubcap, Bug Bite, G2 Sandstorm, Shattered Glass Optimus, Shattered Glass Ratchet, and so many others that would normally have cost 3-4 times regular retail price. Sure, you may have to pay shipping, but that's a huge improvement over a big mark-up plus convention admission fee or fan club membership. If you like how he looks, get yourself G2 Megatron.
--Adam Pawlus
Additional Images

Click here to see more Hasbro figures in Figure of the Day.
Click here to see more Transformers figures in Figure of the Day.

Want to buy this figure? Check Transformers availability at our sponsors:
Entertainment Earth