Autobot Wheelie
Transformers - Studio Series 86

Transformers Studio Series Scout Class Toy
Item No.: Asst. F3135 No. F3142
Manufacturer: Hasbro
Includes: Slingshot
Action Feature: Transforms from car to robot
Retail: $11.99
Availability: September 2022
Other: Smaller, different

PREVIOUS
RSS
NEXT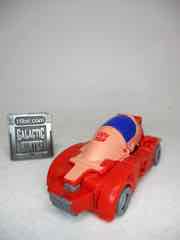 This flavor of Autobot Wheelie is both better and worse - but ultimately worthwhile - when compared to previous releases. The original toy had a cool car mode but a weird robot mode. The 2016 Titans Return Wheelie [FOTD #1,524] had no accessories, costs about the same as the 2022 model, but was bigger and had storage for a driver figure in car mode - and I thought that was cool. But it was pretty unstable, and the colors could be better. The very recent Grimlock & Wheelie [FOTD #2,276] gave us a non-transforming (but articulated) figure of Wheelie with a slingshot, so I assumed that meant Hasbro had no reason to do a new transforming model.
Yet here it is.
So really, they could've just left out sidekick Wheelie and tossed in a fireblast or sword or something. What's that? No, because it wasn't in the movie? Fine. Either way, here's your improved Wheelie experience.
Click here to check availability at Entertainment Earth.
At 3 1/4-inches tall, he's surprisingly good. With just over a dozen points of articulation, this is basically a good robot action figure that turns into an acceptable Wheelie car - if you want the best one, get the original toy. But if you want the best cartoon-accurate robot, go buy this one. The included slingshot fits perfectly in the hands, and he feels sturdy in a way that Titans Return Wheelie didn't. I love the painted helmet, the silver face, the blue eyes, giving the kid robot the look you saw in the cartoon.
True to the cartoon style, there are angular bits but not overly detailed. The landmarks are all there, but the boots aren't quite as gray as the cartoon, and there's no gray "speedo" around the waist - or light peach on the arms. There are limits to what you can do and paint at this scale given budgets and quality control and, I assume, what fans will bother to notice. If someone just hands you this, you'll say "this is the best Wheelie I've ever seen" right up until you squint at the TV and compare it to the toy. It would not stun me if Hasbro and Takara-Tomy tried an even more authentic Wheelie some day, but if you were 4 in 1984 you're 42 now and odds are your patience for toy hunting and re-buying the same toys is starting to wear thin. (I've started cutting out Core toys that aren't small characters, for example.) Everybody involved should be commended for making a great Wheelie robot for the size, but I don't know when (or indeed if) fans will get 3 1/2-inch figures for $15-$20 and say "nevermind."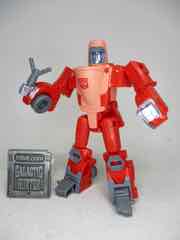 It's a complex but not annoying transformation, with lots of moving parts that give you bonus articulation - like the shoulders. It's not hard to massage him in car mode, but you might want to use the manual.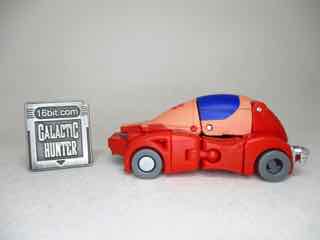 The car mode is cute but awkward, like so many of us. It's not as sleek a the original toy or the remake in 2016, but it has the colors and form down. And, if we're being honest, most fans today won't transform these guys much, so they may complain about visible fists in car mode or panels that don't massage in place, but not for long. What's weird is that Hasbro went back to doing wheels with metal pins, so the gray plastic tires actually spin somewhat nicely as opposed to barely moving like some recent all-plastic clip wheels. The Autobot symbol is good, the on-board storage for the slingshot is perfect, and it's and impressive toy with good tolerances for the size. If you've been buying this line, go ahead and get this one, and contemplate selling your non-1980s Wheelie toys.
Studio Series 86 has been a great line so far, although the little guys are sometimes a head-scratcher when it comes to value. I would say Wheelie is pretty good, but not impressive, and as prices go up you might feel a little unsatisfied. But also, it's as good as he gets, so $12 isn't horrifying unless you start to look at what $10 got you 10-15 years ago. They didn't skimp on the parts or paint here, though, so at least know that they didn't leave you wanting more. This could and maybe should be your last collector/fan-quality Wheelie toy - it hits the milestones, it looks good, and I assume we'll never see a better one at a comparable price.
--Adam Pawlus
Additional Images


Click here to see more Hasbro figures in Figure of the Day.
Click here to see more Transformers figures in Figure of the Day.

Want to buy this figure? Check Transformers availability at our sponsors:
Entertainment Earth