Tigatron
WFC-K35

Transformers Generations War for Cybertron Kingdom Voyager
Item No.: Asst. F0365 No. F0696
Manufacturer: Hasbro
Includes: Gut gun, tail whip
Action Feature: Transforms from robot to fire engine
Retail: $31.99
Availability: December 2021
Other: He is the new thing

PREVIOUS
RSS
NEXT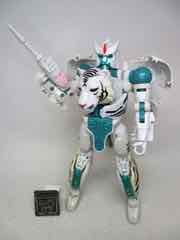 I kind of rolled my eyes when I heard we were getting a bigger Tigatron toy, rather than a Cheetor repaint as we got in the 1990s. Of course, I was wrong - this big 6 1/2-inch robot figure is a real beauty, with extra cream fur paint over the white plastic that gives it much more definition. Sort of like a Schleich animal but not, this 2021 model has a head that looks like the Beast Wars cartoon, complete with that memorable nose and mouth. You get a gut gun - with painted gut! - and a tail whip, which is nothing special. If this figure didn't transform, I'd still say fans of Beast Wars should track it down - it's great.
Click here to check availability at Entertainment Earth.
In many ways this toy is just like Kingdom Cheetor [FOTD #2,266], but bigger and with different weapons/tooling. If you watched the CG Beast Wars cartoon - itself an amazing piece of work in the 1990s - you know Tigatron and Cheetor are very similar models with the big white tiger being a bit larger than the yellow cheetah, who as it turned out did indeed prosper. The big Tigatron toy here has rocker ankles and double elbow joints - necessary for transformation, but also very nice to have. The wrists swivel, the head turns a bit, and the robot articulation is nice without being too chunky. 25 years in engineering improvements have helped a bunch, but the higher price point and larger size allows for mass to be more expertly shifted so you get a really good robot action figure that just happens to be able to change forms to a white tiger.
A surprise-to-me were the robot mode's heel spurs, which look a lot like hands. The 5mm holes in them are there so he can Power Up with other toys, and tuck in nicely if you hate them. They're great for making him stable in any of the action poses you deploy on this Maximal loner.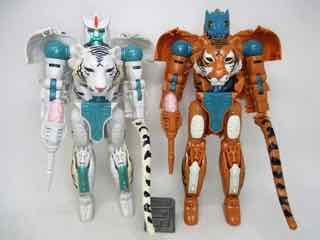 Transforming the toy is pretty easy - the instructions are clear as a bell, but anyone who played with Cheetor will recognize many steps. The rear tiger legs are in the robot legs. The robot arms fold into the tiger chest. The head is a little tricky, but it all works easily and without a fight. I appreciate this a lot. The only downer is the gut gun just sort of hangs like a big old goiter - there's no place to store it within the tiger. This makes the tiger look better, but it's not a great place to store the accessory.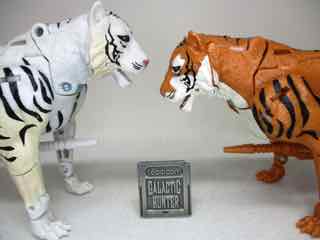 As transforming tiger toys go, I think this is one of the best - mine arrived days before Amazon's orange exclusive version, which I assume I will ultimately like more. But this one is good - mine has slightly crossed eyes, but there are sculpted teeth in his opening jaw. The proportions are very good (especially compared with the original toy), but it looks more like a tiger as opposed to the Masterpiece toy, which looks a lot like the carton with his unique facial proportions. Each is good for different reasons, but as I never want to spend 30 minutes transforming a toy again in my life, I'm very happy with this kitty. The paws are jointed, the hips are all jointed, and the knees move too - and I assume there will be an even better one way down the road. If you want a Mainframe-specific tiger, don't get this one.
Walmart will be getting a white reissue of Tigatron from the 1990s any day now, but it's probably going to be around $20. The old Masterpiece toy was around $290. For $32, this is a fun toy and a decently sized figure that isn't too complicated Sure, it isn't quite as shiny as the Masterpiece, but have you had fun with those? I generally haven't - they're gorgeous, but they're work. This one is just fun. It's by no means a perfect tiger or a perfect Tigatron, but it's better than what I already bought and that's what counts!
--Adam Pawlus
Additional Images

Click here to see more Hasbro figures in Figure of the Day.
Click here to see more Transformers figures in Figure of the Day.

Want to buy this figure? Check Transformers availability at our sponsors:
Entertainment Earth