Cheetor
WFC-K4

Transformers Generations War for Cybertron Kingdom Deluxe
Item No.: Asst. F0364 No. F0669
Manufacturer: Hasbro
Includes: Tail whip
Action Feature: Transforms from robot to cheetah
Retail: $19.99
Availability: December 2020
Other: Repaints undoubtedly incoming

PREVIOUS
RSS
NEXT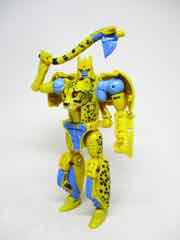 I was a little late to Beast Wars in the 1990s, but one of the first figures I tracked down was the original Cheetor - star of the popular computer-generated series and second in the proud tradition of yellow kid characters. For those of you who missed it, Beast Wars (the TV show) was an odd duck - it focused on a very small cast due to the costs of animating on computers in those days, creating a cult following around an ongoing storyline that, eventually, turned out to be the next generation of the original Transformers comics and cartoons. Going between syndication and Fox Kids in the US, it was hard to find new episodes - and they really trickled those out as the show went on, making the fans that watched it into superfans by virtue of the fact nobody else had the patience to track it all down. Numerous toys never appeared on the show, so characters like Cheetor proved to be pretty darn popular.
Target had a Cyberverse Cheetor recently, and we've seen numerous takes on the character over the years including a fancy Masterpiece-edition toy that's only slightly bigger than this one. Those toys both modeled themselves after animation (or co-designed, maybe, in the case of Cyberverse) - but the inspiration behind this Kingdom toy is not as obvious. The cheetah seems vaguely inspired byt he old toy, with the robot looking mostly like the toy and cartoon, with the colors not matching anything specifically. The whip comes from a wholly different toy, Transmetals Cheetor, making this less of a pure nostalgia grab and more of a pastiche. Without the tail blaster or gut gun, it also leaves the door wide open for Hasbro to try again in a few years. It's worth noting the first Cheetor toy was in Beast Wars in 1996, with the first nostalgia-driven new toy released in 2009, and this next one was late in 2020. (Technically 2021, a few snuck out early. That's how cats roll. And also what you get when you pre-order at the right place.)
Click here to check availability at Entertainment Earth.
If you have your original 1996 toy, hang on to it. If you have the 2009 toy, continue to ignore it. This Kingdom figure is its own beast, with unusual shoulders, no "mutant mode" head, and eyes that may not be a perfect match to what fans may remember. The baby blue is a radical departure from the darker, sometimes metallic blue we saw in other forms. The eye color changes from version to version, with this one going with orange. I always prefer green, and the blank cheetah eyes are just kind of unsettling. The articulation has been vastly improved with rocking ankles, swivel elbows, a ball-jointed neck that basically works well, and he has no problems standing or holding his tail whip.
Curiously, Hasbro dropped the 3mm C.O.M.B.A.T. pegs for the blast effects, and understandably the ramp connectors wouldn't work here. The figure also has an articulated codpiece that seems to serve no purpose in transformation, which would mean to me that a remold must be in the works and this is one of the parts that is bound to be retooled.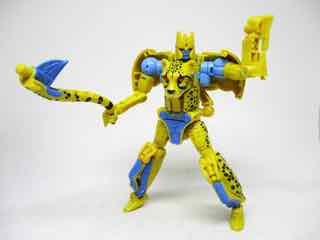 The transformation is, unlike a lot of toys, almost entirely intuitive. There are lots of locking flaps and tabs, with a strange bit involving the cheetah's opening jaw. You can fold it back and peg it into a pylon in the stomach. Everything twists and folds in interesting ways, and I changed him back and forth several times on the first day. I usually don't do that with these - they're usually not super pleasant to repeatedly transform at length. This one isn't taxing.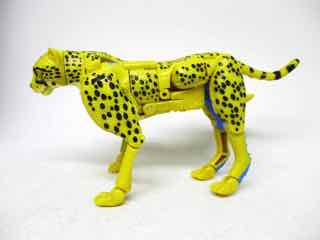 The big cat mode is decent. The torso is a bit bug, the legs and paws are nicely jointed, and there's a little bit of visible kibble. From certain angles it looks like it's well-hidden, but toys are three-dimensional. The cat eyes are oddly blank, but the spots are painted well and so is the lighter belly fur. They did a really nice job here, and I assume a Netflix-themed recolor is coming since that was on a list somewhere. It's more fun than most other Cheetor cheetah modes, but there aren't any action features or surprises. It's just very much improved than the cat-bricks we usually get.
This is the Cheetor to buy if you don't have any other Cheetors. It's more fun to futz with and a better cheetah than the other Cheetors. It could use some color, and a leak after I wrote this seems to hint one is coming. It's good, and different than other versions. It's certainly pleasant to transform, but given the missing weapons and the blue coloring, it may be worth rolling the dice for a repaint or a future remake too. If you're sitting on $20, though, it's something you should buy on sight. It's genuinely fun.
--Adam Pawlus
Additional Images

Click here to see more Hasbro figures in Figure of the Day.
Click here to see more Transformers figures in Figure of the Day.

Want to buy this figure? Check Transformers availability at our sponsors:
Entertainment Earth