Waspinator
WFC-K34

Transformers Generations War for Cybertron Kingdom Deluxe
Item No.: Asst. F0364 No. F0684
Manufacturer: Hasbro
Includes: Blaster
Action Feature: Transforms from wasp to robot
Retail: $22.99
Availability: September 2021
Other: If at first you do succeed, keep going anyway

PREVIOUS
RSS
NEXT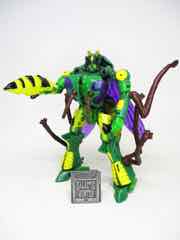 Because the character is popular and sells well, Waspinator gets a lot of new toys - and most of them have been pretty fantastic. The 1996 original was good, and even better when they repainted it in show-accurate colors. The Thrilling 30 release was a brand-new sculpt with flapping wings and a great blaster, one I would argue is even better than this release. The 2021 edition may have the most paint and most articulation overall, though. If you missed all the previous Waspinators, this is the one to get before they stop shipping them to stores and warehouses.
Click here to check availability at Entertainment Earth.
I liked the toy right out of the box - and when I transformed him into wasp mode and back to robot, I stopped liking him. The reason for this is that there are a ton of parts that need to be tabbed in exactly, and it's not a forgiving toy - if you don't put every tab and slot in its home, you get a flopy mess. If you succeed, you get a nicely decorated robot with purple wings, colorful purple eyes, and about 22 meaningful points of articulation. It's not a huge improvement over the range of motion of previous toys, but you get things like rocker ankles and I keep being told those matter. (Counterpoint: the 1996 Waspinator had firing rocket launchers and was $10, and was similarly sized.)
As a robot, you get most of the action you want - rotating wrists, 5mmm ports in the feet for extra gear, moving legs, but it's not a whole heck of a lot better than the Thrilling 30 toy. And that one was taller, and cheaper, and had a full-size comic book reprint in it. (Admittedly, the paint was not as good.) The bright yellows and big purple eyes really bring Waspy to life, and I like the yellow elements on the arms and legs too - we don't normally get this much color. The blaster is a little smaller, and I would argue previous releases looked (and behaved) more like fun toys. This is fine, it was just that it came after some arguably better versions. I would have liked a 3mm peg on the tip of the blaster for blast effects, and it seems this figure has absolutely no compatibility with those elements.
The purple wings look great, and generally the figure seems to be closer to the colors on the show. Sometimes that's all I need. This Predacon warrior also has his symbol stamped on his right shoulder, but it's pretty subtle against the shade of green used for the plastic.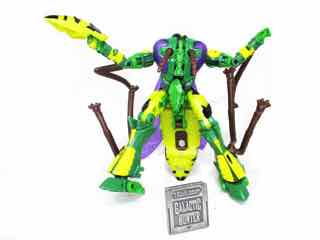 The transformation isn't too tough, but with elements like the moving bug mandibles I prefer to use the instructions. It's also not completely obvious where everything goes, with robot feet kind of fitting in place and robot legs that just have to go somewhere. From the top down, it looks great... just don't look at it from the sides too much.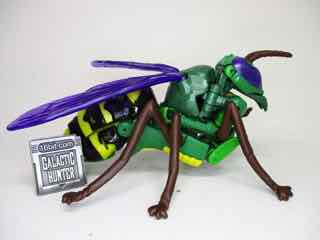 The bug mode is a bit chunky, with black and yellow on the back and purple wings instead of gray. It's arguably better than the show model in terms of being vibrant, but it's not necessarily accurate and there are robot shoulders clearly visible under the now-articulated but head. Also, robot legs under the bug legs. I don't know where else the mass might go - these things are generally designed to favor the robots, but at least you get an acceptable insect form as a bonus.
Each version of Waspinator had something going for it - maybe it was price, or a build-a-figure part, or an action feature. This one goes for vibrant colors and a pretty decent robot mode... and it's also new and somewhat cheaper compared to the secondary market. If you're new to these toys and never got a Waspinator, go get this one. It's fun! If you're happy with a Waspinator you already have, take it from me - there will be more versions, and they will be better in some way. I need to dial back just how many redundant toys I have of the same character, but I don't think I would want to give up this one. But if they come up with a better wasp mode some day, I may change my mind.
--Adam Pawlus
Additional Images

Click here to see more Hasbro figures in Figure of the Day.
Click here to see more Transformers figures in Figure of the Day.

Want to buy this figure? Check Transformers availability at our sponsors:
Entertainment Earth