Shockwave
Made in Indonesia

Transformers Authentics Alpha-Class Figure
Item No.: Asst. E0694 No. F0526
Manufacturer: Hasbro
Includes: n/a
Action Feature: Transforms from Robot to Space Ship
Retail: $10.99
Availability: Spring 2021 (I think)
Other: Voyager Robot at Core Prices

PREVIOUS
RSS
NEXT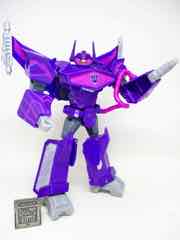 Hasbro doesn't like to talk about its Authentics toys - anything that isn't for collectors tends to get swept under the rug. This Shockwave tends mostly to show up outside the USA, but you can find them here as a "value" or "grocery" channel item - I found mine at the grocery store when I was picking up some food. While previous releases in this line tended to be stylized "Evergreen" designs, Shockwave eschews most previous alt modes with a sort of purple space ship, and a robot clearly inspired by the contemporary Cyberverse toy. And it's rather nice as a big robot figure.
With around a dozen joints, it's pretty good - but it makes some curious choices. The fist hole, for example, is just a hair tighter than 5mm so you can't use your weapons from other toys. You probably could - there's no reason the toy couldn't have been designed with 5mm fists - but it wasn't, and the blaster hand doesn't quite tuck in the arm for transformation either. It could - it just doesn't. With ball-jointed knees the figure has a surprisingly robust figure, allowing him to be better posed on a rocky base or other display area that isn't just a flat surface. It's a brilliant workaround to not having the budget for rocker ankles.
The shoulders are double-jointed ball joints, the waist and neck swivel, and he's a sizable robot. In 2021, to see a robot of this size at this price is impressive. The squinty yellow eye is a nice way to change up Shockwave's personality, and the big Decepticon symbol on the chest looks good too. If this robot just stood around and couldn't transform at all, it'd still be an excellent toy for the retail price. Non-transforming Prime Titan Guardians soft vinyl Shockwave came out about 10 years ago, couldn't transform, and was $7. With inflation, that makes this a superior toy.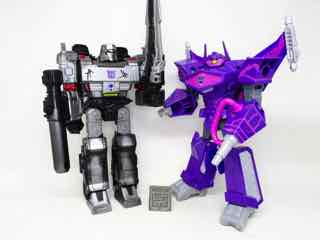 Transformation is fairly easy, but it's not as good as some of the other toys. Bumblebee, Optimus Prime, Megatron, Soundwave, and Grimlock all have alternate modes that are distinctive vehicles - a car is a car. A truck is a truck. But Shockwave is a space ship, meaning there are plenty of superfluous parts that are there to give the robot a better silhouette that just sort of get in the way of the vehicle. What's more, some fold-up panels from the legs cover the thighs of the robot - but they go on the bottom, out of sight, adding to the budget without actually improving the vehicle's look. You can also unplug and re-plug in a cable to give it a little more power. Again, consult the instructions. And then transform it differently, nobody will judge you.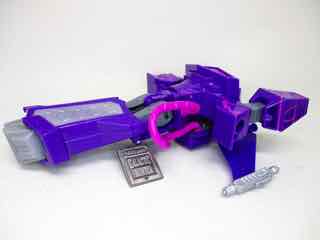 I skipped out on Cyberverse pretty quickly because my first impressions of the first wave of toys soured me, but I did like Shockwave's design and now I have that robot - complete with painted brighter pink panel lines, no less - in a big size for ten bucks. It's not as amazing as the Cyber Battalion Shockwave [FOTD #1,946] from 2018, but it is a lot cheaper and it's still plenty good. If you just want a fun robot figure to futz with, it's so cheap I can recommend it. I wouldn't pay $20-$30 for one, but at $11, how can anyone say no? It's a pity Hasbro doesn't do weird repaints of these guys - seeing a "Shockblast" or "Sixshot" variant colorway would make it a pretty compelling buy for those of us who have too many purple cyclops robots already.
--Adam Pawlus
Additional Images

Click here to see more Hasbro figures in Figure of the Day.
Click here to see more Transformers figures in Figure of the Day.

Want to buy this figure? Check Transformers availability at our sponsors:
Entertainment Earth