Ramjet
WFC-GS24 - Shared Online Exclusive

Transformers Generations War for Cybertron Trilogy Selects Voyager
Item No.: No. F0465
Manufacturer: Hasbro
Includes: 2 blasters
Action Feature: Transforms from Car to Jet
Retail: $31.49
Availability: July 2021
Other: G2 in deco, but not in name on box

PREVIOUS
RSS
NEXT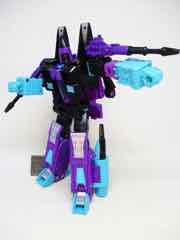 Easily one of the most requested Selects toys, this Generation 2 flavored Ramjet is a mix of exactly what you want... and not. You should probably get it because I doubt they're going to do another take on it, but it lacks some of the zany flourishes of the 2011 Fan Club Generation 2 Ramjet [FOTD #173] and that may be a little jarring. The 1993 toy had colorful stckers, which were gamely updated - and built upon - for the 2011 exclusive release. Of course, sometimes Hasbro goes for accuracy instead of feeling - like this one.
If you were a kid in the 1990s, you probably remember Hasbro's computer-generated commercials which put a fancy Optimus Prime model facing down an animated G2 purple Ramjet. It was a pretty high-profile gig given that the character was never a huge deal and the purple version of the character was even more of a nobody during this toy line once you get past the marketing.
The original 1993 toy had G1 Decepticon symbols, as does this 2021 release. That toy also had "Ramjet" written by the canopy which this release replicates, but the 2021 edition drops the red chevron, the "DC" on the wing, and the Decepticon nose cone symbol. But you do get the bright colors, and I'm here for the bright colors. Everything else could be fixed by reproduction stickers, if you roll that way.
Click here to check availability at Entertainment Earth.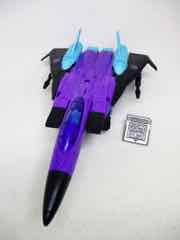 Dirge and Ramjet were quickly-sold-out Amazon exclusives sold in a set, so this figure may be the easiest toy named Ramjet to find in recent memory. I think it's just as good if not more fun than the cream-color G1-style version, with arguably better color layouts. The robot has a conehead with nice eyes, but does lack a bit of the color of previous releases. It's more subdued, with silver, black, purple, and blue. The all-black pylons lack the color of the old stickers, as do the knees. I don't think it's much of a problem unless you have an idea of exactly how the original looks - if you don't have any G2 Ramjet, this one will work quite nicely. I mean, it's a good toy with lots of articulation and the early 1990s coloring that you love now but probably poo-pooed when the very first Playmates Star Trek toys were being sold a few pegs over at your local BEST store.
Along with Sandstorm, this is a great way to build out your Decepticon troops with something new. I absolutely love all the articulation and two-colored cannons, but most of all, I like that it scratches an itch. I want more G2 toys, and this was at the top of the list.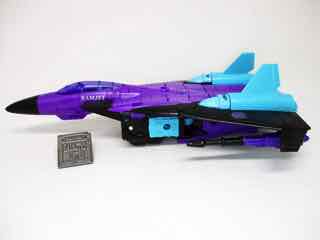 Transformation is the same as the other Earthrise seeker molds, which are themselves quite similar to the Classics Starscream mold that you were sold almost 15 years ago. (You're old.) It's relatively painless.
As mentioned above, it's a good jet - but not great. You're going to wish Hasbro ponied up the pennies to throw in a sticker sheet or more paint applications, but it's still not bad. This is one of the ongoing heartaches of updating old toys, as you see toy companies struggle with figuring out the best colors, the most appropriate articulation, and then squinting as they try to figure out if they should best mimic a cartoon, a toy, a prototype, a comic, or another point of reference. This one does a marvelous job recreating a new, improved, unstickered version of the original toy - but the Transformers Fan Club exclusive, with its G2 symbols and arguably more garish coloring, is probably what a lot of fans were hoping to get. Is one better than the other? Probably. And that's up to your tastes.
While I would've loved a bit more color, this is a sensible update of the toy. It hits most of the major landmarks with great colors and superior articulation, and unlike the 2011 club toy - which was $68 shipped ten years ago - this one was $30-$32. You can't have everything at a lower price, but what you got is surprisingly excellent and also sort of a wake-up call that you should probably never pay a big mark-up for fancy repaint exclusives unless they've been off the market for a little while. The value is there, the colors are nice, and I'm sure ToyHax is going to sell all kinds of upgrades later. I'd recommend it, but I'll also buy absolutely any Decepticon Seeker as long as the price is reasonable. Army building is fun, and as I never did own the 1993 original I'm quite happy to have this toy and other G2 updates like Megatron, Sideswipe, Sandstorm, and so on and so forth.
--Adam Pawlus
Additional Images

Click here to see more Hasbro figures in Figure of the Day.
Click here to see more Transformers figures in Figure of the Day.

Want to buy this figure? Check Transformers availability at our sponsors:
Entertainment Earth