Advent Calendar
with 2 Marty figures, 2 Doc figures, 1 Mad Dog Tannen figure, 1 Clara figure

Back to the Future Set
Item No.: No. 70576
Manufacturer: Playmobil
Includes: 6 human figures, 1 horse, 1 dog, dynamite, plunger, logs, train track wheels, white wall tire wheels, framed photo, note, guns, suitcase, 4 backdrop, tombstone, desert, postcard, hats, poncho, lasso, 1955 electronics upgrade, and more
Action Feature: The big upsell
Retail: $34.99
Availability: September 2021
Other: A very late addition

PREVIOUS
RSS
NEXT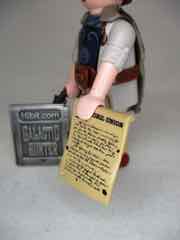 This is a good one. The Advent Calendar from Back to the Future Part III is a set to anyone that enjoys the movie or these kinds of toys. It's an upgrade pack and gift set for the Playmobil Back to the Future DeLorean Time Machine [FOTD #2,205], which itself is a weird toy to make for kids. It's also loaded with cool Western figures and pieces that will go with a non-movie cowboy collection - you get a blacksmith, a teacher, a rustler, and whatever the heck Marty is supposed to be.
This set has four backdrops, a postcard, six figures, and tons of gear from 1955 and 1885 eras of Hill Valley. Even the reused parts are gold - the old Victorian photographer set is worth north of fifty bucks, and has an ugly yellow tripod - the reissue in this set is arguably better if you already have a photographer figure in mind. You also get pistols, Doc's custom rifle, a little patch of desert, a dog in a hat, explosives, and even multiple sets of optional (and one regrettably semi-permanent) upgrade to your DeLorean. Heck, for $35 I'd recommend you buy it just for the six figures - a typical 2-pack is about eight bucks, and when you toss in the new gear, horse, and dog, it's a pretty decent value. (And you can probably sell off the extra bits you don't want on eBay.)
Click here to check availability at Entertainment Earth.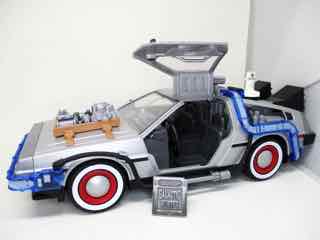 I like the DeLorean upgrades a bunch, but the execution is mixed and they arguably give you too much in this one set. You get four wheels for use on train tracks (but the car is too wide for them, and they're unavailable now anyway), another four white wall tires for use in 1955, and some upgraded electronics to strap to the hood. Each element has an unfortunate limitation, but they're optional and they all look pretty slick if you choose to use them.
Four white-wall wheels are included, but the tires aren't the rubbery kind you got in the car - these are a bit harder and already assembled in the red rims. You just need to plug in the silver wheel covers, and pop off your old wheels to replace them with thees. I think they're gorgeous and may be good replacements for other cars like the Volkswagen camper, too! They look cool and they spin nice - prying off the old ones takes a bit of effort, but you should easily be able to pull it off. It's a great upgrade option, especially when you consider Playmobil could have just as easily thrown in stickers or something to simulate the white wheels.
To complete the 1955 upgrades, you also get the box of equipment to strap to the hood of the car. Unfortunately, Playmobil didn't come up with a good way to easily convert the car back and forth - the excellently sculpted pieces are actually glued on via sticky pieces in the set, so once you pry it off, you can only affix them a couple more times. I might suggest you use double-sided tape for each play session. It's somewhat wasteful, and generally not the kind of forward-thinking we see on Playmobil toys.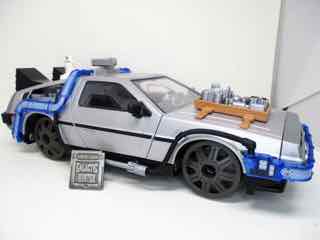 The third car-specific upgrade are 1885 train track wheels, which are designed to grip tracks - if tracks are far enough apart. Playmobil's existing train tracks are too narrow for these nifty unpainted wheels, so for the time being you'll just have to enjoy it on a shelf. There are no known plans for any new trains in the next few years, let alone a new gauge of tracks for said trains, so I assume this isn't going to matter unless you want to use modified tracks from your existing collection. Also old western trains haven't been sold in quite some time either, making this particular upgrade something for long-haul collectors who have the old trains or for fans that may wait around for a new one to surface.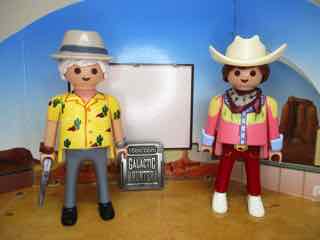 From 1955, you get Marty McFly in his Doc-approved cowboy outfit as well as Doc in a particularly nice retro shirt. Marty's pink and blue shirt is covered with Niels Bohr's old, incorrect model of the atom and other stitches and flourishes that make you go "Oh, I remember that from the movie." Similarly Doc has a shirt with little cactuses on it, plus a hat that does a slightly better job matching his on-screen look than Marty's. Doc's shirt is a paler yellow, and the flesh of his neck doesn't quite match the flesh of his plastic either. But it's cool. I know that's probably not the greatest way to look at these things, but nobody else is making Doc in this outfit, so I'm happy to get it. The front of Doc's hair peeks out from under his hat - like all Playmobil figures - which also doesn't quite match the costume on the film which has it tucked under his hat.
Marty also has a brown clip-on bandanna, while Doc has two watches and the starter pistol he uses to signal Marty to drive right into the movie screen - which I assume was a wink to the audience that Marty is about to go into a very movie-fied version of Hill Valley in the old west. I should also note this set reuses an old lantern for the two adventurers to explore the abandoned mine.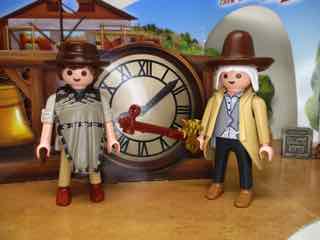 1885 Doc and Marty are also included - Marty has the stove painted on his chest which you can cover with a poncho, plus a holster for his pistol. The hat looks about right, and the poncho is a repainted version of a piece that Playmobil has been using since the late 1980s. I couldn't begin to tell you how old the hat piece is, it's been around since at least the 1990s. The holster has also been included with gunslingers for years.
Blacksmith Doc Brown includes a very tall hat that appears to be similar to other ones Playmobil made before, just in a new and possibly unique color. Doc has longer, shaggier hair and a long coat which Playmobil has been using on a ton of pieces lately - but the printed torso is unique, and I'm fairly positive that Doc's gun is unique to this set and potentially unlikely to be used again later. While not a perfect match to the film, it captures the look and feel pretty well. The rounded hat is just a little too rounded, but I'm just so happy this figure exists to harp on it. Also I'm too cheap to buy Hot Toys' 1:6 scale version of this duo.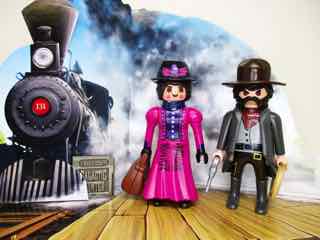 Rounding out the set is Buford "Mad Dog" Tannen and Clara Clayton, both of which are also pretty excellent. Clara uses one of the new body types, which means you get a more human silhouette - that's good! - but the legs can't bend. That's bad. It may also be true to the films - that was a tight costume and she did spend a lot of time standing in it. Playmobil gets the purple right, plus prints on a lot of details like her buttons, the black trim, and of course black gloves. Even more impressive, little fabric wrinkes are included below the waist to simulate the fabric of the outfit. Not content to stop there, she has a hat and suitcase too. The suitcase opens and can store small parts, while the hat looks like the right mold, but the purple doesn't wrap around quite the same as on the big screen. If Playmobil ever does a train set with her (perhaps using legs that can sit) adding a little more paint to the hat would be most welcome. I don't believe there are any other movies with licensed Mary Steenburgen toys, and other than a Minimates figure from Diamond Select Toys I doubt there are likely to be many others of this particular costume in the near future. (I'm going to go out on a limb and assume the studio didn't secure likeness rights for merchandise back then for anybody, as they didn't seem to for Michael J. Fox nor Christopher Lloyd.)
Other than it looks like Playmobil's Buford "Mad Dog" Tannen washed his face, they nailed it. The filthy gunslinger has a long coat, red bandanna, brown hat, printed non-functional holster on his legs, and a nice belt. The mustache has no chin beard, so you can see his stubble and go "Oh, they could totally use this for a Derek Smalls figure some day." He also looks just like an outlaw of some sort, so even if you hate the movie this and some of the other figures in this set are a perfect fit in any Playmobil Western town. His accessories include a lasso and a pistol, neither of which are new here but who says you can't have more? The figure can also ride the included horse without a fuss, which is good given he's got a long coat.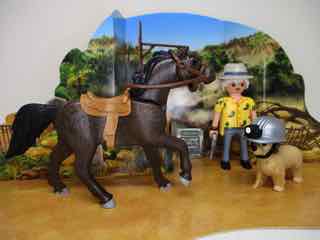 Two animals are included in this set - a horse, and a little wheaten terrier who I believe is making his debut here. The horse is unique to the set, with grey hooves plus a black mane and eyes molded in color. Playmobil's dedication to not having to paint things is a constant delight - and like the horses of old, he's only articulated at the neck. Included saddle and reins click on easily, and there's a grip so the figure can hold on while riding the action-posed horse. I didn't have any of this design so I'm pretty thrilled, as a kid I only had the tiny pony and I bought myself a few "stick horses" in the 1974-style when I got older. This is, of course, much more realistic - it doesn't have the charm of the old horses, but I think you have to be a geezer to appreciate those now.
Like the old horses, all the detail is molded right in. There's a unique plastic pattern, or texture, in many Playmobil animals that gives it a fur-like illusion. You can see all these lines and swirls in it if you zoom in close - it's not something other toy companies do, but Playmobil seems to do it on everything from whales to the plastic of the Enterprise.
Rounding out the animal kingdom for this set is Copernicus, Doc's dog from 1955. Given that it's a new mold, animal collectors may just want this set - but he also has an adapter piece allowing him to wear hats, which is going to make this something a lot of people may want to track down. The rubbery adapter piece goes under his chin and allows him to wear any human hat, but the included silver helmet with a lamp on it should do just fine. I assume the dog will be sold in other sets down the road, but wouldn't hold my breath for the adapter. Copernicus has a black nose, black eyes, brown ear highlights, and a lot of sculpted fur much like the older dogs. Unlike some older dogs, he lacks visible evidence of his gender.
The amount of gear this set gives you is almost exhausting - six figures with one or two extras each would be plenty, but you also get plastic scenery like Doc Brown's pre-stickered tombstone (sadly, you can't flip it over to reveal Clint Eastwood's.) A little clump of desert foliage is also included to help your dioramas, and you may recognize these elements from other sets.
Three specially-treated logs are included to help the train (which I guess doesn't exist if you're a modern customer) go faster, plus you get three bundles of dynamite and a plunger for the mine. A Western Union letter (labeled Playmobil Union) from Doc to Marty is included with the tiniest printing on it, which sadly means you don't get Marty McFly in his cool spy outfit nor do you get Joe "Count Floyd" Flaherty's cameo as the Western Union man. (Maybe later, I can hope.)
What may be the sweetest plum in the set is an old-style camera with removable plate - it goes nicely with the framed photo of Doc and Marty from the movie. The camera has a multi-piece tripod and a grip on the side, so your figure can hold the camera in place and squeeze the grip to take the photo, and there's a removable film plate. It's pretty ornate, but given it's a design from the pink-box doll house set, it should be. There were some really amazing pieces back then, one of which adorns the very top of this site.
If you collect Back to the Future toys or Western Playmobil, why wouldn't you buy this? There's a lot of great stuff in it, and as a person who likes this movie a lot more than I'm told that I should, it's so cool to have toys from it. Even if it's 31 years later. I hope we get a train to go with it some day, and while it's meant to be an advent calendar to count down the days to Christmas - a German tradition dating back quite some time - I got this set in October and opened them all immediately. You can make your kids open one a day if you want, some days are hats and some are accessories and some are figures but I don't have time for delayed gratification. I've been in a basement for over a year, I'm opening my dream toys when they show up and I recommend that you do the same. Nobody else does this kind of thing.
--Adam Pawlus
Additional Images

See more Playmobil toys in Figure of the Day:
Day 94: Playmobil African Safari 4831 Ostriches Set
Day 125: Playmobil Specials 4683 Mongollian Warrior Action Figure
Day 132: Playmobil Specials Cave Man Action Figure
Day 140: Playmobil Specials Palace Guard Action Figure
Day 163: Playmobil Figures Ghost Action Figure
Day 186: Playmobil Top Agents Secret Agent Action Figure
Day 266: Playmobil Dinosaurs 4173 Pteranodon
Day 271: Playmobil "Fi?ures" Figures Uncle Sam Action Figure
Day 276: Playmobil "Fi?ures" Figures Zorro Action Figure
Day 322: Playmobil Treasure Hunters 4848 Temple Guardian Figure
Day 363: Playmobil www.tourismus.nuernberg.de 6107 Albrecht Durer Figure
Day 764: Playmobil Stone Age 5105 Mammoth Family Set
Day 802: Playmobil Dino 5232 Stegosaurus
Day 811: Playmobil Specials 4748 Samurai
Day 887: Playmobil Toy Fair 2014 40th Birthday Knight
Day 1,030: Playmobil City Life 5605 PopStars! Band
Day 1,139: Playmobil School 4329 School Band
Day 1,148: Playmobil Dragon Tournament Knight Toy Fair Promo Figure
Day 1,154: Playmobil Magician with Genie Lamp Figure
Day 1,354: Playmobil Play Box 5638 Haunted House
Day 1,401: Playmobil 2016 Toy Fair Girl Figure
Day 1,451: Playmobil "Fi?ures" Figures Cat Burglar
Day 1,461: Playmobil 5197 Sports & Action Table Tennis Players
Day 1,499: Playmobil 4766 Special Plus Table Pizza Baker
Day 1,557: Playmobil "Fi?ures" Figures Asian Rice Worker
Day 1,577: Playmobil Toy Fair 2014 40th Birthday Princess
Day 1,581: Playmobil 2016 Toy Fair Pirate Figure
Day 1,583: Playmobil 5152 Future Planet E-Rangers Collectobot Figure
Day 1,584: Playmobil 6687 Super 4 Lost Island Figure Set
Day 1,585: Playmobil Figures Prisoner
Day 1,586: Playmobil 5572 City Life Ball Pit Set
Day 1,587: Playmobil 4741 Specials Space Ranger
Day 1,588: Playmobil 5562 Wild Life Beavers with Backpacker
Day 1,589: Playmobil 5239 Vampires
Day 1,590: Playmobil "Fi?ures" Figures Tall Ghost
Day 1,591: Playmobil Wild Life 5559 Inflatable Boat with Explorers
Day 1,592: Playmobil 5898 4-Wheel Drive with Kayak and Ranger
Day 1,598: Playmobil "Fi?ures" Figures Adventuress
Day 1,607: Playmobil "Fi?ures" Figures Granny
Day 1,609: Playmobil "Fi?ures" Figures France Fan
Day 1,613: Playmobil "Fi?ures" Figures Dark Fairy
Day 1,617: Playmobil 6824 Playmo-Friends Werewolf
Day 1,618: Playmobil 6823 Playmo-Friends Space Warrior
Day 1,631: Playmobil Knights Giant Troll with Dwarf Fighters
Day 1,641: Playmobil Playmo-Friends Flame Warrior
Day 1,650: Funko x Playmobil Willy Wonka
Day 1,654: Playmobil "Fi?ures" Figures Sauna Woman
Day 1,657: Funko x Playmobil Teenage Mutant Ninja Turtles Black and White Raphael
Day 1,662: Playmobil Tigers
Day 1,684: Playmobil NHL 5069 Zamboni
Day 1,699: Playmobil "Fi?ures" Figures Queen of Hearts
Day 1,728: Playmobil "Fi?ures" Figures Space Ranger
Day 1,731: Playmobil Ghostbusters 9222 Slimer
Day 1,737: Playmobil "Fi?ures" Figures Fire Wizard
Day 1,762: Playmobil 6099 Martin Luther
Day 1,764: Playmobil 5610 City Life Take Along
Day 1,772: Playmobil 6647 Alpacas
Day 1,774: Playmobil Summer Fun 5270 Porter with Luggage Cart
Day 1,784: Playmobil 6649 Penguins
Day 1,786: Playmobil 2017 Toy Fair Roman Troop Figure
Day 1,787: Playmobil "Fi?ures" Figures Zombie
Day 1,791: Playmobil Ghostbusters 9221 Stay Puft Marshmallow Man
Day 1,796: Playmobil "Fi?ures" Figures Ghoul Butler
Day 1,799: Playmobil "Fi?ures" Figures Pirate
Day 1,804: Playmobil "Fi?ures" Figures Gnome
Day 1,810: Playmobil "Fi?ures" Figures Captain America
Day 1,813: Playmobil Ghostbusters 9223 Venkman and Terror Dogs
Day 1,822: Playmobil "Fi?ures" Figures Flaming Skull
Day 1,828: Playmobil "Fi?ures" Figures Gladiator
Day 1,832: Funko x Playmobil Doctor Who Fourth Doctor
Day 1,836: Playmobil 6639 Gorillas
Day 1,839: Playmobil "Fi?ures" Figures Baker
Day 1,844: Playmobil Pianist with Piano
Day 1,851: Playmobil Ghostbusters 9224 Spengler and Ghost
Day 1,856: Playmobil "Fi?ures" Figures Buffalo Warrior
Day 1,861: Playmobil "Fi?ures" Figures Princess
Day 1,865: Playmobil 6525 Detective
Day 1,892: Playmobil "Fi?ures" Figures Rock Star
Day 1,899: Playmobil Special Plus Architect
Day 1,908: Funko x Playmobil Teenage Mutant Ninja Turtles Shredder
Day 1,913: Playmobil "Fi?ures" Figures Viking
Day 1,919: Playmobil "Fi?ures" Figures Steampunk Warrior
Day 1,934: Playmobil "Fi?ures" Figures Fisherwoman
Day 1,952: Playmobil 2018 Toy Fair Fairy Figure
Day 1,967: Playmobil 2018 Toy Fair Mountain Rescue Figure
Day 1,990: Playmobil 2013 Toy Fair Dinos Explorer Figure
Day 2,058: Playmobil Werewolf and Witch
Day 2,076: Playmobil The Real Ghostbusters 9387 Zeddemore with Aqua Scooter
Day 2,079: Playmobil 2019 Toy Fair Pet Hotel Cat Expert Figure
Day 2,082: Playmobil The Real Ghostbusters 9386 Spengler with Cage Car
Day 2,083: Playmobil Add-Ons 9804 Fire Brigade Accessories
Day 2,136: Playmobil Castle 6042 Castle Ghost with Rainbow LED
Day 2,139: Playmobil Mummy and Grim Reaper
Day 2,193: Playmobil 2020 Toy Fair Emergency Doctor Figure
Day 2,205: Playmobil Back to the Future DeLorean Time Machine Vehicle with Figures
Day 2,219: Playmobil Scooby-Doo! 70287 Scooby and Shaggy with Ghost Figures
Day 2,231: Playmobil Back to the Future Marty McFly and Dr. Emmett Brown Figures
Day 2,243: Playmobil Scooby-Doo! 70361 Adventure in the Mystery Mansion Playset
Day 2,255: Playmobil Back to the Future Advent Calendar with Figures
Day 2,325: Playmobil 2020 Toy Fair Mermaid Figure
Day 2,326: Playmobil 70177 Volkswagen Volkswagen Beetle
Day 2,327: Playmobil "Fi?ures" Figures Confederate Soldier
Day 2,328: Playmobil The Real Ghostbusters 9388 Stantz with Sky Bike
Day 2,329: Playmobil Pirates Ghost Whale Skeleton
Day 2,330: Playmobil 5754 Adventure Croc Boat
Day 2,331: Playmobil 5603 City Life Tour Bus
Day 2,332: Playmobil Scooby-Doo! 70286 Mystery Machine with Figures
Day 2,333: Playmobil The Movie Robotitron with Drone
Day 2,348: Playmobil "Fi?ures" Figures Witch
Day 2,350: Playmobil Vampire and Frankenstein's Monster
Day 2,352: Playmobil 70634 Back to the Future Part II Hoverboard Chase
Day 2,354: Playmobil 70548 Star Trek U.S.S. Enterprise NCC-1701 Playset
Day 2,356: Playmobil "Fi?ures" Figures Day of the Dead Woman
Day 2,360: Playmobil "Fi?ures" Figures Hula Girl
Day 2,362: Playmobil "Fi?ures" Figures Hippie
Day 2,363: Playmobil 70576 Back to the Future Part III Advent Calendar with Figures
Day 2,365: Playmobil 70026 "Fi?ures" Figures Fire Sorceress
Day 2,367: Playmobil "Fi?ures" Figures Skeleton Warrior
Day 2,368: Playmobil 5753 Seasonal Photo Santa Claus Figures
Day 2,370: Playmobil "Fi?ures" Figures Knight
Day 2,372: Playmobil Adventure Treasure Robber Crawler
Day 2,373: Playmobil 70148 "Fi?ures" Figures Ninja
Day 2,375: Playmobil The Real Ghostbusters 9385 Venkman with Helicopter
Day 2,377: Playmobil "Fi?ures" Figures Cowgirl
Day 2,378: Playmobil 70148 "Fi?ures" Figures Puppeteer
Day 2,380: Playmobil 70148 "Fi?ures" Figures Opera Fan
Day 2,382: Playmobil 70148 "Fi?ures" Figures Duck Feeder
Day 2,390: Playmobil 71060 "Fi?ures" Figures Steampunk
Day 2,398: Playmobil 2013 Toy Fair Dinosaur Explorer Figure
Day 2,408: Playmobil 70876 Special Plus Child with Monster
Day 2,415: Playmobil Special Plus Special Operations Agent
Day 2,422: Playmobil "Fi?ures" Figures Day of the Dead Man
Day 2,428: Playmobil 70873 Specials Plus Man with E-Scooter Action Figure
Day 2,430: Playmobil "Fi?ures" Figures Skater Action Figure
Day 2,432: Playmobil "Fi?ures" Figures Gargoyle
Day 2,466: Playmobil "Fi?ures" Figures Vampire
Day 2,475: Playmobil "Fi?ures" Figures Raffle Man
Day 2,481: Playmobil "Fi?ures" Figures Paintball Man
Day 2,496: Schaper Playmobil 3591 Space Series Astronaut and Robot Figures
Day 2,518: Playmobil "Fi?ures" Figures Gnome
Day 2,538: Playmobil 71010 Wiltopia Boat Trip to the Manatees Set

See more Back to the Future figures in Figure of the Day:
Day 552: Mattel Back to the Future II Hoverboard Prop Replica
Day 985: Funko Back to the Future Marty McFly ReAction Figure
Day 1,008: Funko Back to the Future George McFly ReAction Figure
Day 1,008: Funko Back to the Future Doc Brown ReAction Figure
Day 1,078: Funko Back to the Future Biff Tannen ReAction Figure
Day 1,290: Mattel Hot Wheels Back to the Future Time Machine - Hover Mode
Day 1,390: Funko Pop! Movies Back to the Future Marty McFly Vinyl Figure
Day 2,205: Playmobil Back to the Future DeLorean Time Machine Vehicle with Figures
Day 2,231: Playmobil Back to the Future Marty McFly and Dr. Emmett Brown Figures
Day 2,255: Playmobil Back to the Future Advent Calendar with Figures
Day 2,265: Hasbro Transformers x Back to the Future Deluxe Gigawatt Action Figure
Day 2,352: Playmobil 70634 Back to the Future Part II Hoverboard Chase
Day 2,363: Playmobil 70576 Back to the Future Part III Advent Calendar with Figures

Error processing SSI file