Back to the Future George McFly
He Is Your Density

Back to the Future ReAction Figures
Item No.: No. 03917
Manufacturer: Super7 x Funko
Includes: n/a
Action Feature: n/a
Retail: est. $9.99
Availability: July 2014
Other: First-ever 3 3/4-inch George McFly figure

PREVIOUS
RSS
NEXT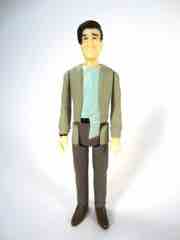 When these lines were announced I was delighted across the board - before I even had time to ask if he was coming, Funko confirmed George McFly was on deck. Given the nature of the actor, licensed merchandise, and so forth I didn't expect that such a thing would ever actually exist - but here it is! He looks more than a little cartoony, but I think it works for the affable character. I've had some actual QC issues with this line, but George is pretty simple and nothing here seems to be out of place. He basically just works.
The 3 3/4-inch figure has no accessories to speak of, and his hands look pretty close to the style of figures which he.shtmlires to mimic. The facial expression is much more expressive than other figures of the era, but given his inner turmoil and goofy exterior it's a good match. The figure has too much personality for a 1980s Kenner toy, which works for me. There isn't a lot you can do with this style of head to give you an idea of the personality, so something other than the blank faces we're used to is a real nice touch. The hair is exaggerated and a little too long on the side, but it was an essential part of his character. I can see why they elected to exaggerate it.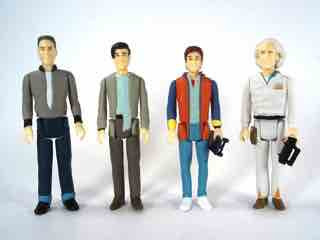 The outfit feels right on the money - the untucked shirt, the coloring of the jacket, .and the simple sculpt showed a lot of restraint on the part of the sculptor. You can tell the reeled it in - the deco, too, shows that they were paying a lot more attention to the vocabulary of a 1980s action figure. The buttons are unpainted on his shirt, as they should be. The soles of the shoes are the same color as the rest of his footwear, and they color-corrected the jacket during production. Honestly, if it was still incorrect I wouldn't have faulted them - Kenner's 1979 wave of Star Wars was plagued with errors, so their inclusion would be almost appropriate.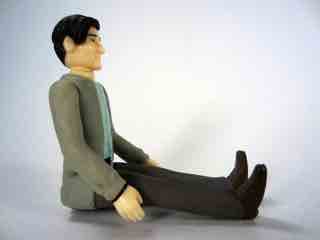 With no accessories and a plastic head molded in an acceptable, not-too-pale flesh color this is one of the better ReAction figures from the debut year of new sculpts. The Alien guys were largely well-constructed, and many of these are too - but I've had a few problems which I am unsure if they were isolated incidents. (Their reviews are not yet written.) George McFly turned out largely well - if you dig his look, he's pretty good, but be careful with him. He doesn't feel as rugged as a 1982 Kenner figure, but he certainly looks the part.
--Adam Pawlus
Additional Images

See more Super 7 and Funko x Super 7 figures in Figure of the Day:
Day 792: Super 7 ALIEN SDCC Exclusive Sales Samples
Day 821: Super7 x Funko Alien ReAction Ripley
Day 844: Super7 x Funko Alien ReAction Dallas
Day 852: Super7 x Funko Alien ReAction Alien
Day 857: Super7 x Funko Alien ReAction Kane in Space Suit
Day 861: Super7 x Funko Alien ReAction Ash
Day 945: Super7 x Funko The Rocketeer ReAction Rocketeer Action Figure
Day 945: Super7 x Funko Predator (Invisible, Bloody) Action Figure
Day 985: Funko Back to the Future Marty McFly ReAction Figure
Day 1001: Funko Nightmare Before Christmas Jack Skellington (Early Bird Figure) ReAction Figure
Day 1,005: Funko Universal Monsters The Mummy ReAction Figure
Day 1,008: Funko Back to the Future George McFly ReAction Figure
Day 1,008: Funko Back to the Future Doc Brown ReAction Figure
Day 1,029: Super7 x Funko Predator (Attack Mode) ReAction Figure
Day 1,037: Funko Nightmare Before Christmas Saly ReAction Figure
Day 1,038: Funko Universal Monsters Creature from the Black Lagoon ReAction Figure
Day 1,039: Funko Universal Monsters The Invisible Man ReAction Figure
Day 1,040: Funko Universal Monsters The Phantom of the Opera ReAction Figure
Day 1,041: Funko Universal Monsters The Wolf Man ReAction Figure
Day 1,042: Funko Universal Monsters The Bride of Frankenstein ReAction Figure
Day 1,059: Funko Predator (Masked) ReAction Figure
Day 1,068: Funko Universal Monsters Frankenstein's Monster ReAction Figure
Day 1,078: Funko Back to the Future Biff Tannen ReAction Figure
Day 1,082: Funko T800 Endoskeleton (Chrome) ReAction Figure
Day 1,094: Funko Universal Monsters Dracula ReAction Figure
Day 1,059: Funko Predator (Masked) ReAction Figure
Day 1,102: Funko Predator (Unmasked) ReAction Figure
Day 1,108: Funko Universal Monsters The Invisible Man
Day 1,108: Funko Universal Monsters The Invisible Man Clear Entertainment Earth Exclusive
Day 1,111: Funko Predator (Glow Version) ReAction Figure
Day 1,117: Funko The Terminator Sarah Connor ReAction Figure
Day 1,133: Funko The Terminator (Tech Noir Jacket) ReAction Figure
Day 1,138: Funko Pulp Fiction Mia Wallace ReAction Figure
Day 1,149: Super7 x Funko Alien Egg Chamber Action Playset
Day 1,183: Super7 x Funko Alien ReAction Alien (with Metallic Flesh)
Day 1,187: Funko Predator (Invisible) ReAction Figure
Day 1,199: Super7 x Funko Alien ReAction Ripley (Spacesuit)
Day 1,208: Funko Predator (Thermal Vision) ReAction Figure
Day 1,211: Funko The Fifth Element Leeloo ReAction Figure
Day 1,217: Funko The Fifth Element Diva Plavalaguna ReAction Figure
Day 1,222: Funko The Fifth Element Korben Dallas ReAction Figure
Day 1,227: Funko The Fifth Element Mangalore ReAction Figure
Day 1,236: Funko Gremlins Mogwai Stripe ReAction Figure
Day 1,244: Funko The Fifth Element Ruby Rhod ReAction Figure
Day 1,250: Super7 M.O.T.U.S.C.L.E. Set B
Day 1,252: Funko The Fifth Element Zorg ReAction Figure
Day 1,263: Super7 M.O.T.U.S.C.L.E. Set A
Day 1,267: Funko The Fifth Element Leeloo (Straps Costume) ReAction Figure
Day 1,272: Super7 x Funko Alien ReAction Kane (Chestburster)
Day 1,275: Funko Gremlins Billy Peltzer ReAction Figure
Day 1,277: Super7 x Funko Alien ReAction Kane (Facehugger)
Day 1,286: Funko Nightmare Before Christmas Behemoth
Day 1,288: Super7 M.O.T.U.S.C.L.E. Set C
Day 1,295: Funko Nightmare Before Christmas Mayor
Day 1,302: Super7 M.O.T.U.S.C.L.E. SDCC Promo Skeletor
Day 1,327: Super7 x Funko Alien ReAction Nostromo Crew (Dallas, Kane, Lambert)
Day 1,333: Funko Gremlins Cinema Gremlin ReAction Figure
Day 1,342: Funko Gremlins Gremlin Stripe ReAction Figure
Day 1,358: Funko Gremlins Bandit Gremlin ReAction Figure
Day 1,628: Super7 Masters of the Universe M.U.S.C.L.E. Series 2 Set C
Day 1,633: Super7 Masters of the Universe M.U.S.C.L.E. Series 2 Set B
Day 1,637: Funko E.T. The Extra-Terrestrial Elliot, E.T., and Gertie ReAction Figures
Day 1,639: Super7 Masters of the Universe M.U.S.C.L.E. Series 2 Set D
Day 1,639: Super7 Masters of the Universe M.U.S.C.L.E. Series 2 Set A
Day 1,656: Super7 Alien M.U.S.C.L.E. Set A
Day 1,676: Super7 Alien M.U.S.C.L.E. Set C
Day 1,686: Super7 Alien M.U.S.C.L.E. Set B
Day 1,693: Super7 Alien M.U.S.C.L.E. Set D
Day 1,801: Super7 Street Fighter II M.U.S.C.L.E. Set A
Day 1,817: Super7 Street Fighter II M.U.S.C.L.E. Set B
Day 1,834: Super7 Street Fighter II M.U.S.C.L.E. Set D
Day 1,840: Super7 Masters of the Universe M.U.S.C.L.E. Series 3 Set D
Day 1,846: Super7 Aliens M.U.S.C.L.E. Set E
Day 1,843: Super7 Masters of the Universe M.U.S.C.L.E. Series 3 Set E
Day 1,857: Super7 Street Fighter II M.U.S.C.L.E. Set C
Day 1,862: Super7 Masters of the Universe M.U.S.C.L.E. Series 3 Set C
Day 1,864: Super7 Aliens M.U.S.C.L.E. Set A
Day 1,877: Super7 Masters of the Universe M.U.S.C.L.E. Series 3 Set F
Day 1,881: Super7 Mega Man M.U.S.C.L.E. Series 1 Set B
Day 1,884: Super7 Aliens M.U.S.C.L.E. Set D
Day 1,894: Super7 Mega Man M.U.S.C.L.E. Series 1 Set D
Day 1,904: Super7 Mega Man M.U.S.C.L.E. Series 1 Set A
Day 1,914: Super7 Mega Man M.U.S.C.L.E. Series 1 Set C
Day 1,920: Super7 Halloween Series Nosferatu Glow in the Dark
Day 1,922: Super7 Masters of the Universe M.U.S.C.L.E. Series 3 Set B
Day 1,937: Super7 Masters of the Universe M.U.S.C.L.E. Series 3 Set A
Day 2,161: Super7 Masters of the Universe Transforming He-Man Action Figure
Day 2,211: Super7 Toxic Crusaders Glow in the Dark Toxie Action Figure
Day 2,235: Super7 Ultimates Voltron Action Figure
Day 2,237: Super7 Teenage Mutant Ninja Turtles Ultimates Raphael Action Figure
Day 2,253: Super7 Teenage Mutant Ninja Turtles Ultimates Foot Soldier Action Figure
Day 2,358: Super7 Killer Bootlegs Rhamnusia's Revenge Action Playset with Draco Knuckleduster and Phantom Starkiller Action Figures
Day 2,388: Super7 Teenage Mutant Ninja Turtles Ultimates Glow-in-the-Dark Mutagen Man Action Figure
Day 2,454: Super7 Metropolis Silver Maria ReAction Figure
Day 2,458: Super7 G.I. Joe Red Ninja ReAction Figure
Day 2,465: Super7 Godzilla Godzilla '54 (Glow-in-the-Dark) ReAction Figure
Day 2,480: Super7 Transformers Grimlock G2 ReAction Figure
Day 2,526: Super7 Vincent Price Master of Mayhem ReAction Figure
Day 2,530: Super7 Godzilla Mechagodzilla (Glow-in-the-Dark) ReAction Figure
Day 2,534: Super7 Planet of the Apes Mendez XXVI ReAction Figure
Day 2,546: Super7 Planet of the Apes Cornelius ReAction Figure
Day 2,554: Super7 Alien UCCSS Nostromo Action Figure Set 1 with Kane with Facehugger, Ripley with Jonesy, Ash with Removable Head
Day 2,562: Super7 Universal Monsters The Mummy ReAction Figure
Day 2,570: Super7 Universal Monsters The Metaluna Mutant ReAction Figure
Day 2,577: Super7 Transformers Hot Rod ReAction Figure
Day 2,590: Super7 Planet of the Apes General Aldo ReAction Figure
Day 2,594: Super7 Mars Attacks Destroying A Dog ReAction Figure
Day 2,598: Super7 Planet of the Apes Dr. Zaius ReAction Figure
Day 2,606: Super7 Universal Monsters Official World Famous Super7 Monsters! Creature from the Black Lagoon (Super She Creature) Glow-in-the-Dark
Day 2,610: Super7 Planet of the Apes Taylor ReAction Figure
Day 2,626: Super7 Planet of the Apes Zira ReAction Figure
Day 2,630: Super7 Universal Monsters The Metaluna Mutant ReAction Figure
Day 2,634: Super7 Planet of the Apes General Ursus ReAction Figure
Day 2,638: Super7 Universal Monsters Dracula ReAction Figure
Day 2,642: Super7 Star Trek: The Next Generation Armus ReAction Figures

See more Back to the Future figures in Figure of the Day:
Day 552: Mattel Back to the Future II Hoverboard Prop Replica
Day 985: Funko Back to the Future Marty McFly ReAction Figure
Day 1,008: Funko Back to the Future George McFly ReAction Figure
Day 1,008: Funko Back to the Future Doc Brown ReAction Figure
Day 1,078: Funko Back to the Future Biff Tannen ReAction Figure
Day 1,290: Mattel Hot Wheels Back to the Future Time Machine - Hover Mode
Day 1,390: Funko Pop! Movies Back to the Future Marty McFly Vinyl Figure
Day 2,205: Playmobil Back to the Future DeLorean Time Machine Vehicle with Figures
Day 2,231: Playmobil Back to the Future Marty McFly and Dr. Emmett Brown Figures
Day 2,255: Playmobil Back to the Future Advent Calendar with Figures
Day 2,265: Hasbro Transformers x Back to the Future Deluxe Gigawatt Action Figure
Day 2,352: Playmobil 70634 Back to the Future Part II Hoverboard Chase
Day 2,363: Playmobil 70576 Back to the Future Part III Advent Calendar with Figures