Gigawatt
Regular Edition - Walmart got the numbered edition, Target, Pulse, Amazon, GameStop, and Walmart shared the non-numbered edition

Transformers x Back to the Future Deluxe-Class Figure
Item No.: No. E8545
Manufacturer: Hasbro
Includes: Blaster, Mr. Fusion, "whip" electricity cable
Action Feature: Transforms from Robot to SUV
Retail: $29.99
Availability: Octoberish 2020
Other: Retool of Siege Sideswipe/Red Alert/Tigertrack/etc.

PREVIOUS
RSS
NEXT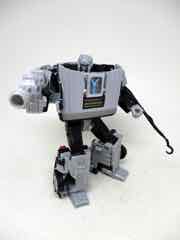 Hasbro has done a great job ensuring they push the nostalgia button for characters, but cars? Not so much. Gigawatt (and other crossovers like Maverick and Ectotron [FOTD #2,197]) leaned hard on famous movie vehicles, while we saw some good real-world ones in Studio Series - but not a lot of retro ones, other than the venerable original Volkswagen Beetle. (And yet, no Herbie.) Due to its fame from the Back to the Future, the very briefly-manufactured DMC DeLorean has enjoyed an uptick in toys. There are Hot Wheels cars, a Playmobil one, model kits, plushies, key chains, and other collectibles based on this classic car. What's interesting is that many don't seem to include the logos from the infamous John DeLorean's motor compant - a "DMC" is visible on the black grille of the real thing, absent on most toys in recent years (save for Playmobil's) presumably because the car has been significantly altered from the original factory output. Maybe everybody got out of paying a second licensing fee.
Gigawatt follows the lead of what Ectotron did well - take an existing toy, re-shell it, make a few twists, and sell it at a higher price point. Is it perfect? Is it worth $10 extra over the $10 Siege Sideswipe? Probably - there's more going on here. But let's take a look at it.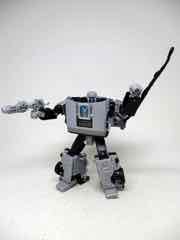 The Gigawatt vehicle mode is packaged in a marvelous G1-style box. If this toy were made in 1985, this is close to how the box would look - but probably would be entirely in English. You've got the flap on the box, you've got classic Hasbro and Transformers logos, and you've even got the classic grid pattern. What you don't get is the old-style insert - instead you have a very modern clear plastic tray with sock ties holding it in place, plus an all-new backdrop with vaguely blueprinty illustrations of Doc Brown's most famous invention.
The car itself is a beaut - no 5mm or 3mm pegs or holes to offend the eye. There's a hole for the electricity antenna, but that's a play feature. There's a little groove for Mr. Fusion to plug in or be removed, but again, that's a feature. The doors open up like in the movie - showing off the toy's guts - various greeblies and cables are painted exquisitely well. The toy is mostly molded in a silver plastic, with some silver painted elements on the front and back that gives it a finish closer to the actual car. The wheels closely match to the genuine article, with the bonus of being able to flip down for "hover mode." The downside here is that they don't quite always click in place, so you may have to adjust them on the fly.
With two removable parts and the opening gull-wing doors, this toy does more than most other deluxe-sized cars in these lines. What really knocks me out is the back half with all the gears and cables - there's a lot of paint and bright colors here to show all the work done on the car. I dare say it's the most colorful take on this prop that I've bought as a toy in recent years, and of course the genuine articule is every more colorful with blue glowing cables andother odds and ends. The brake lights are red, the headlights are nondescript, the rear license plate is plainly visible, and the end result is a really good little toy car that's actually fun to futz with.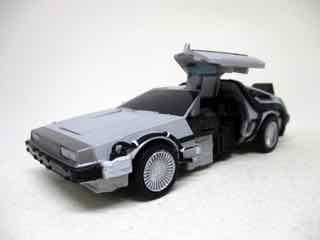 The transformation is similar to Sideswipe, but with some more locking elements and of course the wing doors. After you're removed Mr. Fusion, the undercarriage blaster, and the cable, you can pop open the doors and most things work like Sideswipe. Added steps include some locks on the arm pieces, and a flipping panel on the car's hood which showcase the gratuitous circuits of time and an LED readout. It's a nice touch from a creative perspective, but somewhat silly from a character design. It's very Flavor Flav "do you know what time it is?" like a big clock, except it's three big clocks.
While you can find lots of elements which are clearly borrowed from Sideswipe, like the black forearms, the black thighs, the few bits making up his inner skeleton - every car kibble piece is new, and many visible robot elements have significant alterations. The head is Sideswipe-esque, but totally redesigned with goggles. The feet are new, the shins have little Flux Capacitors on them. It's also worth noting the car's "skin" has an excellent texture that gives a good idea of what the car kind of looks like in person - minus actual texture, of course.
His accessories are also pretty great. The whip/cable I could take or leave, but I like how the Flux Capacitor and blaster work. The blaster has a 5mm hole for C.O.M.B.A.T. effects, plus two places to plug in Mr. Fusion - on the back, or on top. I recommend putting it on top of the blaster because the back makes it harder for Gigawatt to carry it around. You can also stow Mr. Fusion on the back of the robot leg - but why? If you knock it off, it might be a while before you can find it again.
While not included, Gigawatt includes Sideswipe's unique shoulder slots. You could mount his blaster in there if you have a spare.
I dragged my feet on Ectotron, but bought it and like it. I skipped Maverick because it didn't push my buttons and I still haven't seen Top Gun. Similarly I haven't jumped on X-Panse since I do like the X-Men but not necessarily the vehicles - but taking a good base toy, giving it a facelift of an awesome car, and tying it in to one of the best movie series of the 1980s? That's an easy yes. If it were a bit larger I'm sure fans would happily pay premium pricing, but having it fit in with our existing War for Cybertron collections is kind of awesome. It's by no means perfect, but I assume it will be one of those toys that you'll treasure. Hasbro has struggled making fun toys out of real cars - some of those Studio Series, Masterpiece, and Alternators toys may have looked good but can be a bit of a trial to transform. This one? It's perfect fun. Get one - Hasbro could do white wall wheel variant, or icy finish, but I wouldn't bank on it.
--Adam Pawlus
Additional Images

Click here to see more Hasbro figures in Figure of the Day.
Click here to see more Transformers figures in Figure of the Day.

See more Back to the Future figures in Figure of the Day:
Day 552: Mattel Back to the Future II Hoverboard Prop Replica
Day 985: Funko Back to the Future Marty McFly ReAction Figure
Day 1,008: Funko Back to the Future George McFly ReAction Figure
Day 1,008: Funko Back to the Future Doc Brown ReAction Figure
Day 1,078: Funko Back to the Future Biff Tannen ReAction Figure
Day 1,290: Mattel Hot Wheels Back to the Future Time Machine - Hover Mode
Day 1,390: Funko Pop! Movies Back to the Future Marty McFly Vinyl Figure
Day 2,205: Playmobil Back to the Future DeLorean Time Machine Vehicle with Figures
Day 2,231: Playmobil Back to the Future Marty McFly and Dr. Emmett Brown Figures
Day 2,255: Playmobil Back to the Future Advent Calendar with Figures
Day 2,265: Hasbro Transformers x Back to the Future Deluxe Gigawatt Action Figure
Day 2,352: Playmobil 70634 Back to the Future Part II Hoverboard Chase
Day 2,363: Playmobil 70576 Back to the Future Part III Advent Calendar with Figures


Want to buy this figure? Check Transformers availability at our sponsors:
Entertainment Earth