Mattel Hot Wheels Back to the Future Time Machine - Hover Mode
Mattel, 2015

Day #1,290: October 14, 2015
Back to the Future Time Machine - Hover Mode
HW City 2015 - Space Team

Hot Wheels 2015 HW City Basic Cars
Item No.: Asst. L2593 No. CFG79
Manufacturer: Mattel
Includes: n/a
Action Feature: Rolling wheels
Retail: $1.00
Availability: October 2015
Other: #45 / 250

PREVIOUS
RSS
NEXT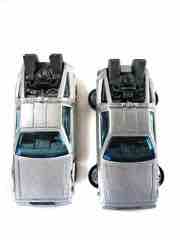 If you only made one toy in 2015, it makes sense that it might be Hot Wheels' new Back to the Future Time Machine - Hover Mode. It's very similar to the ones that have been on the market for the better part of the last decade, but this one has a new undercarriage with "hover conversion" and real working wheels hidden underneath.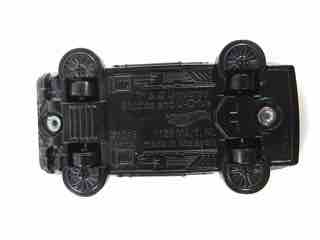 If you have the earlier releases - and maybe you do - you might recognize the top, silver part of the car as being largely unchanged. The blue tint is a little different, and Mr. Fusion has been added to the back - but other than that, it's pretty much the same. The back is painted differently, as the new version features the bar code license plate and lacks the "DeLorean" markings on my original release. Of course, all that really matters is that the wheels rotate down. The good news is the car can still roll - tiny wheels are hidden under the car, so it can zoom around on your desk. Since the car was not reduced in size, however, it's now too wide to fit on orange track. If you remember "Hot Wheels vehicles not for use with some sets," this is one of those vehicles. It looks cool, it has a nice paint job, and by gum it takes advantage of the whole October 2015 thing, but it doesn't fly and it can't soar on your track jumps. Sorry, man.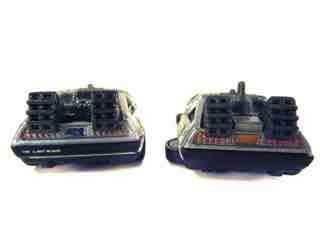 Since you know the score with these kinds of cars, it's worth buying if you can find it. They're about $1 at most toy stores, which means they're popular for toy flippers to buy and sell for several times the price - how and why this is worth their time, I'll never know. If you can get one for a couple of bucks, you should - it's neat, and one of those fun reminders of "the future" from the past. We don't have too many more of those coming up for most of our lifetimes, though, so here's to the inevitable march to the grave.
--Adam Pawlus
Additional Images


Click here to see more Mattel figures in Figure of the Day.

See more Back to the Future figures in Figure of the Day:
Day 552: Mattel Back to the Future II Hoverboard Prop Replica
Day 985: Funko Back to the Future Marty McFly ReAction Figure
Day 1,008: Funko Back to the Future George McFly ReAction Figure
Day 1,008: Funko Back to the Future Doc Brown ReAction Figure
Day 1,078: Funko Back to the Future Biff Tannen ReAction Figure
Day 1,290: Mattel Hot Wheels Back to the Future Time Machine - Hover Mode
Day 1,390: Funko Pop! Movies Back to the Future Marty McFly Vinyl Figure


See more Hot Wheels in Figure of the Day:
Day 670: Mattel Hot Wheels Fig Rig Car
Day 675: Mattel Hot Wheels Star Trek U.S.S. Enterprise
Day 685: Mattel Hot Wheels Batmobile (Tim Burton, 2013)
Day 708: Mattel Hot Wheels Batman Live Batmobile
Day 718: Mattel Hot Wheels T-Rextroyer Die-Cast Metal Vehicle
Day 727: Mattel Hot Wheels Ratmobile (White) Die-Cast Metal Vehicle
Day 742: Mattel Hot Wheels Batcopter Die-Cast Metal Vehicle
Day 750: Mattel Hot Wheels Arachnorod
Day 770: Mattel Hot Wheels The Jetsons Capsule Car
Day 779: Mattel Hot Wheels Hiway Hauler
Day 786: Mattel Hot Wheels Speed-A-Saurus
Day 797: Mattel Hot Wheels Express Lane
Day 803: Mattel Hot Wheels Zombot
Day 817: Mattel Hot Wheels Scooby-Doo The Mystery Machine
Day 845: Mattel Hot Wheels Carbonator
Day 1,060: Mattel Hot Wheels Skate Punk
Day 1,116: Mattel Hot Wheels Let's Go
Day 1,157: Mattel Hot Wheels The Homer
Day 1,290: Mattel Hot Wheels Back to the Future Time Machine - Hover Mode
Day 1,321: Mattel Hot Wheels Loopster
Day 1,334: Mattel Hot Wheels Nintendo Cool-One (Super Mario)
Day 1,366: Mattel Hot Wheels Mars Rover Curiosity
Day 1,383: Mattel Hot Wheels Dawn of Justice Batmobile
Day 1.532: Mattel Hot Wheels Minecraft Mine Cart Die-Cast Metal Vehicle
Day 1.533: Mattel Hot Wheels Tankinator Die-Cast Metal Vehicle
Day 1,716: Mattel Hot Wheels Roller Toaster
Day 1,740: Mattel Hot Wheels Motosaurus
Day 1,768: Mattel Hot Wheels Aisle Driver
Day 1,831: Mattel Hot Wheels Radio Flyer Wagon
Day 1,873: Mattel Hot Wheels Glow Wheels Loopster


Want to buy this figure? Check Hot Wheels availability at our sponsors:
Entertainment Earth