Mattel Hot Wheels Glow Racers Lindster Prototype
Mattel, 2021

Day #2,319: July 13, 2021
Glow Racers Lindster Prototype
HW Glow Racers 4/5 - #62 / 250

Hot Wheels 2021 HW Glow Racers 4/10 Basic Cars
Item No.: Asst. L2593 No. GRY16
Manufacturer: Mattel
Includes: n/a
Action Feature: Rolling wheels, glows in the dark
Retail: $1.00
Availability: ca. April 2021
Other: Collect All Five

PREVIOUS
RSS
NEXT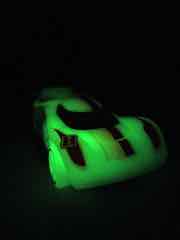 While not necessarily awesome in and of itself, the Glow Racers Lindster Prototype had some chrome and some glow and for a buck, I said "OK, gimme one." In 2020 the car came with clear red or clear green parts, and in 2021 the mold came back with some nice glow wheels and a glow chassis. Good enough for me!
The tooling is the same, but the glow version has an entirely new pattern printed on the glow plastic.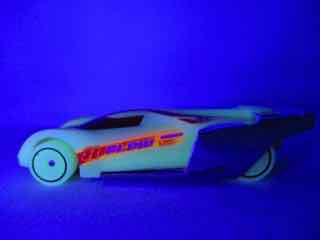 The glow plastic is pretty fantastic, as is the norm for Mattel's cars. There's a fair amount of it with chrome helping to highlight it even more. It's bright, it's shiny, it's good.
What's less good are the characteristics of glow plastic and painted detail - it's easily absorbed. The orange and red printing on the car is surprisingly ornate but difficult to see the halftone dots and various words, particularly the orange ones. If you shine a UV black light on the car, everything pops wonderfully and it's much easier to read or see the graphic design work they put into this. It's nothing too fancy, but I do like seeing a glow toy that sings nicely under the UV lights. What's more, there's more chrome in the interior under the clear red windshield which also pops a little bit, even in low-light conditions. Vac-metal plastic and glow plastic are frequently excellent choices for low-light situations, because glow will shine light back at you and the chrome will reflect any tiny amount of light in the room back. Since this does both, I assume it may make it harder to step on.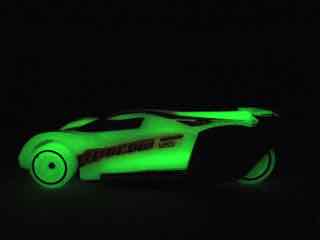 As of my writing this there are five Glow Racers for 2021 - the blue Warp Speeder, the green Hi-Roller, the pink and clear Cloak and Dagger, plus the Duck and Roll - the latter of which I'd like to pick up at some point. The Lindster Prototype isn't anything particularly remarkable on its own, but it's a nice futuristic car that is a lot of fun to play with if you've got various flashlights and other bright shining things at your disposal. It's a buck, and worth the asking price to add to your glowing toy motorpool. Mine also rolls particularly nicely, so it's fun.
--Adam Pawlus
Additional Images


Click here to see more Mattel figures in Figure of the Day.

See more Hot Wheels in Figure of the Day:
Day 670: Mattel Hot Wheels Fig Rig Car
Day 675: Mattel Hot Wheels Star Trek U.S.S. Enterprise
Day 685: Mattel Hot Wheels Batmobile (Tim Burton, 2013)
Day 708: Mattel Hot Wheels Batman Live Batmobile
Day 718: Mattel Hot Wheels T-Rextroyer Die-Cast Metal Vehicle
Day 727: Mattel Hot Wheels Ratmobile (White) Die-Cast Metal Vehicle
Day 742: Mattel Hot Wheels Batcopter Die-Cast Metal Vehicle
Day 750: Mattel Hot Wheels Arachnorod
Day 770: Mattel Hot Wheels The Jetsons Capsule Car
Day 779: Mattel Hot Wheels Hiway Hauler
Day 786: Mattel Hot Wheels Speed-A-Saurus
Day 797: Mattel Hot Wheels Express Lane
Day 803: Mattel Hot Wheels Zombot
Day 817: Mattel Hot Wheels Scooby-Doo The Mystery Machine
Day 845: Mattel Hot Wheels Carbonator
Day 1,060: Mattel Hot Wheels Skate Punk
Day 1,116: Mattel Hot Wheels Let's Go
Day 1,157: Mattel Hot Wheels The Homer
Day 1,290: Mattel Hot Wheels Back to the Future Time Machine - Hover Mode
Day 1,321: Mattel Hot Wheels Loopster
Day 1,334: Mattel Hot Wheels Nintendo Cool-One (Super Mario)
Day 1,366: Mattel Hot Wheels Mars Rover Curiosity
Day 1,383: Mattel Hot Wheels Dawn of Justice Batmobile
Day 1.532: Mattel Hot Wheels Minecraft Mine Cart Die-Cast Metal Vehicle
Day 1.533: Mattel Hot Wheels Tankinator Die-Cast Metal Vehicle
Day 1,716: Mattel Hot Wheels Roller Toaster
Day 1,740: Mattel Hot Wheels Motosaurus
Day 1,768: Mattel Hot Wheels Aisle Driver
Day 1,831: Mattel Hot Wheels Radio Flyer Wagon
Day 1,873: Mattel Hot Wheels Glow Wheels Loopster
Day 2,284: Mattel Hot Wheels Screen Time Teenage Mutant Ninja Turtles Party Wagon
Day 2,316: Sonic Hot Wheels Monster Trucks Scorpion Special Glow Edition Action Figure
Day 2,319: Mattel Hot Wheels Glow Racers Lindster Prototype
Day 2,337: Mattel Hot Wheels Tooned Pixel Shaker
Day 2,340: Mattel Hot Wheels HW Screen Time Standard Kart
Day 2,400: Mattel Hot Wheels Experimotors Custom Small Block


Want to buy this figure? Check Hot Wheels availability at our sponsors:
Entertainment Earth