U.S.S. Enterprise NCC-1701 Playset
The Biggest Playmobil Set Ever (so far)

Star Trek Set
Item No.: No. 70548
Manufacturer: Playmobil
Includes: with 7 figures, 3 communicators, 3 phasers, 6 tribbles, a tricorder, display stand, cables to suspend it from a ceiling, and so on
Action Feature: Electronic lights and sounds, app compatibility, top and side of ship remove to reveal the bridge and engineering, respectively
Retail: $499.99
Availability: September 2021
Other: No bloody A, B, C, or D

PREVIOUS
RSS
NEXT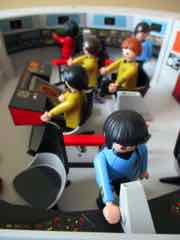 I could be wrong, but I'm fairly sure this U.S.S. Enterprise NCC-1701 is both the biggest Star Trek toy vehicle and the biggest Playmobil release of all time, not counting displays for stores or things like prop replicas. In the heyday of the 1990s Playmates Trek line there was a fancy bridge for the D, and while it is arguably more of a toy, this one gives you the whole dang ship.
The ship is almost entirely new parts, but the rod in the radar dish is a throwback to older Playmobil space sets - you may recognize it from a lot of existing robots as an antenna or a weapon. The figures are mostly old parts with new deco, but it's worth noting Spock's hair and head seem to be all-new parts. I don't believe any previously released figure has ears. At $500 it is an utterly ridiculous toy - not quite as big or as meaty as Hasbro's mighty Jabba's Sail Barge, nowhere near as robust as the U.S.S. Flagg, and arguably not as fun as Playmobil's own Ghostbusters Fire House - itself a rather tremendous value, all things considered.
I like this set because of its audacity an that it's a very good model of the ship with great lights and sounds, given the cost. Star Trek turned 55 the day this toy was supposed to be released, and that makes it an item that seems out of place in terms of its timing. The kids of 1966 are grandparents now. Today's parents probably grew up with The Next Generation or no Trek at all. Also Playmobil isn't currently a big hit in the USA. No child is likely to ask for this (and get it) for the holidays, but for the adult-child in all toy collectors, I can't deny that this is something I would've killed for as a kid who watched a lot of classic TV. I have no business owning a toy this preposterously neat, and I would say Playmobil threw down the gauntlet for what a "toy" vehicle should be able to do in terms of lights and sounds. The Playmobil Ghostbusters Ecto-1A was one of the most impressive electronic lightshows I've ever seen - until this.
Click here to check availability at Entertainment Earth.
Let's start with the figures - they're OK! I think Playmobil has an opportunity to go back and retry these with the characters' secondary or tertiary costumes. They're still excellent given the use of existing parts, but you can't deny better hair could do wonders for these figures. Uhura lacks her nifty earrings, but she uses the skirt from recent Playmobil releases and a perfectly good existing hair element. Kirk's hair is not specific to Shatner, a man whose hair is something of a conversation starter. He uses the plain Playmobil face, as does Dr. McCoy who also just looks like some Playmobil guy - a little more decoration could help him, or perhaps a new hair piece. Chekov has unique eyebrows and his off-the-shelf hair looks pretty good, as does Sulu who makes use of the off-the-shelf Asian eye printing Playmobil has used for years. Scotty looks perfectly OK in his red uniform, but Spock's new head design and hair is arguably what sells the set. Maybe some day we'll get a Mirror Kirk or Green Kirk, but Spock had to be right the first time and I think they did a good job with the printed eyebrows. There aren't many surprises here - this is what you probably would have expected.
All of the figures have uniforms with the familiar gold trim to indicate rank on their sleeves, the mission patches on their chest, and the black collars. These are the same bodies Playmobil has used for make other figures for years, which is why their soles have much older copyright dates. Oddly the figures have printed dates of 2019, while the stickers say 2020 and the box says 2021. One could assume this set was in development for some time.
If Playmobil ever sold the crew pack apart from the ship I would recommend it for anyone with a small Playmobil collection. Have you ever wanted a toy Kirk to beam down to (and harass) a toy Renaissance Faire? Well, if you have older castles around, it's your lucky day. Did you want some cheesy 1960s-style technicolor sets for your figures? Existing Playmobil scenery, like volcanos and forests, may do the trick in replicating the DesiLu Studios' brightly-colored designs. If they ever sell the crew for $30-$40, I think Star Trek fans would like it.
The tribbles are similarly repurposed parts - it didn't immediately hit me, but they're cheerleader pompoms colored brown, gray, and white. They have a grip on the bottom - as one might want - making the designs pretty clever as reused parts go. Fans looking for a deep cut and wanting pink tribbles from the cartoon can also buy some cheerleaders and steal their pompoms. I wouldn't mind seeing Kirk in his green uniform packed with even more tribbles either at some point.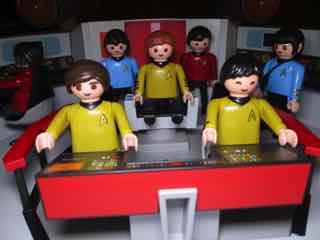 Other accessories include multi-part communicators (neat), Phasers (sadly unpainted), and a Tricorder - which is basically just a purse-like pouch. Because Playmobil toys tend to be universally good, all accessories interact with the figure without a problem. I would've loved more color detail on the Phaser, especially at the price point. Playmobil is great at molding multiple colors of plastic in a single plaything, negating the use of paint in many cases. It would've been welcome on the Phaser, but the communicator looks just fine and the Tricorder is basically just ornamental.
While some very high-priced releases from Hasbro and Mattel aren't playthings, this is a real toy. It feels like a Playmobil toy with that unique texture of plastic, and that oh-so-familiar lid fits on top of the bridge. Similar lids were on the old Playmospace space ship as well as the recent Mars space station. The ship's bridge has seven seats - six office chairs which must have sticker upholstery added, plus the captain chair. If they ever put out more figures, you'll get lots of workstations at which other figures can stand. Maybe you'll get Reily or Darnell some day.
Star Trek's set design was at least partially inspired by the desire to sell then-new color television sets, and you'll note all kinds of colorful, dynamic lighting all over the show's already vibrant sets and costumes to illustrate this point. The set design's color palette is largely replicated successfully, but your memory will no doubt remember many more colorful lights which aren't actually on this toy. It's still good - you have the bright red rails, the dozens of screens, the illustrations of controls. There's even a few lenticular stickers to represent various read-outs, a Klingon D-7 on the viewscreen, and surprisingly the turbolift. (There are many frames of animation there, too.) Given the vintage Playmobil space sets it's obvious this company was thinking about Star Trek for years, and they put a lot of love into the control center of this famous starship.
One of my favorite "toy" elements on the bridge is a storage area for accessories directly under the viewscreen. It's a little thing, but it's important and helpful so fans don't lose their spare dilithium crystals or communicators. Beyond that, the bridge has few moving parts - just seats. There are three big buttons at the helm so you can initiate a Red Alert, the warp engines, or the photon torpedoes. Ambient bridge noises play when the item is powered on when the item is plugged in via USB-C (cable not included) or your batteries. The switch is hidden in Engineering, a rather tiny area on the side of the ship's body. I'm not going to sugarcoat it - it's tiny. You can't reenact a fight in here with Khan, it's too small. However, it does allow you to have Scotty be a miracle worker and you can plug in the dilithium crystals in a removable chamber. A separate Engineering environment would be a welcome purchase.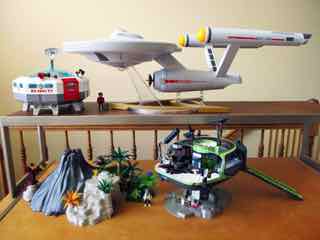 With places for all of your stuff inside the ship and a nice stand keeping it upright during assembly and display, you'll be glad to know the ship itself is sturdy as all heck. You have to snake various cords through the ship's nacelles to get the lights and everything working, but once you do it's pretty awesome. The ship is made of the same sturdy Playmobil plastic as your other vehicles and buildings - you'll immediately recognize it - while the caps on the nacelles have an especially trippy light show. White lights in the bridge light up the top and bottom of the saucer, and some lights in engineering also glow. Sadly some of the other external lights are merely decorative, but considering the end user has to wire this thing up, presumably they didn't want to complicate it beyond the "ages 10 and up" grade that the box seems to assume will be buying this.
Assembly took me a few hours thanks to the stickers, the tight fit of some pieces, and the fact that it was hard to tell if the nacelles were wired up to the cables properly. It's an afternoon or a late-evening project, set aside at least three or four hours and have a screwdriver handy. Due to the fact it uses System-X fasteners and a few screws to keep it together, I would not recommend zooming around your house with this in your hands. While the panel covering Engineering secures nicely, the lid on the saucer is not quite as perfect of a fit as some of my other sets, including some nearly as old as I am.
Big toys are all the rage lately, with giant Sail Barges, Unicron, Sentinels, and more - "holy grail" toys are something toy companies realize fans want as Hot Toys and the like have been gobbling up hundreds of dollars for each releases. Rather than make an eerily realistic figure, or a prop replica-quality toy vehicle, Playmobil made the Playmobil-est Enterprise ever. The ship's shape doesn't lend itself to being a toy with playsets inside, as we saw in a limited capacity with the Innerspace line in the 1990s. You're going to have to make some concessions, like the thicker saucer of this release - but it's still genuinely amazing.
My understanding is that this release is a de facto online exclusive in the USA, which is kind of a pity. If you saw it in person at a convention somewhere, or in a hobby store, you'd want it. I'm not saying you'd buy it, but nobody else makes a space ship toy quite like this - even Hasbro's biggest and best Star Wars ships are more limited in what they can do, but Hasbro's toys do tend to have fancier paint and more moving parts as of late. This baby has a demo mode you can leave plugged in and running for a couple of hours. The build quality and aesthetics say "toy," but it's really more of a collector's display piece. There's not a lot of action to be had in the bridge and most of the play comes from play that's not unlike a doll house - you set them up, you pretend they're talking, you push the buttons (or use your app on your phone, if you dare.) Along with Unicron and Hasbro's X-Men Sentinel, this is one of the more impressive toys of the year. If your budget allows, and you like this kind of thing, don't let me stop you from getting it. Having said that, you could probably have a lot more fun spending $500 on Playmobil - you could get several cars and sets from multiple series, and have cash left over.
...but you're still going to want this one. No other Trek sets are announced yet, but I hope we get an Advent Calendar next year. The Back to the Future ones have been marvelous.
--Adam Pawlus
Additional Images

See more Playmobil toys in Figure of the Day:
Day 94: Playmobil African Safari 4831 Ostriches Set
Day 125: Playmobil Specials 4683 Mongollian Warrior Action Figure
Day 132: Playmobil Specials Cave Man Action Figure
Day 140: Playmobil Specials Palace Guard Action Figure
Day 163: Playmobil Figures Ghost Action Figure
Day 186: Playmobil Top Agents Secret Agent Action Figure
Day 266: Playmobil Dinosaurs 4173 Pteranodon
Day 271: Playmobil "Fi?ures" Figures Uncle Sam Action Figure
Day 276: Playmobil "Fi?ures" Figures Zorro Action Figure
Day 322: Playmobil Treasure Hunters 4848 Temple Guardian Figure
Day 363: Playmobil www.tourismus.nuernberg.de 6107 Albrecht Durer Figure
Day 764: Playmobil Stone Age 5105 Mammoth Family Set
Day 802: Playmobil Dino 5232 Stegosaurus
Day 811: Playmobil Specials 4748 Samurai
Day 887: Playmobil Toy Fair 2014 40th Birthday Knight
Day 1,030: Playmobil City Life 5605 PopStars! Band
Day 1,139: Playmobil School 4329 School Band
Day 1,148: Playmobil Dragon Tournament Knight Toy Fair Promo Figure
Day 1,154: Playmobil Magician with Genie Lamp Figure
Day 1,354: Playmobil Play Box 5638 Haunted House
Day 1,401: Playmobil 2016 Toy Fair Girl Figure
Day 1,451: Playmobil "Fi?ures" Figures Cat Burglar
Day 1,461: Playmobil 5197 Sports & Action Table Tennis Players
Day 1,499: Playmobil 4766 Special Plus Table Pizza Baker
Day 1,557: Playmobil "Fi?ures" Figures Asian Rice Worker
Day 1,577: Playmobil Toy Fair 2014 40th Birthday Princess
Day 1,581: Playmobil 2016 Toy Fair Pirate Figure
Day 1,583: Playmobil 5152 Future Planet E-Rangers Collectobot Figure
Day 1,584: Playmobil 6687 Super 4 Lost Island Figure Set
Day 1,585: Playmobil Figures Prisoner
Day 1,586: Playmobil 5572 City Life Ball Pit Set
Day 1,587: Playmobil 4741 Specials Space Ranger
Day 1,588: Playmobil 5562 Wild Life Beavers with Backpacker
Day 1,589: Playmobil 5239 Vampires
Day 1,590: Playmobil "Fi?ures" Figures Tall Ghost
Day 1,591: Playmobil Wild Life 5559 Inflatable Boat with Explorers
Day 1,592: Playmobil 5898 4-Wheel Drive with Kayak and Ranger
Day 1,598: Playmobil "Fi?ures" Figures Adventuress
Day 1,607: Playmobil "Fi?ures" Figures Granny
Day 1,609: Playmobil "Fi?ures" Figures France Fan
Day 1,613: Playmobil "Fi?ures" Figures Dark Fairy
Day 1,617: Playmobil 6824 Playmo-Friends Werewolf
Day 1,618: Playmobil 6823 Playmo-Friends Space Warrior
Day 1,631: Playmobil Knights Giant Troll with Dwarf Fighters
Day 1,641: Playmobil Playmo-Friends Flame Warrior
Day 1,650: Funko x Playmobil Willy Wonka
Day 1,654: Playmobil "Fi?ures" Figures Sauna Woman
Day 1,657: Funko x Playmobil Teenage Mutant Ninja Turtles Black and White Raphael
Day 1,662: Playmobil Tigers
Day 1,684: Playmobil NHL 5069 Zamboni
Day 1,699: Playmobil "Fi?ures" Figures Queen of Hearts
Day 1,728: Playmobil "Fi?ures" Figures Space Ranger
Day 1,731: Playmobil Ghostbusters 9222 Slimer
Day 1,737: Playmobil "Fi?ures" Figures Fire Wizard
Day 1,762: Playmobil 6099 Martin Luther
Day 1,764: Playmobil 5610 City Life Take Along
Day 1,772: Playmobil 6647 Alpacas
Day 1,774: Playmobil Summer Fun 5270 Porter with Luggage Cart
Day 1,784: Playmobil 6649 Penguins
Day 1,786: Playmobil 2017 Toy Fair Roman Troop Figure
Day 1,787: Playmobil "Fi?ures" Figures Zombie
Day 1,791: Playmobil Ghostbusters 9221 Stay Puft Marshmallow Man
Day 1,796: Playmobil "Fi?ures" Figures Ghoul Butler
Day 1,799: Playmobil "Fi?ures" Figures Pirate
Day 1,804: Playmobil "Fi?ures" Figures Gnome
Day 1,810: Playmobil "Fi?ures" Figures Captain America
Day 1,813: Playmobil Ghostbusters 9223 Venkman and Terror Dogs
Day 1,822: Playmobil "Fi?ures" Figures Flaming Skull
Day 1,828: Playmobil "Fi?ures" Figures Gladiator
Day 1,832: Funko x Playmobil Doctor Who Fourth Doctor
Day 1,836: Playmobil 6639 Gorillas
Day 1,839: Playmobil "Fi?ures" Figures Baker
Day 1,844: Playmobil Pianist with Piano
Day 1,851: Playmobil Ghostbusters 9224 Spengler and Ghost
Day 1,856: Playmobil "Fi?ures" Figures Buffalo Warrior
Day 1,861: Playmobil "Fi?ures" Figures Princess
Day 1,865: Playmobil 6525 Detective
Day 1,892: Playmobil "Fi?ures" Figures Rock Star
Day 1,899: Playmobil Special Plus Architect
Day 1,908: Funko x Playmobil Teenage Mutant Ninja Turtles Shredder
Day 1,913: Playmobil "Fi?ures" Figures Viking
Day 1,919: Playmobil "Fi?ures" Figures Steampunk Warrior
Day 1,934: Playmobil "Fi?ures" Figures Fisherwoman
Day 1,952: Playmobil 2018 Toy Fair Fairy Figure
Day 1,967: Playmobil 2018 Toy Fair Mountain Rescue Figure
Day 1,990: Playmobil 2013 Toy Fair Dinos Explorer Figure
Day 2,058: Playmobil Werewolf and Witch
Day 2,076: Playmobil The Real Ghostbusters 9387 Zeddemore with Aqua Scooter
Day 2,079: Playmobil 2019 Toy Fair Pet Hotel Cat Expert Figure
Day 2,082: Playmobil The Real Ghostbusters 9386 Spengler with Cage Car
Day 2,083: Playmobil Add-Ons 9804 Fire Brigade Accessories
Day 2,136: Playmobil Castle 6042 Castle Ghost with Rainbow LED
Day 2,139: Playmobil Mummy and Grim Reaper
Day 2,193: Playmobil 2020 Toy Fair Emergency Doctor Figure
Day 2,205: Playmobil Back to the Future DeLorean Time Machine Vehicle with Figures
Day 2,219: Playmobil Scooby-Doo! 70287 Scooby and Shaggy with Ghost Figures
Day 2,231: Playmobil Back to the Future Marty McFly and Dr. Emmett Brown Figures
Day 2,243: Playmobil Scooby-Doo! 70361 Adventure in the Mystery Mansion Playset
Day 2,255: Playmobil Back to the Future Advent Calendar with Figures
Day 2,325: Playmobil 2020 Toy Fair Mermaid Figure
Day 2,326: Playmobil 70177 Volkswagen Volkswagen Beetle
Day 2,327: Playmobil "Fi?ures" Figures Confederate Soldier
Day 2,328: Playmobil The Real Ghostbusters 9388 Stantz with Sky Bike
Day 2,329: Playmobil Pirates Ghost Whale Skeleton
Day 2,330: Playmobil 5754 Adventure Croc Boat
Day 2,331: Playmobil 5603 City Life Tour Bus
Day 2,332: Playmobil Scooby-Doo! 70286 Mystery Machine with Figures
Day 2,333: Playmobil The Movie Robotitron with Drone
Day 2,348: Playmobil "Fi?ures" Figures Witch
Day 2,350: Playmobil Vampire and Frankenstein's Monster
Day 2,352: Playmobil 70634 Back to the Future Part II Hoverboard Chase
Day 2,354: Playmobil 70548 Star Trek U.S.S. Enterprise NCC-1701 Playset
Day 2,356: Playmobil "Fi?ures" Figures Day of the Dead Woman
Day 2,360: Playmobil "Fi?ures" Figures Hula Girl
Day 2,362: Playmobil "Fi?ures" Figures Hippie
Day 2,363: Playmobil 70576 Back to the Future Part III Advent Calendar with Figures
Day 2,365: Playmobil 70026 "Fi?ures" Figures Fire Sorceress
Day 2,367: Playmobil "Fi?ures" Figures Skeleton Warrior
Day 2,368: Playmobil 5753 Seasonal Photo Santa Claus Figures
Day 2,370: Playmobil "Fi?ures" Figures Knight
Day 2,372: Playmobil Adventure Treasure Robber Crawler
Day 2,373: Playmobil 70148 "Fi?ures" Figures Ninja
Day 2,375: Playmobil The Real Ghostbusters 9385 Venkman with Helicopter
Day 2,377: Playmobil "Fi?ures" Figures Cowgirl
Day 2,378: Playmobil 70148 "Fi?ures" Figures Puppeteer
Day 2,380: Playmobil 70148 "Fi?ures" Figures Opera Fan
Day 2,382: Playmobil 70148 "Fi?ures" Figures Duck Feeder
Day 2,390: Playmobil 71060 "Fi?ures" Figures Steampunk
Day 2,398: Playmobil 2013 Toy Fair Dinosaur Explorer Figure
Day 2,408: Playmobil 70876 Special Plus Child with Monster
Day 2,415: Playmobil Special Plus Special Operations Agent
Day 2,422: Playmobil "Fi?ures" Figures Day of the Dead Man
Day 2,428: Playmobil 70873 Specials Plus Man with E-Scooter Action Figure
Day 2,430: Playmobil "Fi?ures" Figures Skater Action Figure
Day 2,432: Playmobil "Fi?ures" Figures Gargoyle
Day 2,466: Playmobil "Fi?ures" Figures Vampire
Day 2,475: Playmobil "Fi?ures" Figures Raffle Man
Day 2,481: Playmobil "Fi?ures" Figures Paintball Man
Day 2,496: Schaper Playmobil 3591 Space Series Astronaut and Robot Figures
Day 2,518: Playmobil "Fi?ures" Figures Gnome
Day 2,538: Playmobil 71010 Wiltopia Boat Trip to the Manatees Set

See more Star Trek figures in Figure of the Day:
Day 54: Playmates Classic Star Trek Spock Action Figure
Day 57: Playmates Classic Star Trek Dr. McCoy Action Figure
Day 61: Playmates Classic Star Trek Scotty Action Figure
Day 71: Playmates Classic Star Trek Uhura Action Figure
Day 81: Playmates Classic Star Trek Sulu Action Figure
Day 89: Playmates Classic Star Trek Captain James T. Kirk Action Figure
Day 105: Playmates Classic Star Trek Chekov Action Figure
Day 149: Playmates Star Trek Combat Action Worf
Day 488: Playmates Star Trek: The Next Generation Lieutenant Commander Data in First Season Uniform Action Figure
Day 675: Mattel Hot Wheels Star Trek U.S.S. Enterprise
Day 731: Playmates Star Trek: The Next Generation Counselor Deanna Troi Action Figure
Day 755: Playmates Star Trek: Deep Space Nine Quark Action Figure
Day 762: Playmates Star Trek: The Next Generation Lt. Commander LaForge as a Tarchannen III Alien Action Figure
Day 767: Playmates Star Trek: The Next Generation Captain Picard in Duty Uniform Action Figure
Day 772: Playmates Star Trek: The Next Generation Klingon Warrior Worf Action Figure
Day 986: Playmates Star Trek: The Next Generation Dathon Action Figure
Day 991: Playmates Star Trek: The Next Generation Ambassador Spock Action Figure
Day 1,048: Playmates Star Trek: Deep Space Nine Chief Miles O'Brien Action Figure
Day 1,054: Bif Bang Pow! Star Trek: The Next Generation Lieutenant Worf
Day 1,061: Playmates Star Trek: The Next Generation Q Action Figure
Day 1,173: Playmates Star Trek: Deep Space Nine Morn Action Figure
Day 1,181: Playmates Star Trek: Deep Space Nine Commander Gul Dukat Action Figure
Day 1,271: Playmates Star Trek Grand Nagus Zek Action Figure
Day 1,309: Playmates Star Trek Elim Garak Action Figure
Day 1,317: Playmates Star Trek: The Next Generation Lieutenant Worf in Starfleet Rescue Outfit Action Figure
Day 1,331: Playmates Star Trek: The Next Generation Captain Scott Action Figure
Day 1,359: Playmates Star Trek: The Next Generation Vorgon Action Figure
Day 1,701: Playmates Star Trek: The Next Generation Ferengi Action Figure
Day 1,819: Playmates Star Trek: The Next Generation Mordock the Benzite Action Figure
Day 1,854: Playmates Star Trek: The Next Generation Lieutenant (J.G.) Geordi LaForge Action Figure
Day 1,887: Playmates Star Trek: The Next Generation Lieutenant Natasha Yar Action Figure
Day 1,902: Playmates Star Trek: The Next Generation Cadet Wesley Crusher Action Figure
Day 1,923: Playmates Star Trek: The Next Generation Lieutenant J.G. Worf in First Season Uniform Action Figure
Day 1,927: Funko Pop! Movies Star Trek Beyond Captain Kirk (Survival Suit) Pop! Vinyl Figure
Day 1,936: Playmates Star Trek: The Next Generation K'Ehleyr Action Figure
Day 1,945: Mega Construx Heroes Star Trek: The Next Generation Captain Picard Action Figure
Day 1,949: Eaglemoss Collections Movies Star Trek U.S.S. Defiant NCC-1764 Special Glow in the Dark Issue Die-Cast Metal Vehicle
Day 1,962: Eaglemoss Collections Star Trek U.S.S. Defiant NX-74025 Best Of Issue Die-Cast Metal Vehicle
Day 1,974 Playmates Star Trek: The Next Generation Lieutenant Barclay Action Figure
Day 1,975: Eaglemoss Collections Discovery Star Trek U.S.S. Discovery NCC-1031 Die-Cast Metal Vehicle
Day 2,005: Playmates Star Trek: Deep Space Nine Odo Action Figure
Day 2,020: Playmates Star Trek: The Next Generation Commander Sela Action Figure
Day 2,094: Eaglemoss Collections Enterprise Star Trek Discovery Special U.S.S. Enterprise NCC-1701 Die-Cast Metal Vehicle
Day 2,354: Playmobil 70548 Star Trek U.S.S. Enterprise NCC-1701 Playset