Croc Boat
US Mass Market Exclusive

Adventure Action Figure Set
Item No.: No. 5754
Manufacturer: Playmobil
Includes: Snake, turtle, another turtle, alligator, pelican, campfire, strongbox, cookware, two figures, canteen, tiny island with tree, rifle, binoculars, radio, axe, knife, and all the parts to make the hovercraft
Action Feature: n/a
Retail: $14.99
Availability: 2005
Other: Croc + Boat = Croc Boat

PREVIOUS
RSS
NEXT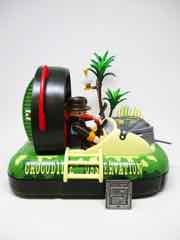 I've been going to Toy Fair for years. Around the time that the Croc Boat hit stores, Playmobil started making products specifically for the US mass market - Walmart, Toys R Us, Target, and the like - and those were shown behind closed doors in the Javits Center, which means the press weren't able to see it... nor were people who were toy buyers but not the mass market. The big shots. You know who you are. Anyway, the specialty stuff on the main floor was for the little shops, and there was this whole separate line of products just for the big guys. Sometimes these were smaller, missing a few parts or being some sort of remixed gift set to meet a price point. The good news/bad news is that this program didn't last and for a few, glorious years you could pick up cheap, cheap, cheap Playmobil on clearance at Target or Ross - or on a good day, Toys R Us. This set was $15-$20 at first. I got it for $3.74. Target has no time for slow sellers, but I certainly have time to buy cheap German toys. (Although, as far as I know, this one may not have been sold in Germany.)
During that era - and also this era - I had a mathematical formula for buying literally any clearance Playmobil set. Price = 2X, where X = number of figures in the set. If I saw a big box treehouse or arctic dinosaur dig for $7 - oh, and I did - I'd buy those. If I saw a $10 Roman Arena... eh, close enough. What else was I going to do, not buy a set where presumably you could feed your pirates to the lions?
Most of the sets that were in this program had something most Playmobil sets lack - a name on the front of the box, and in English. Most Playmobil sets feature a 4- or 5-digit item number a brand logo, and maybe a small parts warning. Any set's name usually is derived from a price list or Playmobil's web site - this is why so many fans buy and sell (and identify) sets by numbers, an incredibly efficient system that cuts through translation errors. It's the kind of thing I wish we could see in literally every other toy line ever. Don't tell me you have an Optimus Prime - give me the SKU. Get specific. But I digress. This boat was a US exclusive in this set, but elements from it (specifically the hovercraft) would be sold as a bagged Direct Service item later.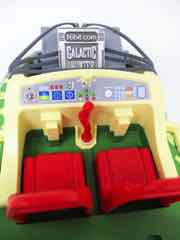 The hovercraft assembles rather easily, and the fan element has spinning fans and moving vanes. There's a control yoke that rotates inside, plus a rubber strap to keep the trunk in place. Also, like many Playmobil toys, it really floats. There's even a place to clamp on the underwater motor, so you can throw it on your pool and have it zip around. It's kind of brilliant - the toy itself was relatively cheap, but if you wanted a motorized (or RC motorized) upgrade, you could buy one. And you could easily shuffle that motor from one boat to another as it fit your fancy. This is the sort of thing the US toy industry rarely does - you're generally forced to buy an entire electronic toy instead. This minimizes waste and lets you actually play with stuff to see what happens. (I sadly do not have a motor. But I do have the counterweight piece for Nessie.)
The design of the boat is indicative of some of the cognitive dissonance evident in Playmobil's global marketing strategy. As mentioned above, most sets have no names on the box - so in the USA, a set may be called "Boat with Explorers" while in Germany it's "Boat with Hunters." Different markets, different attitudes - in this case, the Croc Boat has a boat with "Crocodile Observation" written on it, despite having swamp hunt pirate people wearing swords and carrying guns. Kids get the flexibility of writing their own story for the toy, which has no copy on the box to tell you what to do. Maybe one guy is the pirate and the other is some sort of reptile fanatic with an Indiana Jones wardrobe. I don't know. I just buy these things.
The watercraft itself is charming and durable, feeling puffy and light despite being made of what feels like pretty sturdy plastic. The rubbery net has held up well despite years of age, but admittedly, not a lot of use. (In case you didn't do the math, the set's been around for about 16 years.) It seats two figures, but additional figures can hold on to those red rails and hang off the side with one foot on the inflatable part of the hovercraft. It's a surprisingly excellent design.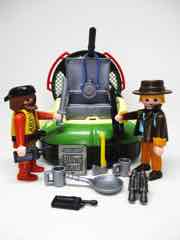 The gear is good and the figures are repurposed from previous sets - if you bought any of the specialty stuff from years before, you may well have similar if not identical figures in your collection from previous jungle themed sets. As Playmobil buying required mail-order or visits to specialty (or, gag, educational) toy shops for many fans, the figures may well have been totally new to Target customers. Also since the leather jacket man was from 1999, there's a chance those kids aged out of the hobby and anyone seeing this set was new to the brand.
Knock-off Indiana Jones has a brown jacket with a vaguely leopard trim, plus orange trim around the sleeves. A blue shirt with a bandolier indicates a ne'er-do-well of some sort, and the hat is just necessary to go with the jacket. His buddy has bright orange clothes, a cheetah vest, a headband, and a lot of hair. Both figures are not nearly as complex as today's - what with variant arm builds or bprinted legs - but are consistent with the style we usually got in the late 1990s.
Joining them are a small selection of animals. There's a pelican you can perch on the tree! It's cute. There are two tiny turtles, and you have to assemble them with their shells. The selling point may be the alligator, which is a smaller version with articulation at the neck and jaw. Other versions have moving legs or limbs, but not this one - it's smaller and cheaper, and has unpainted yellow eyes. How is this possible? Playmobil dual-injection molds many of their toys, so there's a yellow plastic piece inset in the toy's head - so if you scuff it, the eyes are still yellow. There's no paint to scuff off, the gator is entirely molded in color. This is true for many of the toys they produce, which keeps them looking nice much longer than some of the American equivalents. This is also why they may cost more. Also, our reptile friend can float in water too.
It wouldn't be a swamp without a little land. A tiny island represents a marshy landmark with reeds and a tree for your figures to camp at, hang out around, or float past. It's not exactly fun in and of itself, but it's a nice addition to the set and it makes a great bit of atmosphere if you just display these things on a shelf.
Finishing off the set is a tiny campfire with some gear like a pot, a pan, and some other tools. Also a canteen, binoculars, and other outdoorsy stuff. You can write your own stories here, with several useful accessories you can give these guys, store in the box, or keep somewhere on the boat.
I opened this set years ago - before I took the box shots, obviously - and while I always liked it, I think I neglected to appreciate just what it was I got for the money. At the time, my attitude was "oh sweet, I'll pay four bucks for Fake Indiana Jones, two turtles, and a croc!" This is still my attitude, but it's remarkable just how much stuff you got - even for the time, it was a decent amount of plastic for the money. (A single "Specials" or "Pals" figure could range anywhere from $2-$5, depending on the store.) As of my writing this, I don't see any boxed ones for sale and an incomplete one (labeled as complete, but with the wrong croc) goes for over $30 delivered in the USA. Which isn't bad, given the age. It's a nice set, although you may not need it if you have the appropriate add-ons boat set or the figures from previously sold sets. Of course now, it's all old, and you're not a completist, so just get whatever's priced nice or looks fun.
--Adam Pawlus
Additional Images

See more Playmobil toys in Figure of the Day:
Day 94: Playmobil African Safari 4831 Ostriches Set
Day 125: Playmobil Specials 4683 Mongollian Warrior Action Figure
Day 132: Playmobil Specials Cave Man Action Figure
Day 140: Playmobil Specials Palace Guard Action Figure
Day 163: Playmobil Figures Ghost Action Figure
Day 186: Playmobil Top Agents Secret Agent Action Figure
Day 266: Playmobil Dinosaurs 4173 Pteranodon
Day 271: Playmobil "Fi?ures" Figures Uncle Sam Action Figure
Day 276: Playmobil "Fi?ures" Figures Zorro Action Figure
Day 322: Playmobil Treasure Hunters 4848 Temple Guardian Figure
Day 363: Playmobil www.tourismus.nuernberg.de 6107 Albrecht Durer Figure
Day 764: Playmobil Stone Age 5105 Mammoth Family Set
Day 802: Playmobil Dino 5232 Stegosaurus
Day 811: Playmobil Specials 4748 Samurai
Day 887: Playmobil Toy Fair 2014 40th Birthday Knight
Day 1,030: Playmobil City Life 5605 PopStars! Band
Day 1,139: Playmobil School 4329 School Band
Day 1,148: Playmobil Dragon Tournament Knight Toy Fair Promo Figure
Day 1,154: Playmobil Magician with Genie Lamp Figure
Day 1,354: Playmobil Play Box 5638 Haunted House
Day 1,401: Playmobil 2016 Toy Fair Girl Figure
Day 1,451: Playmobil "Fi?ures" Figures Cat Burglar
Day 1,461: Playmobil 5197 Sports & Action Table Tennis Players
Day 1,499: Playmobil 4766 Special Plus Table Pizza Baker
Day 1,557: Playmobil "Fi?ures" Figures Asian Rice Worker
Day 1,577: Playmobil Toy Fair 2014 40th Birthday Princess
Day 1,581: Playmobil 2016 Toy Fair Pirate Figure
Day 1,583: Playmobil 5152 Future Planet E-Rangers Collectobot Figure
Day 1,584: Playmobil 6687 Super 4 Lost Island Figure Set
Day 1,585: Playmobil Figures Prisoner
Day 1,586: Playmobil 5572 City Life Ball Pit Set
Day 1,587: Playmobil 4741 Specials Space Ranger
Day 1,588: Playmobil 5562 Wild Life Beavers with Backpacker
Day 1,589: Playmobil 5239 Vampires
Day 1,590: Playmobil "Fi?ures" Figures Tall Ghost
Day 1,591: Playmobil Wild Life 5559 Inflatable Boat with Explorers
Day 1,592: Playmobil 5898 4-Wheel Drive with Kayak and Ranger
Day 1,598: Playmobil "Fi?ures" Figures Adventuress
Day 1,607: Playmobil "Fi?ures" Figures Granny
Day 1,609: Playmobil "Fi?ures" Figures France Fan
Day 1,613: Playmobil "Fi?ures" Figures Dark Fairy
Day 1,617: Playmobil 6824 Playmo-Friends Werewolf
Day 1,618: Playmobil 6823 Playmo-Friends Space Warrior
Day 1,631: Playmobil Knights Giant Troll with Dwarf Fighters
Day 1,641: Playmobil Playmo-Friends Flame Warrior
Day 1,650: Funko x Playmobil Willy Wonka
Day 1,654: Playmobil "Fi?ures" Figures Sauna Woman
Day 1,657: Funko x Playmobil Teenage Mutant Ninja Turtles Black and White Raphael
Day 1,662: Playmobil Tigers
Day 1,684: Playmobil NHL 5069 Zamboni
Day 1,699: Playmobil "Fi?ures" Figures Queen of Hearts
Day 1,728: Playmobil "Fi?ures" Figures Space Ranger
Day 1,731: Playmobil Ghostbusters 9222 Slimer
Day 1,737: Playmobil "Fi?ures" Figures Fire Wizard
Day 1,762: Playmobil 6099 Martin Luther
Day 1,764: Playmobil 5610 City Life Take Along
Day 1,772: Playmobil 6647 Alpacas
Day 1,774: Playmobil Summer Fun 5270 Porter with Luggage Cart
Day 1,784: Playmobil 6649 Penguins
Day 1,786: Playmobil 2017 Toy Fair Roman Troop Figure
Day 1,787: Playmobil "Fi?ures" Figures Zombie
Day 1,791: Playmobil Ghostbusters 9221 Stay Puft Marshmallow Man
Day 1,796: Playmobil "Fi?ures" Figures Ghoul Butler
Day 1,799: Playmobil "Fi?ures" Figures Pirate
Day 1,804: Playmobil "Fi?ures" Figures Gnome
Day 1,810: Playmobil "Fi?ures" Figures Captain America
Day 1,813: Playmobil Ghostbusters 9223 Venkman and Terror Dogs
Day 1,822: Playmobil "Fi?ures" Figures Flaming Skull
Day 1,828: Playmobil "Fi?ures" Figures Gladiator
Day 1,832: Funko x Playmobil Doctor Who Fourth Doctor
Day 1,836: Playmobil 6639 Gorillas
Day 1,839: Playmobil "Fi?ures" Figures Baker
Day 1,844: Playmobil Pianist with Piano
Day 1,851: Playmobil Ghostbusters 9224 Spengler and Ghost
Day 1,856: Playmobil "Fi?ures" Figures Buffalo Warrior
Day 1,861: Playmobil "Fi?ures" Figures Princess
Day 1,865: Playmobil 6525 Detective
Day 1,892: Playmobil "Fi?ures" Figures Rock Star
Day 1,899: Playmobil Special Plus Architect
Day 1,908: Funko x Playmobil Teenage Mutant Ninja Turtles Shredder
Day 1,913: Playmobil "Fi?ures" Figures Viking
Day 1,919: Playmobil "Fi?ures" Figures Steampunk Warrior
Day 1,934: Playmobil "Fi?ures" Figures Fisherwoman
Day 1,952: Playmobil 2018 Toy Fair Fairy Figure
Day 1,967: Playmobil 2018 Toy Fair Mountain Rescue Figure
Day 1,990: Playmobil 2013 Toy Fair Dinos Explorer Figure
Day 2,058: Playmobil Werewolf and Witch
Day 2,076: Playmobil The Real Ghostbusters 9387 Zeddemore with Aqua Scooter
Day 2,079: Playmobil 2019 Toy Fair Pet Hotel Cat Expert Figure
Day 2,082: Playmobil The Real Ghostbusters 9386 Spengler with Cage Car
Day 2,083: Playmobil Add-Ons 9804 Fire Brigade Accessories
Day 2,136: Playmobil Castle 6042 Castle Ghost with Rainbow LED
Day 2,139: Playmobil Mummy and Grim Reaper
Day 2,193: Playmobil 2020 Toy Fair Emergency Doctor Figure
Day 2,205: Playmobil Back to the Future DeLorean Time Machine Vehicle with Figures
Day 2,219: Playmobil Scooby-Doo! 70287 Scooby and Shaggy with Ghost Figures
Day 2,231: Playmobil Back to the Future Marty McFly and Dr. Emmett Brown Figures
Day 2,243: Playmobil Scooby-Doo! 70361 Adventure in the Mystery Mansion Playset
Day 2,255: Playmobil Back to the Future Advent Calendar with Figures
Day 2,325: Playmobil 2020 Toy Fair Mermaid Figure
Day 2,326: Playmobil 70177 Volkswagen Volkswagen Beetle
Day 2,327: Playmobil "Fi?ures" Figures Confederate Soldier
Day 2,328: Playmobil The Real Ghostbusters 9388 Stantz with Sky Bike
Day 2,329: Playmobil Pirates Ghost Whale Skeleton
Day 2,330: Playmobil 5754 Adventure Croc Boat
Day 2,331: Playmobil 5603 City Life Tour Bus
Day 2,332: Playmobil Scooby-Doo! 70286 Mystery Machine with Figures
Day 2,333: Playmobil The Movie Robotitron with Drone
Day 2,348: Playmobil "Fi?ures" Figures Witch
Day 2,350: Playmobil Vampire and Frankenstein's Monster
Day 2,352: Playmobil 70634 Back to the Future Part II Hoverboard Chase
Day 2,354: Playmobil 70548 Star Trek U.S.S. Enterprise NCC-1701 Playset
Day 2,356: Playmobil "Fi?ures" Figures Day of the Dead Woman
Day 2,360: Playmobil "Fi?ures" Figures Hula Girl
Day 2,362: Playmobil "Fi?ures" Figures Hippie
Day 2,363: Playmobil 70576 Back to the Future Part III Advent Calendar with Figures
Day 2,365: Playmobil 70026 "Fi?ures" Figures Fire Sorceress
Day 2,367: Playmobil "Fi?ures" Figures Skeleton Warrior
Day 2,368: Playmobil 5753 Seasonal Photo Santa Claus Figures
Day 2,370: Playmobil "Fi?ures" Figures Knight
Day 2,372: Playmobil Adventure Treasure Robber Crawler
Day 2,373: Playmobil 70148 "Fi?ures" Figures Ninja
Day 2,375: Playmobil The Real Ghostbusters 9385 Venkman with Helicopter
Day 2,377: Playmobil "Fi?ures" Figures Cowgirl
Day 2,378: Playmobil 70148 "Fi?ures" Figures Puppeteer
Day 2,380: Playmobil 70148 "Fi?ures" Figures Opera Fan
Day 2,382: Playmobil 70148 "Fi?ures" Figures Duck Feeder
Day 2,390: Playmobil 71060 "Fi?ures" Figures Steampunk
Day 2,398: Playmobil 2013 Toy Fair Dinosaur Explorer Figure
Day 2,408: Playmobil 70876 Special Plus Child with Monster
Day 2,415: Playmobil Special Plus Special Operations Agent
Day 2,422: Playmobil "Fi?ures" Figures Day of the Dead Man
Day 2,428: Playmobil 70873 Specials Plus Man with E-Scooter Action Figure
Day 2,430: Playmobil "Fi?ures" Figures Skater Action Figure
Day 2,432: Playmobil "Fi?ures" Figures Gargoyle
Day 2,466: Playmobil "Fi?ures" Figures Vampire
Day 2,475: Playmobil "Fi?ures" Figures Raffle Man
Day 2,481: Playmobil "Fi?ures" Figures Paintball Man
Day 2,496: Schaper Playmobil 3591 Space Series Astronaut and Robot Figures
Day 2,518: Playmobil "Fi?ures" Figures Gnome
Day 2,538: Playmobil 71010 Wiltopia Boat Trip to the Manatees Set