Hoverboard Chase
with 4 figures, 1 vehicle, 1 small piece of scenery

Back to the Future Set
Item No.: No. 70634
Manufacturer: Playmobil
Includes: 4 human figures, Hill Valley pond, Hover Board, Pit Bull, PM today card, plants, Jaws sign, Hover Covnersion sign, lamp post, Gray's Sports Almanac, 2015 License Plate, Playmobil Slugger baseball bat, Mr. Fusion, alernate Doc coat, handcuffs, riot baton
Action Feature: The big upsell
Retail: $34.99
Availability: May 2021
Other: A very late addition

PREVIOUS
RSS
NEXT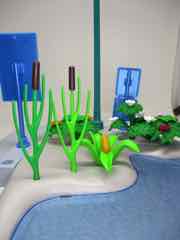 With licenses like Ghostbusters and Back to the Future we're seeing Playmobil cater to parent-age customers, and with the Hoverboard Chase set I think it's pretty apparent they're bypassing parents and going straight for adult fans. Making grade school toys of a sci-fi comedy from 1989 - a movie that was an entire generation's reference to "the future" that more or less expired at the end of 2015 - is the sort of move you expect from Playmobil. It isn't necessarily timely... it isn't necessarily timeless either. And it's not completely appropriate for children, but it also more or less is. The movie itself is a weird episodic fun house ride of a film, skipping the emotional beats of the first movie and swapping them out for visits to the evil 1985, a retread of 1955, and of course, 2015. The Hill Valley set of the future is the stuff of legends, with flying cars, hovering skateboards, 3-D holographic advertising, and Cafe 80s. Sadly, none of these things came to pass - but that doesn't mean you can't pull some of the cooler concepts and make a nice toy.
Click here to check availability at Entertainment Earth.
Priced similarly to the Advent Calendar [FOTD #2,352], this set gives you fewer figures, more big plastic parts, and a lot of accessories - plus an upgrade part for your DeLorean Time Machine. I should also note this set is age graded 5-99, as opposed to the usual 4+ age rating. They know this is probably going to be bought by adults, for adults.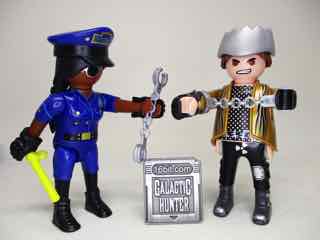 As usual, you get a series of 3-inch figures - an unnamed police officer, Griff Tannen, Doc Brown (2015), and Marty McFly (2015, or Marty Jr.) It's a good set - the nameless police officer uses the skinny body, while Griff has a unique color hand and a huge grimace on his face. Doc's sunglasses are painted on his head, which is removable because it uses the customizable body so you can swap out the coat for a shorter, DeLorean-friendly model. Marty is Marty - complete with his color-changing hat. Nobody in Real 2015 tended to wear those (short of replicas from the film), but Movie 2015 was the 1980s to the Nth degree. Prismatic stuff makes sense - Hypercolor t-shirts were a big deal around the time of the movie.
Playmobil figures can be soothingly generic when you're dealing with a pirate or a girl with horse, but movie licenses require razor-sharp specificity. Doc's pants and boots have a difficult-to-see painted pattern, as well as a painted-on clear plastic tie over his shirt with Asian characters. It's incredibly ornate, particularly for the size, and of course he has two watches like in the film. I'd have loved an alternate head without sunglasses to have been included, but presumably they'll sell another one with that configuration later.
The cyborg Griff comes with a "Playmobil Slugger" red baseball bat as well as a black hand, while his flesh-colored hand has a glove you can click over it. The grimace evokes his manic, menacing energy quite nicely but does look a little off compared to the other figures in the line. Of course, you won't care, because the helmet looks so good you're just going to focus on that, the costume, and the Pit Bull board. I just re-watched the movie a couple of days before this set came in the mail from work, and the figure made me notice things I missed in the actual film. I didn't realize he had a radioactive symbol over his fly on his pants, nor was I completely sure he had a mesh shirt on. (I did notice that a 30-year-old was playing a teenager, though.) While the boots lack the giant spikes from the movie, they are colored silver in spots so it more or less evokes the look of the film. The gold jacket turned out nicely too. Is it perfect? No. But it's really good. And that helmet never stops being goofy.
The Police Officer uses the newer thinner body with a skin-tight uniform, plus has the LED readout on her hat reading out "OFFICER FO"...something. It cut off. Her costume looks a lot like the film, complete with the lighter blue trim and the very large hat. Shoulder pads, sadly, did not translate to the figure. It's a nice addition to the set, but I would have liked to have had another officer to go with her in here. (And also Griff's gang, but maybe we'll get them all later.)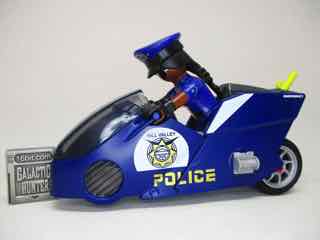 The police hover bike is clever, if not screen-accurate. You'll recognize the bike is an old mold used in the Playmobil sci-fi spy lines as well as Ray's The Real Ghostbusters Playmobil sky bike, so here we see them apply the Hill Valley Police deco to the existing mold. Is it a perfect match? No, but it's pretty close - the silhouettes of the bikes are a little different, but it matches up close enough and has some retro-looking design flourishes that I assume most people wouldn't notice the changes without comparing it. I assume it was included here as a way to make this a more expensive set - after all, when Ray got the bike, it was $20 with two figures. It has pop-out wings and rolls fairly nicely, but is by no means an essential addition to the line. (This is why I like it.) I'd also like the Hill Valley Police Car from 2015, but I assume we're probably nearing the end of this license.
Over two years we never got a proper plastic playset, so the pond in front of the Hill Valley courthouse will have to do. You can set this in front of the parts from your Advent Calendar, or just keep it on your desk. If you can believe it (and indeed you can) the pond and water were originally parts in the 2008 Fairy Land Castle, but with some added sidewalk. There are plants, and a couple of signs. Is it a good playset? No - it doesn't do anything, but it's decent scenery to display your figures on their vehicles. Like a lot of old Kenner playsets, it evokes the feeling of a scene with some minimal play functions but is by no means an exact replica of the set. The Goldie Wilson III Hover Conversion sign is a nice touch, but the Jaws sign is pretty amazing - it's the kind of Easter egg I am not used to seeing on most licensed sets. (Maybe it added a few bucks to the cost of the set, too. I have no idea.)
You can see all the accessories below, but the most interesting elements are two bits - a Mr. Fusion and a panel to replace the lightning rod port - that plug in to the DeLorean Time Machine set, sold separately. This is fascinating and presumptuous. Playmobil knows you probably bought the DeLorean and want Mr. Fusion, and this is how you're going to get it. The tiny printing on it is amazing, and it's cast in clear plastic so it looks surprisingly great. I have to hand it to Playmobil that I appreciate not being suckered into buying multiple slightly-different DeLoreans, but that means I have to pick a mode and not keep swapping all the parts. This will only be made worse when the Back to the Future Part III set comes out with optional parts for the hood and two sets of wheels.
Four figures, a bike, and a small playset (with a lot of accessories) for $35 isn't terrible in the action figure world, but usually you get a bit more with Playmobil. A slightly bigger Hill Valley playset would be nice - perhaps something that can be constructed across multiple sets! - but this is also good in that it's a small collection. As of my writing this the entire line is a car, a figure pack, a truck, two advent calendars, and this gift set - and if I get my wish, maybe a train. They could keep this going indefinitely, but they gave us most of the best of what 2015 had to offer in this little box. Having said that, if they want to do an Advent Calendar in 2022 with a few more of Griff's pals or maybe Middle-Age Two-Tie Marty, I'd certainly pick up a few more of these guys. They're durable and the format allows them to take some liberties with accuracy. Plus they're toys, and they just work. I can't ask for much more than that. (Other than, of course, a new train.)
--Adam Pawlus
Additional Images

See more Playmobil toys in Figure of the Day:
Day 94: Playmobil African Safari 4831 Ostriches Set
Day 125: Playmobil Specials 4683 Mongollian Warrior Action Figure
Day 132: Playmobil Specials Cave Man Action Figure
Day 140: Playmobil Specials Palace Guard Action Figure
Day 163: Playmobil Figures Ghost Action Figure
Day 186: Playmobil Top Agents Secret Agent Action Figure
Day 266: Playmobil Dinosaurs 4173 Pteranodon
Day 271: Playmobil "Fi?ures" Figures Uncle Sam Action Figure
Day 276: Playmobil "Fi?ures" Figures Zorro Action Figure
Day 322: Playmobil Treasure Hunters 4848 Temple Guardian Figure
Day 363: Playmobil www.tourismus.nuernberg.de 6107 Albrecht Durer Figure
Day 764: Playmobil Stone Age 5105 Mammoth Family Set
Day 802: Playmobil Dino 5232 Stegosaurus
Day 811: Playmobil Specials 4748 Samurai
Day 887: Playmobil Toy Fair 2014 40th Birthday Knight
Day 1,030: Playmobil City Life 5605 PopStars! Band
Day 1,139: Playmobil School 4329 School Band
Day 1,148: Playmobil Dragon Tournament Knight Toy Fair Promo Figure
Day 1,154: Playmobil Magician with Genie Lamp Figure
Day 1,354: Playmobil Play Box 5638 Haunted House
Day 1,401: Playmobil 2016 Toy Fair Girl Figure
Day 1,451: Playmobil "Fi?ures" Figures Cat Burglar
Day 1,461: Playmobil 5197 Sports & Action Table Tennis Players
Day 1,499: Playmobil 4766 Special Plus Table Pizza Baker
Day 1,557: Playmobil "Fi?ures" Figures Asian Rice Worker
Day 1,577: Playmobil Toy Fair 2014 40th Birthday Princess
Day 1,581: Playmobil 2016 Toy Fair Pirate Figure
Day 1,583: Playmobil 5152 Future Planet E-Rangers Collectobot Figure
Day 1,584: Playmobil 6687 Super 4 Lost Island Figure Set
Day 1,585: Playmobil Figures Prisoner
Day 1,586: Playmobil 5572 City Life Ball Pit Set
Day 1,587: Playmobil 4741 Specials Space Ranger
Day 1,588: Playmobil 5562 Wild Life Beavers with Backpacker
Day 1,589: Playmobil 5239 Vampires
Day 1,590: Playmobil "Fi?ures" Figures Tall Ghost
Day 1,591: Playmobil Wild Life 5559 Inflatable Boat with Explorers
Day 1,592: Playmobil 5898 4-Wheel Drive with Kayak and Ranger
Day 1,598: Playmobil "Fi?ures" Figures Adventuress
Day 1,607: Playmobil "Fi?ures" Figures Granny
Day 1,609: Playmobil "Fi?ures" Figures France Fan
Day 1,613: Playmobil "Fi?ures" Figures Dark Fairy
Day 1,617: Playmobil 6824 Playmo-Friends Werewolf
Day 1,618: Playmobil 6823 Playmo-Friends Space Warrior
Day 1,631: Playmobil Knights Giant Troll with Dwarf Fighters
Day 1,641: Playmobil Playmo-Friends Flame Warrior
Day 1,650: Funko x Playmobil Willy Wonka
Day 1,654: Playmobil "Fi?ures" Figures Sauna Woman
Day 1,657: Funko x Playmobil Teenage Mutant Ninja Turtles Black and White Raphael
Day 1,662: Playmobil Tigers
Day 1,684: Playmobil NHL 5069 Zamboni
Day 1,699: Playmobil "Fi?ures" Figures Queen of Hearts
Day 1,728: Playmobil "Fi?ures" Figures Space Ranger
Day 1,731: Playmobil Ghostbusters 9222 Slimer
Day 1,737: Playmobil "Fi?ures" Figures Fire Wizard
Day 1,762: Playmobil 6099 Martin Luther
Day 1,764: Playmobil 5610 City Life Take Along
Day 1,772: Playmobil 6647 Alpacas
Day 1,774: Playmobil Summer Fun 5270 Porter with Luggage Cart
Day 1,784: Playmobil 6649 Penguins
Day 1,786: Playmobil 2017 Toy Fair Roman Troop Figure
Day 1,787: Playmobil "Fi?ures" Figures Zombie
Day 1,791: Playmobil Ghostbusters 9221 Stay Puft Marshmallow Man
Day 1,796: Playmobil "Fi?ures" Figures Ghoul Butler
Day 1,799: Playmobil "Fi?ures" Figures Pirate
Day 1,804: Playmobil "Fi?ures" Figures Gnome
Day 1,810: Playmobil "Fi?ures" Figures Captain America
Day 1,813: Playmobil Ghostbusters 9223 Venkman and Terror Dogs
Day 1,822: Playmobil "Fi?ures" Figures Flaming Skull
Day 1,828: Playmobil "Fi?ures" Figures Gladiator
Day 1,832: Funko x Playmobil Doctor Who Fourth Doctor
Day 1,836: Playmobil 6639 Gorillas
Day 1,839: Playmobil "Fi?ures" Figures Baker
Day 1,844: Playmobil Pianist with Piano
Day 1,851: Playmobil Ghostbusters 9224 Spengler and Ghost
Day 1,856: Playmobil "Fi?ures" Figures Buffalo Warrior
Day 1,861: Playmobil "Fi?ures" Figures Princess
Day 1,865: Playmobil 6525 Detective
Day 1,892: Playmobil "Fi?ures" Figures Rock Star
Day 1,899: Playmobil Special Plus Architect
Day 1,908: Funko x Playmobil Teenage Mutant Ninja Turtles Shredder
Day 1,913: Playmobil "Fi?ures" Figures Viking
Day 1,919: Playmobil "Fi?ures" Figures Steampunk Warrior
Day 1,934: Playmobil "Fi?ures" Figures Fisherwoman
Day 1,952: Playmobil 2018 Toy Fair Fairy Figure
Day 1,967: Playmobil 2018 Toy Fair Mountain Rescue Figure
Day 1,990: Playmobil 2013 Toy Fair Dinos Explorer Figure
Day 2,058: Playmobil Werewolf and Witch
Day 2,076: Playmobil The Real Ghostbusters 9387 Zeddemore with Aqua Scooter
Day 2,079: Playmobil 2019 Toy Fair Pet Hotel Cat Expert Figure
Day 2,082: Playmobil The Real Ghostbusters 9386 Spengler with Cage Car
Day 2,083: Playmobil Add-Ons 9804 Fire Brigade Accessories
Day 2,136: Playmobil Castle 6042 Castle Ghost with Rainbow LED
Day 2,139: Playmobil Mummy and Grim Reaper
Day 2,193: Playmobil 2020 Toy Fair Emergency Doctor Figure
Day 2,205: Playmobil Back to the Future DeLorean Time Machine Vehicle with Figures
Day 2,219: Playmobil Scooby-Doo! 70287 Scooby and Shaggy with Ghost Figures
Day 2,231: Playmobil Back to the Future Marty McFly and Dr. Emmett Brown Figures
Day 2,243: Playmobil Scooby-Doo! 70361 Adventure in the Mystery Mansion Playset
Day 2,255: Playmobil Back to the Future Advent Calendar with Figures
Day 2,325: Playmobil 2020 Toy Fair Mermaid Figure
Day 2,326: Playmobil 70177 Volkswagen Volkswagen Beetle
Day 2,327: Playmobil "Fi?ures" Figures Confederate Soldier
Day 2,328: Playmobil The Real Ghostbusters 9388 Stantz with Sky Bike
Day 2,329: Playmobil Pirates Ghost Whale Skeleton
Day 2,330: Playmobil 5754 Adventure Croc Boat
Day 2,331: Playmobil 5603 City Life Tour Bus
Day 2,332: Playmobil Scooby-Doo! 70286 Mystery Machine with Figures
Day 2,333: Playmobil The Movie Robotitron with Drone
Day 2,348: Playmobil "Fi?ures" Figures Witch
Day 2,350: Playmobil Vampire and Frankenstein's Monster
Day 2,352: Playmobil 70634 Back to the Future Part II Hoverboard Chase
Day 2,354: Playmobil 70548 Star Trek U.S.S. Enterprise NCC-1701 Playset
Day 2,356: Playmobil "Fi?ures" Figures Day of the Dead Woman
Day 2,360: Playmobil "Fi?ures" Figures Hula Girl
Day 2,362: Playmobil "Fi?ures" Figures Hippie
Day 2,363: Playmobil 70576 Back to the Future Part III Advent Calendar with Figures
Day 2,365: Playmobil 70026 "Fi?ures" Figures Fire Sorceress
Day 2,367: Playmobil "Fi?ures" Figures Skeleton Warrior
Day 2,368: Playmobil 5753 Seasonal Photo Santa Claus Figures
Day 2,370: Playmobil "Fi?ures" Figures Knight
Day 2,372: Playmobil Adventure Treasure Robber Crawler
Day 2,373: Playmobil 70148 "Fi?ures" Figures Ninja
Day 2,375: Playmobil The Real Ghostbusters 9385 Venkman with Helicopter
Day 2,377: Playmobil "Fi?ures" Figures Cowgirl
Day 2,378: Playmobil 70148 "Fi?ures" Figures Puppeteer
Day 2,380: Playmobil 70148 "Fi?ures" Figures Opera Fan
Day 2,382: Playmobil 70148 "Fi?ures" Figures Duck Feeder
Day 2,390: Playmobil 71060 "Fi?ures" Figures Steampunk
Day 2,398: Playmobil 2013 Toy Fair Dinosaur Explorer Figure
Day 2,408: Playmobil 70876 Special Plus Child with Monster
Day 2,415: Playmobil Special Plus Special Operations Agent
Day 2,422: Playmobil "Fi?ures" Figures Day of the Dead Man
Day 2,428: Playmobil 70873 Specials Plus Man with E-Scooter Action Figure
Day 2,430: Playmobil "Fi?ures" Figures Skater Action Figure
Day 2,432: Playmobil "Fi?ures" Figures Gargoyle
Day 2,466: Playmobil "Fi?ures" Figures Vampire
Day 2,475: Playmobil "Fi?ures" Figures Raffle Man
Day 2,481: Playmobil "Fi?ures" Figures Paintball Man
Day 2,496: Schaper Playmobil 3591 Space Series Astronaut and Robot Figures
Day 2,518: Playmobil "Fi?ures" Figures Gnome
Day 2,538: Playmobil 71010 Wiltopia Boat Trip to the Manatees Set

See more Back to the Future figures in Figure of the Day:
Day 552: Mattel Back to the Future II Hoverboard Prop Replica
Day 985: Funko Back to the Future Marty McFly ReAction Figure
Day 1,008: Funko Back to the Future George McFly ReAction Figure
Day 1,008: Funko Back to the Future Doc Brown ReAction Figure
Day 1,078: Funko Back to the Future Biff Tannen ReAction Figure
Day 1,290: Mattel Hot Wheels Back to the Future Time Machine - Hover Mode
Day 1,390: Funko Pop! Movies Back to the Future Marty McFly Vinyl Figure
Day 2,205: Playmobil Back to the Future DeLorean Time Machine Vehicle with Figures
Day 2,231: Playmobil Back to the Future Marty McFly and Dr. Emmett Brown Figures
Day 2,255: Playmobil Back to the Future Advent Calendar with Figures
Day 2,265: Hasbro Transformers x Back to the Future Deluxe Gigawatt Action Figure
Day 2,352: Playmobil 70634 Back to the Future Part II Hoverboard Chase
Day 2,363: Playmobil 70576 Back to the Future Part III Advent Calendar with Figures