Buzzworthy Origin Bumblebee
WFC-N/A

Transformers Generations War for Cybertron Trilogy Deluxe Exclusive
Item No.: No. F1623
Manufacturer: Hasbro
Includes: Blaster, jetpack, 5 energy rods
Action Feature: Transforms from vehicle to robot
Retail: $22.99
Availability: July 2021
Other: Debut Alt Mode

PREVIOUS
RSS
NEXT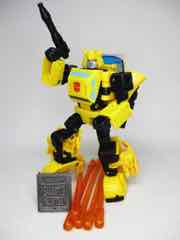 Since the 1984 debut of The Transformers, it seemed unlikely Hasbro would ever actually release Bumblebee, Jazz, or Wheeljack in their pre-Earth forms. The robots looked like their Earth modes and their space forms had parts that just couldn't work with those robots - or could it? Buzzworthy Origin Bumblebee is small, but manages to do the impossible by giving us a small Bumblebee robot - comparable to the other recent Deluxe minicars - that turns into a space car that's about 3-inches by 3 1/2-inches in vehicle mode.
The packaging is worth noting as it's Hasbro's first War for Cybertron toy for mass retail that removes the window from the package - the plastic sheet is absent. There's still a plastic hanger, but everything else seems to be paper or cardboard. The packaging art is the generic "Evergreen" robot on Authentics toys, so it's sort of like Cyberverse and nothing like the toy in the box other than it's yellow. Also, it's notable that the packaging shows a silver blaster and jetpack, while the final toy has black accessories.
Packaged in a robot mode, Bumblebee is pretty similar to numerous other Bumblebees like the yellow Cliffjumper Bumblebee or the Volkswagen one that Walmart got late in 2020. While the shoulders look similar to those other mini bots, everything else seems to be pretty much new. You get yellow feet and forearms, a yellow VW-style chest with painted-on windows, and loads of articulation. The fist has no problems holding the unique blaster pistol, and you can mount the backpack on the peg. Sculpting is on par with most Transformers toys and articulation is just as good as most other figures you can buy today. But he's small.
Long-time fans will probably grouse that a $23 Deluxe-class toy is smaller than a $10 deluxe toy from a few years ago, but the robot is far more complex with lots of small moving and flipping parts to get this specific robot - with a very good head sculpt - to fit into this particular vehicle mode.
Bumblebee's accessories all seem new to this release. The jetpack is smaller than the one in the accessory pack from last year, the blaster appears to be new, and the energy rods are also new. The five rods are a key accessory from the debut miniseries TV episodes, but the figure can't grip them. They're too big for his 5mm fists, so the only figures that can actually hold these have open hands. Bumblebee also has no tabs or slots to mount them anywhere on his two modes. This is kind of upsetting. He can kind of hug them, but that's sort of dorky. It's also a small complaint for an otherwise well-engineered toy for a fan of a specific age.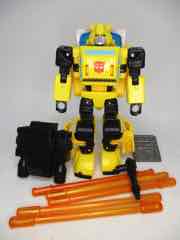 Transformation was pretty easy, I didn't have to consult the instructions. There's a ton of kibble hanging off the legs, but I admit I did consult a photo of the underside of the vehicle to make sure I got the arms and chest right. You may wish to check the instructions.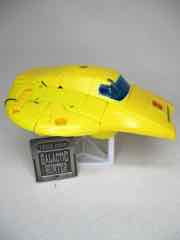 The vehicle doesn't do much other than give you an official 3-D model of a car you probably never thought you'd own. The windshield piece is cast in clear blue and painted yellow, almost-but-not-quite perfectly matching the rest of the ship. It doesn't do anything, but in this case, that's OK - it's the unique vehicle shape that you're here for. You can mount the blaster or jetpack on the car, but the rods are just debris. You'll have to find somewhere to store them. And that's OK - it's a lot of gear in a box with a tiny bot, and while this would have made a stupendous $15-$20 toy, and $23, you're probably going to find the "value" directly proportional to your love of the very first introduction of the character. The vehicle mode is a rare, fanciful creation that stands out from the real-world cars we got back then - and I think it's a lot better. Things like this are way more interesting than another car, and I'd happily buy Jazz or Wheeljack in a similar form.
As of my writing this I don't know if this figure will rot on pegs or disappear so quickly you'll clamor for a rerun. Figures like this are the reason I still collect this stuff - it's something I've always wanted but never got, asked for and never expected to see. And it's here! I'm looking at it as I type. I don't believe it. It's arguably not a perfect toy, but the fact they managed to cram G1 Bumblebee in a pretty flat flying saucer is amazing, and that it's a super-articulated robot that's more than a shellformer with a UFO backpack, means that Hasbro and Takara-Tomy can still impress.
--Adam Pawlus
Additional Images

Click here to see more Hasbro figures in Figure of the Day.
Click here to see more Transformers figures in Figure of the Day.

Want to buy this figure? Check Transformers availability at our sponsors:
Entertainment Earth