Shadow Panther
WFC-K31

Transformers Generations War for Cybertron Kingdom Deluxe
Item No.: Asst. F0364 No. F0681
Manufacturer: Hasbro
Includes: Tail whip
Action Feature: Transforms from panther to robot
Retail: $22.99
Availability: September 2021
Other: Not Ravage - but Ravage is really, really close to this one

PREVIOUS
RSS
NEXT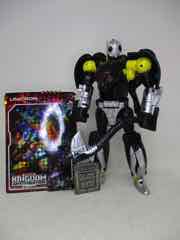 For a black repaint, Shadow Panther got a fair amount of love. Hasbro brought the original toy release to the USA on its now-defunct HasbroCollectors.com site - that was great! Takara-Tomy made another one to squeeze a few bucks more out of its Masterpiece Cheetor mold in 2018, and now we've got this one - a repaint (with mutant head, no less) of 2021's Kingdom Cheetor [FOTD #2,266]. If you like black repaints with new heads, this one is great! But if you have the original from the 1990s, it's surprisingly similar to the new release - and it has blasters.
Click here to check availability at Entertainment Earth.
The robot mode is Cheetor with a new head - what were you expecting? The new head is painted silver, with big bug-eyes and mandibles. The original 1996 Beast Wars Deluxe, Mega, and Ultra-class toys had a secondary "mutant head" - sometimes a mask, sometimes just a rotated noggin - to give it some more personality. They didn't get much use as being two-headed in the fiction, but the cartoon made use of the alternate look for some of the repaint characters. It's a clever way to expand a roster while keeping tooling budgets down, and given these were $10 toys back then, all the more impressive.
No such discounts are given today with the new secondary head, fewer accessories, and a sleeker build that enjoys much more articulation and a paint job that's so close to the original you'd swear it was the same thing at first glance. New Shadow Panther has a Predacon print on his forearm, the familiar weird beastly robot codpiece, and lots of silver on the forearms and shins. It's a repaint that completely meets expectations, with the new head being the cherry on top. (Unless you wanted the old head, in which case, maybe not.)
I can't say it's a million times better than the original, because I really liked the original. 1996 Cheetor was a top-notch toy in his day, so repaints like Shadow Panther or Tigatron were welcome additions to a then-thin product offering. The only thing this new Shadow Panther seems to be missing are hi guns and the grey lines around the eyes of the original Shadow Panther's panther eyes. A squirt gun would be a nice accessory to have once more, but Hasbro seems more interested in providing collectors with toys that are like they remember - with better paint and more articulation - in exchange for their action toy features. And it's absolutely proving itself to be a smart choice with how these figures have been selling lately.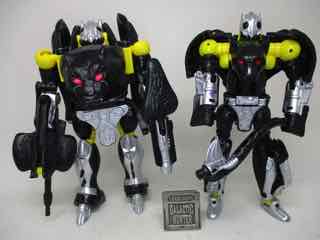 The transformation remains intuitive, but instructions can help you make sure you don't rip a jaw off or something. Pieces fit together just-so, and while you might find it intuitive, I have heard of people stressing or breaking the toy during transformation - so be careful!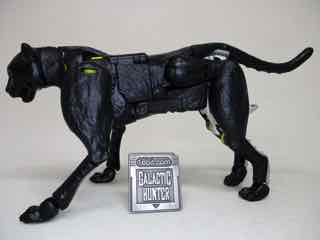 The sleek panther is pretty close to PulseCon Ravage [FOTD #2,357] - the head and legs are different, but it's still a big black cat. It's cute. There aren't many 5mm ports to add weapons or anything, but it's still nicely articulated and you'll probably like it if you've not had your fill of kitty bots. He has a good silhouette, and nice red eyes just like the original from 24 years ago. Who feels old? We all do. This one has much better articulation, with ball-jointed paws to help pose him in a bunch of different ways.
I prefer the robot heads to the mutant heads, but I won't deny their oddball charm. This is a nice figure with superlative cat articulation and good robot articulation. I'm not crazy about the tail whip, but at least it sets it apart from the original. If you can get a deal on it, you should absolutely buy it. I wouldn't necessarily poo-poo it at $20-$23 either, unless you've got too many of this kind of figure.
--Adam Pawlus
Additional Images

Click here to see more Hasbro figures in Figure of the Day.
Click here to see more Transformers figures in Figure of the Day.

Want to buy this figure? Check Transformers availability at our sponsors:
Entertainment Earth