Soundwave
WFC-K21

Transformers Generations War for Cybertron Kingdom Core
Item No.: Asst. F0363 No. F0667
Manufacturer: Hasbro
Includes: Shoulder cannon, hand cannon, tiny slug tape
Action Feature: Transforms from cassette player to robot
Retail: $9.99
Availability: June 2021
Other: Big Sound, Small Soundwave

PREVIOUS
RSS
NEXT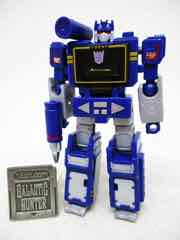 It's good! This 3 1/2-inch Soundwave is one of surprisingly few tape deck Soundwaves to be released as a non-exclusive toy. Walmart got an excellent Voyager-class gift set last year that really would've been ideal to put out in the main line, but it remains in short supply. This one is smaller and cheaper - and about ten bucks. I'd recommend it for that price.
Click here to check availability at Entertainment Earth.
Hasbro did a nice job here - this little Soundwave went to market with a paint job inspired by the cartoon, so it has a red visor and is missing a lot of the sticker detail. He has 15 points of articulation, including some surprises like ball-jointed ankles. They're pretty stiff, but that's the kind of thing that shows the engineers are putting some real thought in to how you make these guys fun at the size. Given it's ten bucks, it should be pretty good - and it is. I had no problems posing him or getting him to stand, and the head sculpt is one of the better Soundwaves I've bought. It's kind of remarkable that 20 years ago, we were getting those tiny Super Collection Figures from Japan and going "wow, I can't believe we're getting this!" while today, something slightly bigger can be fully transformed. And adjusted for inflation, it's pretty much the same price.
I love the accessories - teeny-tiny battery-based weapons are included and fit in his fists or shoulder hole. They look a lot like the original toy's, but lack the red stripe or any moving parts. Nothing launches, but at least they're scaled nicely and fit in the appropriate places without looking goofy. What Hasbro did that really knocked me out, though, was the chest - it opens! There's a little tape based on Laserbeak inside! It doesn't transform, but it's the kind of fun accessory that is done to make a certain kind of fan happy while adding no real fun to speak of. You'd complain if it were missing, though, so I'm glad they incorporated it into the design. It also makes this the most fun of the Core-size robots, because you can actually do something with it other than pose or transform it. Play features are fun because they give you a reason to pick your toys up and play with them, which every action figure line sorely needs. I have absolutely no reason to just buy a thing and throw it on a shelf at this point in my life.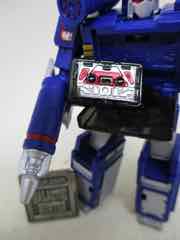 The transformation process is a snap. There's no battery compartment, but the legs fold up and the arms bend back. It's a lot like the original toy, but not identical. It's easy enough to figure out without the instructions, but take note that the toes are going to stuck up a bit.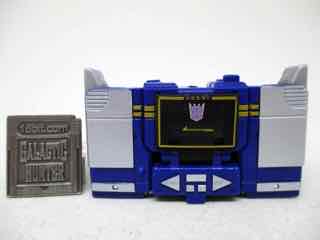 The tape deck is about 2 1/2-inches wide and 1 1/2-inches tall. This means it's not really in scale with anything except other Core-class robots - the tape deck is somewhat too big to fit in any diorama, but it looks neat on my desk. It lacks the sticker detail of the 1984 toy, but the broad patches of color are here and it generally holds together pretty well. Nothing is ever going to match the 1984 original for fitting together well, but this is nice. From the front, anyway.
This Soundwave is scaled to play with when you get your Ark, or so I'm told, mine isn't here as of my writing this. If you are not satisfied by the Soundwaves already in your life, and especially if you don't have one, this is good. It's a fun little toy for $10 and if you ever see it for less than that, it's probably a must-buy. Like Megatron, it's surprisingly good for the size and the sculpt is excellent. I'd love to see this used as a basis for a larger toy, as I imagine a simple-but-not-too-simple G1 Soundwave for fans and collectors (but bigger) would be in high demand. I'd love to see other toys (like vehicles) scaled to play with Soundwave and pals, but I'm not holding my breath - Transformers typically are the vehicles, and are scarcely designed to be played with other vehicles or playsets. But I would be happy if they were.
--Adam Pawlus
Additional Images

Click here to see more Hasbro figures in Figure of the Day.
Click here to see more Transformers figures in Figure of the Day.

Want to buy this figure? Check Transformers availability at our sponsors:
Entertainment Earth