Artfire with Nightstick
WFC-GS26 - Shared Online Exclusive

Transformers Generations War for Cybertron Trilogy Selects Voyager
Item No.: No. F1815
Manufacturer: Hasbro
Includes: 2 figures, 4 blue blast effects, blaster, 2 hose pieces, hand torch, head blaster
Action Feature: Transforms from Car to Jet
Retail: $36.49
Availability: November 2021
Other: Japanese Headmasters Targetmaster Re-redux

PREVIOUS
RSS
NEXT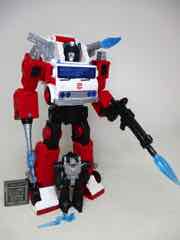 If you already bought Kingdom Inferno - a pretty perfect figure - Artfire with Nightstick is either redundant or hugely desirable. Takara-Tomy has already put out Masterpiece and Transformers United toys of the character that celebrate the scarce, late-1980s Japan-only redeco. It's a pretty obvious choice for Selects as it's a simple repaint.
If you don't have the Masterpiece toy - and I don't - this is a nice one. It and the 1980s original had nifty sticker deco, which this sadly drops - a sticker sheet here would have been great. For all intents and purposes it's just an Inferno with white toes, a white chest, and a white ladder. Meanwhile Nightstick is basically similar to Firedrive from Siege, but with the colors switched. You also get four blue "water" blast effects in here, meaning that it's a perfectly good value given what a single Battle Masters figure would cost and what a Voyager-class figure would cost.
It's not a wildly different toy - but it's different enough to be interesting in a good way, and a nice throwback to something you didn't know existed when you were a kid.
Click here to check availability at Entertainment Earth.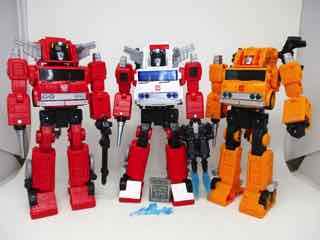 The big robot Artfire is both very exciting, and also not. While there are a variety of slight changes between him and Inferno, they're both remolds of Grapple and both red. "The same toy with new paint and a new gun" is very much how the original was, and in that respect Hasbro did a great job making a new version of the old toy. It's super-articulated, it's colorful, the colors are more or less exactly what you want, and it's a marvelous figure. Even if it didn't transform, I'd say this is a very nice robot figure. He comes with all of Inferno's gear, plus a new friend.
Nightstick is a redeco of Firedrive from a few years ago, with two sets of C.O.M.B.A.T. blasts in blue. This time he has a light grey body with black limbs and barrels, plus new head deco. It's new! If you're all-on on Nebulans, you're in for a treat. It's the same as previous releases in that it's easy to transform and has minimal articulation, with enough deco changes that will probably make the completist perfectly content to pick this set up and enjoy something that's arguably new and at a perfectly sensible market price.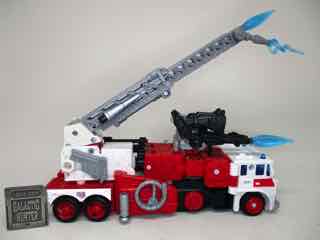 Transformation is the same as the others - it's easier with the instructions, and you get a perfectly nice fire engine. The color layout is the same as the robot, with some white elements on an otherwise red vehicle - with some red stripes on the cab. I love the blue windows and lights, and the water effects are great. The wheels don't roll particularly well, but it's been less and less. The ladder extends, there's a water blaster you can position at the tip, and you can swing the ladder around too. It's nice! It does more than a car, which at $36 or more, it should. It also looks like a few pieces of fire engine with some wadded-up robot in the middle, but that's OK too - that's more or less how some of these are going to look.
As a remake of a rare, old, expensive item from Japan, it's the perfect candidate for an exclusive! It's priced right too - as much as I wish it could've been in the main line, it was easy to get and I'm happy it's on my desk right now. I also assume it will be the last Artfire toy I may ever buy - it's basically the original toy, but bigger, and with better articulation. (And no metal.) Other than some fancy stickers, this is probably as good as it will ever get short of being a 1-step toy with a ton of articulation. I'm a big fan of the later toys of the 1980s, and its a lot more interesting to look at than the all-red Inferno... but I'll keep both. And I love Targetmasters. If you can get this one at retail price - or even a smidgen above - it's a quality little figure. But if you have Inferno and Firedrive, you may not need to buy the molds yet again.
--Adam Pawlus
Additional Images

Click here to see more Hasbro figures in Figure of the Day.

Click here to see more Transformers figures in Figure of the Day.

Want to buy this figure? Check Transformers availability at our sponsors:
Entertainment Earth