Rodimus Prime
WFC-K29

Transformers Generations War for Cybertron Kingdom Leader
Item No.: No. F1153
Manufacturer: Hasbro
Includes: Blaster, Sword of Primus, Matrix of Leadership, numerous energy blasts, trailer
Action Feature: Transforms from robot to truck
Retail: $79.99-$84.99
Availability: July 2021
Other: He is the new thing?

PREVIOUS
RSS
NEXT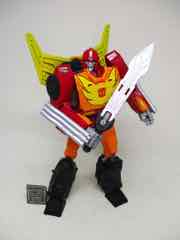 War for Cybertron has really leaned hard into upgraded figures and playing around with what you can get at a price point. Rodimus Prime is somehow both amazingly impressive and utterly samey, which is a difficult tightrope to walk. Considering you're basically paying $80 for an ultra-tricked-out $50 Leader-class toy, it's easy to have mixed feelings, but also you can see where Hasbro is coming from. So many fans are making upgrade kits for various toys that Hasbro no doubt said "maybe we should just see what happens when we try to put as much as we can into the figure ourselves," and with that perspective this toy is largely a massive victory for Hasbro. As Rodimus Prime exists as multiple toys - including a Masterpiece Edition - you may not necessarily agree, but it's hard to deny that this toy deserves an A for effort.
Click here to check availability at Entertainment Earth.
Since this was designed to be a Kingdom toy, fans will no doubt want a more magenta model that's smoother and more accurate to the cartoons. And I expect we'll get one in 2026 to celebrate 40 ridiculous years of this movie, bringing us somehow even more amazing articulation and better sculpting with some sort of mind-blowing wireless electronics or something that we couldn't expect on a reasonably priced toy today. But even if I'm off-base, this is still an impressive specimen and I'd recommend it to people with the cash burning a hole in their pocket. It makes a better robot than a vehicle, and even with its minor imperfections it's still an impressive specimen.
The robot is a hair under 7-inches tall, which is not impressive. What is impressive is how all the kibble largely tucks away, with wheels folding inside the legs. The double-jointed elbows are nice, but the articulated fingers are much more impressive than other toys in the line. The slightly older face sculpt looks a bit more serious, while the legs have exceptionally good articulation. The paint is pretty much spot-on, too. I wish the eyes were a bit brighter, but that's tough to do given the helmet design. It's basically a super-articulated robot figure with 12 joints per arm and another six per leg, plus the toes can move a bit too. It doesn't seem like Hasbro or Takara-Tomy cut a lot of corners when making this toy, which is good, because as I keep repeating it's north of $80. It's a difficult job translating the later-era G1 animation models to toys because they just made the kibble disappear giving you a slim robot silhouette, so finding a toy able to contort panels and wheels to mimic that look is something beautiful. It's also the kind of thing that can only exist as a toy line matures, the fact that the original movie is 35 years old with the original line pushing 37 means fans have more money and Hasbro knows how to get it.
There are few obtrusive C.O.M.B.A.T. pegs on this toy, but you'll see some on his wrist blasters, the Photon Eliminator's got one, and so forth. There are also numerous blue blast effects from Omega Supreme, plus some new smoke ones you can use in car or robot modes.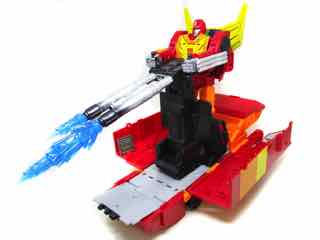 The trailer unfolds to reveal an incredible Mobile Defense Bay with an articulated blaster cannon and tons of storage spots. You can store some items in a drawer under the vehicle, and there are a few opening compartments for storage with things like metal pistons for no good reason. It's not quite a Masterpiece-level toy, but for the asking price they're clearly getting a lot closer. You can also remove the cannons from the bay if you like, and they can be carried around like a backpack too. This toy can't decide if it wants to be the best toy or the best collectible you've ever had, so if you're an older fan who opens toys you'll find something to like about it.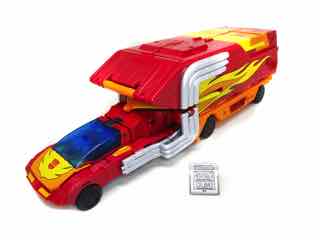 Transformation isn't too tough, and you get a sportscar cab that connects to the trailer. I didn't love this - the original toy dropped the back chunk of the car in order to better fit under the trailer, and I preferred that. The original toy also closed better. But hey, this is big, there are spring-loaded pipes, you can attach exhaust fumes to the chrome pipes, and the wheels are pretty nice too. There are no stickers to apply and just the trailer alone is as big - and seemingly as feature-laden - as a $50 Playmobil Volkswagen Mini Bus. As much as I want to complain about the price, the amount of moving parts and the size of the toy are comparable to or better than a lot of the competition. He's just not super tall.
I don't like paying $80 for anything, so when I saw that Rodimus Prime would be a beefier toy than last year's Leader-Class Earthrise Optimus Prime [FOTD #2,10] - which itself an impressive figure but a stretch at $50 - I wasn't sure what to make of it. I wasn't happy that Rodimus' spoiler was painted yellow rather than molded in color (especially at the price!) but everything else is pretty good. My only other nitpick is it's tough to close the trailer in vehicle mode with everything crammed inside. Everything else about it is impressive. You get pretty much all the same gear as the G1 toy, but it's a lot bigger and has more bells and whistles. The transformation is mostly intuitive, the sculpting is excellent, and there are probably too many things to list in a review with my current attention span.
If you can find it at a price you can swallow, buy one.
--Adam Pawlus
Additional Images

Click here to see more Hasbro figures in Figure of the Day.
Click here to see more Transformers figures in Figure of the Day.

Want to buy this figure? Check Transformers availability at our sponsors:
Entertainment Earth