Mattel Hot Wheels Tooned Pixel Shaker
Mattel, 2021

Day #2,338: September 16, 2021
Tooned Pixel Shaker
HW Tooned 4/5 - #59 / 250

Hot Wheels 2021 HW Tooned 4/5 Basic Cars
Item No.: Asst. L2593 No. GRX99
Manufacturer: Mattel
Includes: n/a
Action Feature: Rolling wheels, LEGO minifigure compatibility
Retail: $1.00
Availability: ca. July 2021
Other: LEGO Ride

PREVIOUS
RSS
NEXT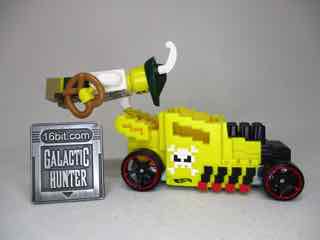 This isn't the first release, but I saw and had to buy a yellow Pixel Shaker over the summer. The packaging implied Mega or LEGO compatibility, and pixel things are appealing to me as someone who remembers the very early, very blocky game graphics.
This car has been released in several colors - and will no doubt be in more - so get one. It's a dollar.
One of my all-time favorite cars is the Fig Rig, which fits LEGO figures quite nicely - this one does too, but in a different way. There are places for figures to grip, but this time there are no studs on which to build. There are no spots to plug a figure on, but you can seat average figures inside and they sit comfortably. You can't fit the figure, seated, with hands in the interior, but you can get the figure in there and the arms sort of clamp them in place. It's a great way to have your figure cruise around tracks or launch across the floor.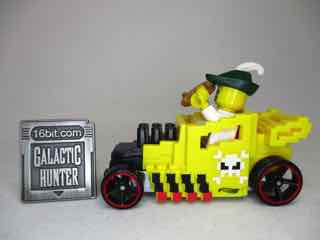 The yellow element is plastic with a metal undercarriage. There's not much paint on this one, other than red on the wheels, a pixel skull, and some stripes on the sides. I would wager it was a cheaper car to produce, with sculpting that certainly works as Minecraft-chic or retro gamer-friendly. Because it's a Mattel Hot Wheels car, it rolls well - this blocky buggy zooms across my desk nicely.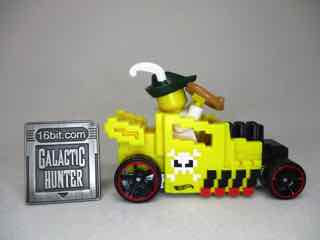 Seeing a design that would've been at home on an NES game - or maybe later-era Atari console - in 2019-2021 - just goes to show that you can't really predict trends. It makes sense, given how kids of the 1950s clung to rock and roll and old cars in the 1980s. Now 1980s kids - and their kids - are obsessed with pixel-based 2D games of their youth or the 3D games which drew inspiration from them today. And at a dollar with no licensing fees, cars like this sell well to people who see them and go "Oh, I get it." Nowhere on the package does it say it's compatible with LEGO or Mega products, but there's a pictogram wink on the back that you might look at and figure it out. (But really, who looks at the back before making a purchase?) I won't say this particular Pixel Shaker is a must-buy figure, but if you own so much as one LEGO figure I recommend picking it up. It's a car for your other figures - you can actually play with it. If you don't like fun, buy it anyway and as soon as you meet a kid or a co-worker with kids who love LEGO toys, pull this out and say "I've got something for ya."
--Adam Pawlus
Additional Images


Click here to see more Mattel figures in Figure of the Day.

See more Hot Wheels in Figure of the Day:
Day 670: Mattel Hot Wheels Fig Rig Car
Day 675: Mattel Hot Wheels Star Trek U.S.S. Enterprise
Day 685: Mattel Hot Wheels Batmobile (Tim Burton, 2013)
Day 708: Mattel Hot Wheels Batman Live Batmobile
Day 718: Mattel Hot Wheels T-Rextroyer Die-Cast Metal Vehicle
Day 727: Mattel Hot Wheels Ratmobile (White) Die-Cast Metal Vehicle
Day 742: Mattel Hot Wheels Batcopter Die-Cast Metal Vehicle
Day 750: Mattel Hot Wheels Arachnorod
Day 770: Mattel Hot Wheels The Jetsons Capsule Car
Day 779: Mattel Hot Wheels Hiway Hauler
Day 786: Mattel Hot Wheels Speed-A-Saurus
Day 797: Mattel Hot Wheels Express Lane
Day 803: Mattel Hot Wheels Zombot
Day 817: Mattel Hot Wheels Scooby-Doo The Mystery Machine
Day 845: Mattel Hot Wheels Carbonator
Day 1,060: Mattel Hot Wheels Skate Punk
Day 1,116: Mattel Hot Wheels Let's Go
Day 1,157: Mattel Hot Wheels The Homer
Day 1,290: Mattel Hot Wheels Back to the Future Time Machine - Hover Mode
Day 1,321: Mattel Hot Wheels Loopster
Day 1,334: Mattel Hot Wheels Nintendo Cool-One (Super Mario)
Day 1,366: Mattel Hot Wheels Mars Rover Curiosity
Day 1,383: Mattel Hot Wheels Dawn of Justice Batmobile
Day 1.532: Mattel Hot Wheels Minecraft Mine Cart Die-Cast Metal Vehicle
Day 1.533: Mattel Hot Wheels Tankinator Die-Cast Metal Vehicle
Day 1,716: Mattel Hot Wheels Roller Toaster
Day 1,740: Mattel Hot Wheels Motosaurus
Day 1,768: Mattel Hot Wheels Aisle Driver
Day 1,831: Mattel Hot Wheels Radio Flyer Wagon
Day 1,873: Mattel Hot Wheels Glow Wheels Loopster
Day 2,284: Mattel Hot Wheels Screen Time Teenage Mutant Ninja Turtles Party Wagon
Day 2,316: Sonic Hot Wheels Monster Trucks Scorpion Special Glow Edition Action Figure
Day 2,319: Mattel Hot Wheels Glow Racers Lindster Prototype
Day 2,337: Mattel Hot Wheels Tooned Pixel Shaker
Day 2,340: Mattel Hot Wheels HW Screen Time Standard Kart
Day 2,400: Mattel Hot Wheels Experimotors Custom Small Block


Want to buy this figure? Check Hot Wheels availability at our sponsors:
Entertainment Earth