Mattel Hot Wheels Glow Wheels Loopster
Mattel, 2017

Day #1,873: January 8, 2018
Glow Wheels Loopster
HW Glow Wheels 9/10 - #328 / 365

Hot Wheels 2017 HW Glow Wheels 9/10 Basic Cars
Item No.: Asst. L2593 No. DTY37
Manufacturer: Mattel
Includes: n/a
Action Feature: Rolling wheels, glows in the dark
Retail: $1.00
Availability: ca. Fall 2017
Other: Collect All Several

PREVIOUS
RSS
NEXT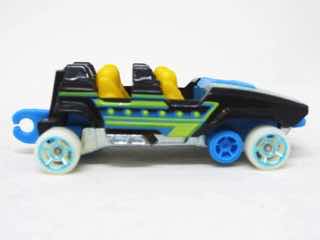 We looked at the first version of this car a few years ago, and just like that one this Glow Wheels Loopster has a variant - some of the passengers have their arms up on some releases. Mine is an all-down version, which I saw and had to get because the black car with the glow wheels and not-glowing accents was too cool to skip. I'm disappointed that the paint on the chassis doesn't glow, but it looked awesome.
The black car grabbed my eyes when I walked by the car aisle - the dots and borders reminded me of Pac-Man, and the glowing wheels are the kind of thing I buy because I'm a glow-obsessed doofus. The only things that glow are the wheels, a fact which I did not know upon purchase.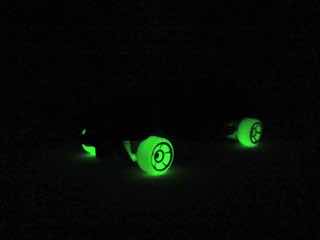 The figures are helmeted and in a restraint so they don't die when you send them through track loops - sold separately. If you buy multiples, you can link these cars together thanks to a series of clips on the front and the back. The coloring is quite nice, I daresay the finest the design has received to date.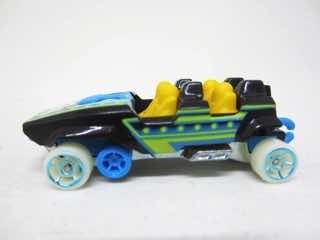 It's a buck and it glows. Since I first started seeing it before Christmas, right when the 2018 cars were hitting, I assume it could come and go in a hurry. I saw it, didn't buy it, regretted it, and immediately bought it the next time I saw one. (If I see the arms-up version, I might buy another.) This isn't going to change your life, but if you like things that glow in the dark? You probably already have one in your home or office.
--Adam Pawlus
Additional Images


Click here to see more Mattel figures in Figure of the Day.

See more Hot Wheels in Figure of the Day:
Day 670: Mattel Hot Wheels Fig Rig Car
Day 675: Mattel Hot Wheels Star Trek U.S.S. Enterprise
Day 685: Mattel Hot Wheels Batmobile (Tim Burton, 2013)
Day 708: Mattel Hot Wheels Batman Live Batmobile
Day 718: Mattel Hot Wheels T-Rextroyer Die-Cast Metal Vehicle
Day 727: Mattel Hot Wheels Ratmobile (White) Die-Cast Metal Vehicle
Day 742: Mattel Hot Wheels Batcopter Die-Cast Metal Vehicle
Day 750: Mattel Hot Wheels Arachnorod
Day 770: Mattel Hot Wheels The Jetsons Capsule Car
Day 779: Mattel Hot Wheels Hiway Hauler
Day 786: Mattel Hot Wheels Speed-A-Saurus
Day 797: Mattel Hot Wheels Express Lane
Day 803: Mattel Hot Wheels Zombot
Day 817: Mattel Hot Wheels Scooby-Doo The Mystery Machine
Day 845: Mattel Hot Wheels Carbonator
Day 1,060: Mattel Hot Wheels Skate Punk
Day 1,116: Mattel Hot Wheels Let's Go
Day 1,157: Mattel Hot Wheels The Homer
Day 1,290: Mattel Hot Wheels Back to the Future Time Machine - Hover Mode
Day 1,321: Mattel Hot Wheels Loopster
Day 1,334: Mattel Hot Wheels Nintendo Cool-One (Super Mario)
Day 1,366: Mattel Hot Wheels Mars Rover Curiosity
Day 1,383: Mattel Hot Wheels Dawn of Justice Batmobile
Day 1.532: Mattel Hot Wheels Minecraft Mine Cart Die-Cast Metal Vehicle
Day 1.533: Mattel Hot Wheels Tankinator Die-Cast Metal Vehicle
Day 1,716: Mattel Hot Wheels Roller Toaster
Day 1,740: Mattel Hot Wheels Motosaurus
Day 1,768: Mattel Hot Wheels Aisle Driver
Day 1,831: Mattel Hot Wheels Radio Flyer Wagon
Day 1,873: Mattel Hot Wheels Glow Wheels Loopster


Want to buy this figure? Check Hot Wheels availability at our sponsors:
Entertainment Earth