Mechabon Gendrone Revolution
One of Two New Colors

Glyos System Series
Item No.: No. n/a
Manufacturer: Onell Design
Includes: Figure, ninja star weapon, drill, switch pin, extra body parts, more. It's a lot of toy.
Action Feature: Pops apart
Retail: $20.00
Availability: July 12, 2018
Other: New Mold!

PREVIOUS
RSS
NEXT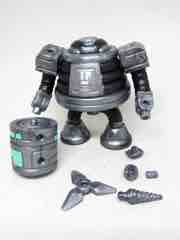 New molds in Glyos are far apart these days, so a new figure like the Mechabon Gendrone Revolution is exciting. It's $20, but it does double duty as a Gobon-adjacent robot and as a new form factor for ToyFinity's RoboForce. You get a lot out of this mold, with lots of big parts and cool weapons. The last all-new mold I recall was the Villser, which I must confess I have yet to actually purchase. But the Mechabon, this is the thing. You want this.
This figure is as much a great toy as it is an upgrade for your other figures. The Mechabon has feet which also serve as heads. The multi-part body can be contorted like the original Gobon. There are numerous bits to add to the arms and legs to make them into something more - even the fists have knuckle ports for weapons. It's a lot of plastic, and it's ribbed like the Michelin Man. The figure is articulated all over the place - the disc separates, and can be moved at every connecting point. The same is true of the shoulders, biceps, wrists, ankles, neck, and so on.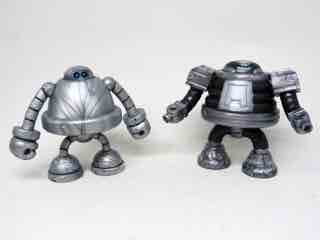 The 3-inch tall robot is pretty beefy, and you can reconfigure it in a myriad of ways. There's three big configurations I'm seeing out and about, and knowing Matt Doughty there are probably 30 more I'm not seeing yet. There are splashes of color on weird places - like the underside of the disc - that will likely allow for future large custom projects. What are the little aqua lights on the bottom there for? I have no idea - but they match Mechabon eyes, and some elements on the bonus parts which can be used for alternate weapon hands.
What got me excited were the surprise weapons, presumably included for future RoboForce purposes. Some of the original figures had fists not unlike these, plus the "ninja star" would be good for Coptor the Enforcer, or the drill good for Vulgar the Destroyer. Clearly, they're planning ahead here. I used the drill for an Armorvor fist, because it reminded me of the old Battle Beasts Horny Toad and Deer Stalker figures.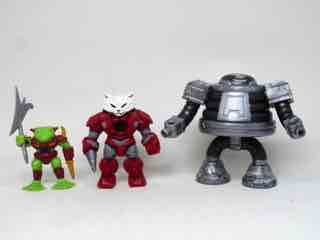 Onell Design has been cranking out figures for 11 years, many of which are genuinely fun and something you might want to play with. This is a good introductory figure, thanks to its many modes and bonus parts. Even if you don't love this figure, you can tear it apart to make your other figures better - that's a heck of a compelling reason to buy any toy. Get at least one of this mold just for kicks, it's a lot of fun to futz with even if it does have way, way too many parts to enjoy without several other figures. (Also just buy more figures.)
--Adam Pawlus
Additional Images


Click here to see more Onell Design figures in Figure of the Day.
Click here to see more Glyos Compatible figures in Figure of the Day.