Starscream
Transformers - Studio Series #06

Transformers Studio Series Voyager Class Toy
Item No.: Asst. E0702 No. E0774
Manufacturer: Hasbro
Includes: Pointy thing, Display Backdrop
Action Feature: Transforms from F-22 Raptor to robot
Retail: $29.99
Availability: April 2018
Other: Smaller, Less Intense

PREVIOUS
RSS
NEXT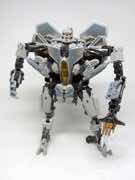 Because I skipped out on the early movie toys, this is my first non-Legends Starscream from the movies. (I also still haven't actually sat through a movie long enough to see him as of my writing this.) There were a lot of big, bulky, flat robots over the years but there's a reason I got this one - it's because the case with him had the Optimus Prime toy I wanted.
Unlike Optimus, Starscream is pretty big - comparable to or larger than most other Voyager-class toys from Generations or movie lines. I still find the design to be odd, as it's considerably wider and the face doesn't make me think of Starscreams of old. But that's what people said 11 years ago and now nobody cares - you just want to know that it's a decent, sturdy figure with a fun transformation.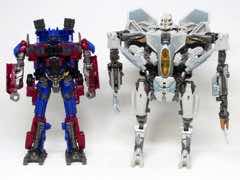 The tall robot has about 23 meaningful points of articulation, and stands taller than the other Voyagers within my reach. A lot of the mobility is in the arms and legs, with no torso joint. You can get him to gesture in interesting ways and hunch over a bit, but the neck doesn't move much. There's not a lot of color here, so it matches the movie pretty well with greys and browns and some orange. The hands can fold back so you can plug the weapon into it, or you can plug it via 5mm peg to the numerous holes all over the figure. This is a toy with options.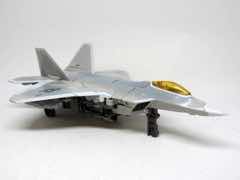 Planes are tough to do well - just because of the nature of these kinds of products, getting a flat bottom without the undercarriage can be difficult... but not impossible. You have to make concessions, like the first Masterpiece Starscream or the Xiaomi Mi Pad II Soundwave [FOTD #1m505] which got us a robot out of a super flat tablet. It can be done - and for $30, this toy comes close. Dropping big goofy guns means there'sa lot less to cram in the belly of the beast, but there's still some arm bits hanging down low. They're tucked in nicely with some elements having plane parts to contain them, meaning the top part and about 35% of the bottom look like a plane. It fslls apart under the wings, but that's still pretty impressive. We have some subtle camo and deco, from intakes to a Decepticon sigil.
It has 3 retractable landing skids and a nice orangey amber canopy. It doesn't open like Thundercracker, but it wasn't meant to either. It's small, with the robot being more or less scale to Optimus Prime from the fight from Revenge of the Fallen, or so my reference materials tell me. It's a very nice plane. I need to get a nice stand for it.
While a couple of the toys look better - the US Leader-class from Hunt for the Decepticons was sold as a Masterpiece in Japan and dumped at Ross in the USA - this one is a reasonable size and devoid of gimmicks. For the collector wanting just one toy to put on a shelf, it's pretty good. It's not impressive or enormous, but the articulation and detail are nothing to sneeze at. I enjoyed transforming it and it was complex in a "gee, that was fun" way rather than the more common "I want to smash it with a hammer" way I've had with some complicated movie toys. I'd recommend it. But I also don't have any other big Starscreams to describe as better or worse - in and of itself, it's pretty decent.
--Adam Pawlus
Additional Images


Click here to see more Hasbro figures in Figure of the Day.
Click here to see more Transformers figures in Figure of the Day.

Want to buy this figure? Check Transformers availability at our sponsors:
Entertainment Earth